Whatever the occasion skip the store bought gift wrap and try one of these creative gift wrap ideas all using plain old brown paper!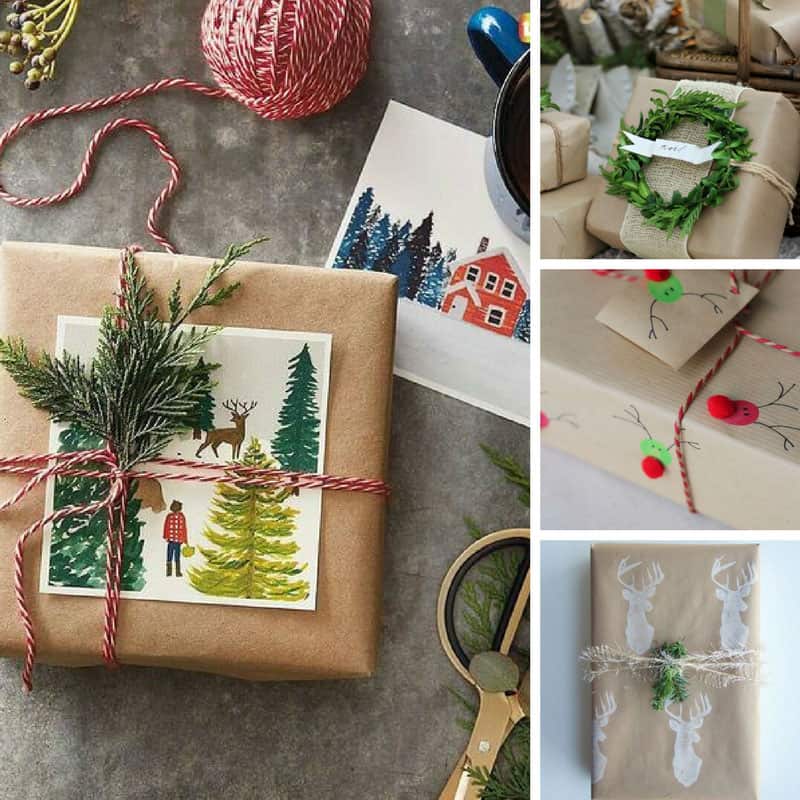 This post may contain affiliate links, which means I may receive a commission if you click on a link and purchase something. As an Etsy and Amazon Associate I earn from qualifying purchases.
Gift Wrap Ideas Using Brown Paper

It's time to start wrapping those Christmas gifts so I stopped by the store and picked up some gift wrap. And then I came home and found all these amazing creative gift wrap ideas on Pinterest… all with a base of plain old brown paper! And now I'm regretting my boring Christmas pudding wrapping paper!
I've been on a bit of a pinning spree and thought I'd share the ideas with you too – s0 you can be more creative with your gift wrap all year round!
I found everything from colourful bunting and giant letters to boxwood wreaths and no sew flowers!
As always be sure to scroll all the way to the end so you don't miss any of the great ideas. And don't forget to pin your favourites as you go!
Add some colourful bunting
Embroider the paper with stars
Add the recipient's initial as a giant letter
Add a splash of colour with tissue paper
Use a sharpie marker to add some activities
Add some treats as decorations
Stamp the paper to create a unique design
Keep it simple with ribbon and lace
Add some flowers to bring your gift wrap to life
Add some antlers to turn your packages into reindeer!
Add thumbprints and pompoms to make cute reindeer
Use old Christmas cards for a festive touch
Add some sparkle with glitter dipped gift tags
Use Washi Tape to make your own designs
No sew flowers add a stylish touch to your gift wrap
Add some colourful buttons to your string
Make your own design with glitter polka dots
Fold the paper before you wrap to add detail, and a place to insert some greenery
Use a sharpie to add some festive firs
Use fabric scraps and doilies for a shabby chic look
Combine your craft paper with a boxwood wreath and burlap for the farmhouse touch
Number your parcels so they know which order to open them in
A washi tape stripe and string is simple but stylish
Put your scrapbook paper to good use to make flower designs
Add washi tape to make a Christmas tree design on your festive wrap
Layer up scrapbook elements to bring a plain paper bag to life
Pin these ideas!
Hit the button to save these ideas for later.
Don't forget to
follow us on Pinterest
for more great stuff!

&
---