This post may contain affiliate links, which means I may receive a commission if you click on a link and purchase something. As an Etsy and Zazzle Affiliate I earn commissions from qualifying purchases.
It's time to get creative and spook up your fingers with these Halloween Nail Designs. Costume or no costume it's frightfully easy to get into the spirit of the Spooky Season with these nail art ideas!
Halloween Nail Designs for 2022
Trick or Treat! October is here and it's time to start thinking about your Halloween manicure!
Do you prefer short nails or coffin nails to wear with your Halloween costumes?
Either way, we have a ton of nail art designs in this collection to inspire you! Including Halloween classics like Jack-o Lanterns, spiders, bats and pumpkins! With a good dose of glitter thrown in if that's your thing!
We've been scrolling through Instagram feeds of the most talented nail artists and binge-watching youtube tutorials to being you the very best Halloween nail designs for 2022!
Any of these nail sets are sure to give you a spooky vibe – the only thing you need to do is browse the inspiration and see which ones you'd like to wear!
Halloween Nail Art Designs for the Spooky Season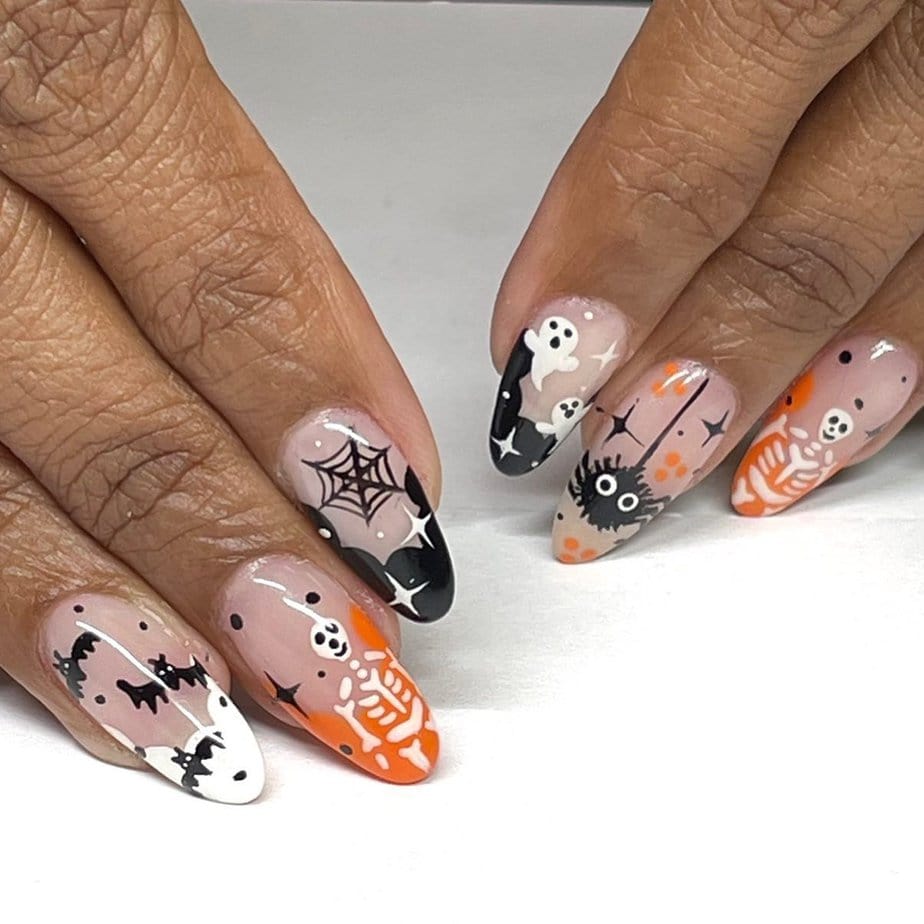 I'm not a fan of spiders IRL but this little guy is cute enough to not give me a nightmare!
Watch the video above to see how frightfully easy it is to paint a spooky-looking jack o' lantern with a matte black background.
I can't wait to try the bat scene against the purple ombre sky!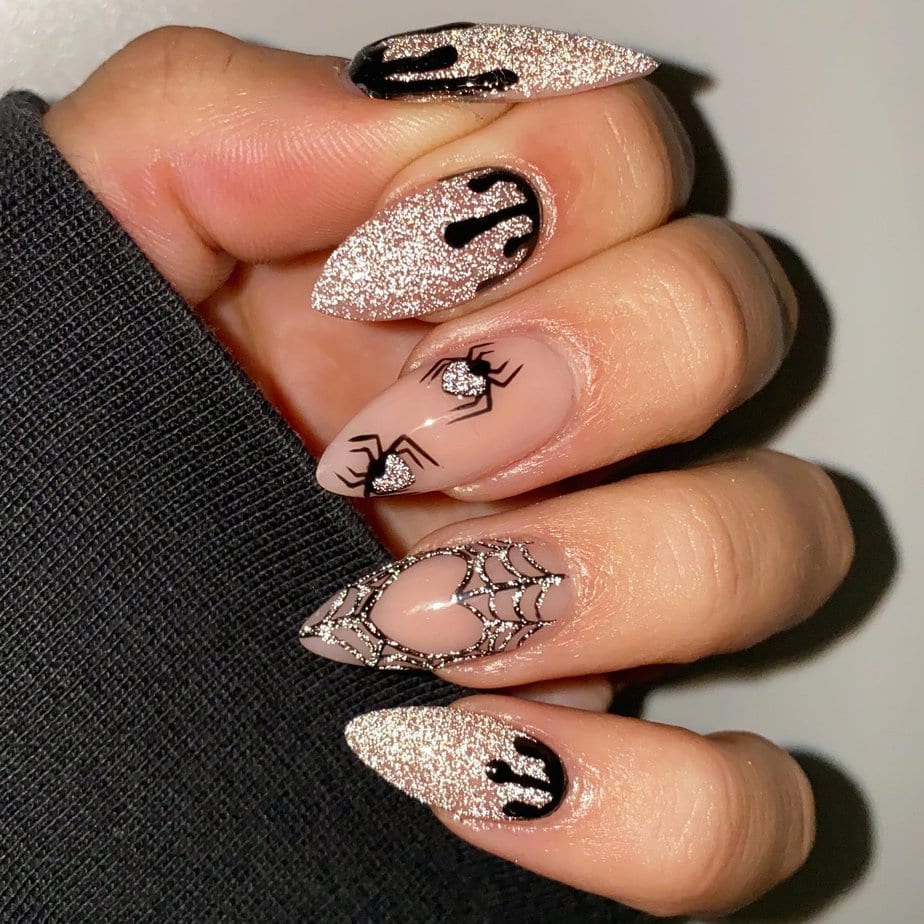 If you love glitter then this nail set is the perfect choice for you! I love the black drip effect as well as the spooky cobwebs, and spiders of course!
If you need some inspiration for cute Halloween nail designs check out the video above. There are so many ideas here you could mix and match including Frankenstein, a black witch's cat and an eye ball!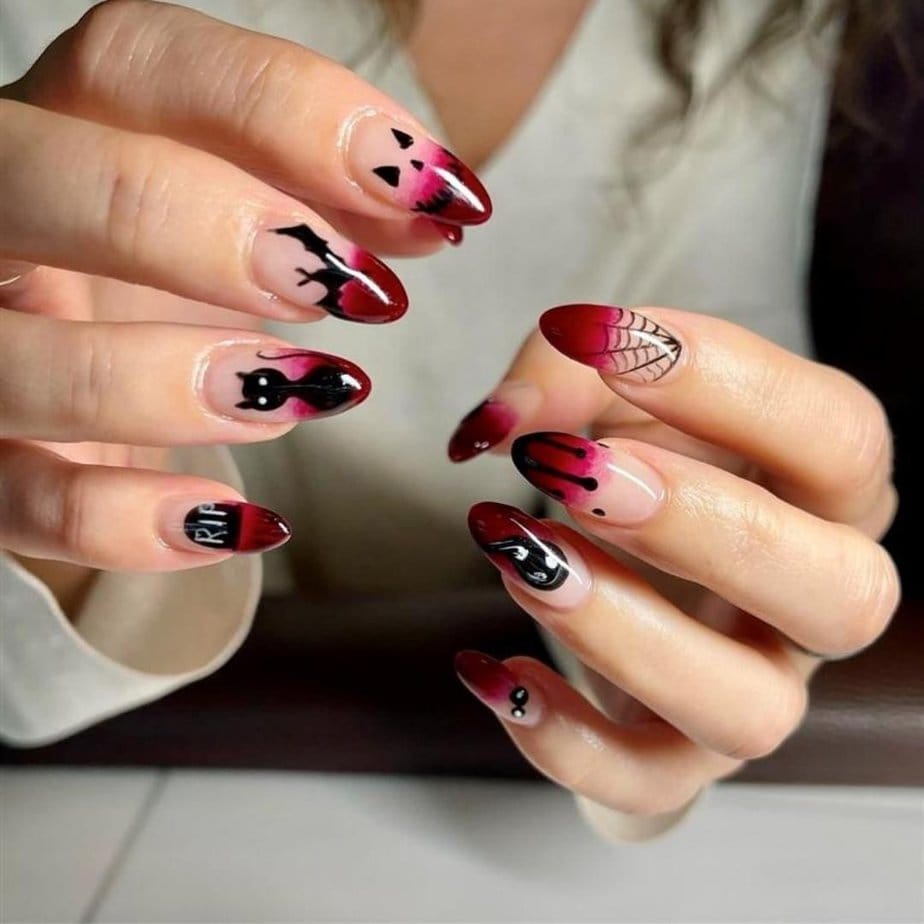 You'll need your black nail polish and a thin brush for this design set. It's a great combo of Halloween classics like cats, bats and cobwebs!
Do you prefer cute and spooky or a scary movie? My favorite pick from this Halloween nail art set is Frankenstein's Monster!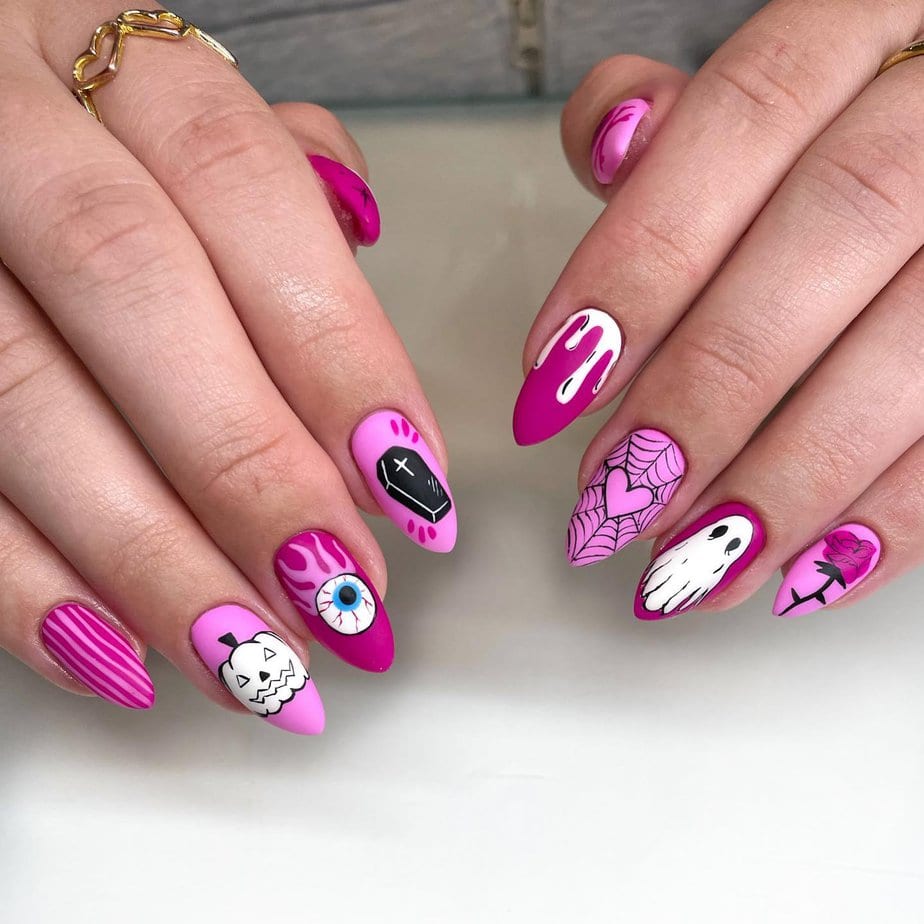 If you want to stand out from the crowd this Halloween set aside the purple and orange nail polish and go for pink instead! A matte top coat finishes them off nicely.
Oh my! If you really want to embrace the screams this Halloween check out these zombie nails complete with blood drips!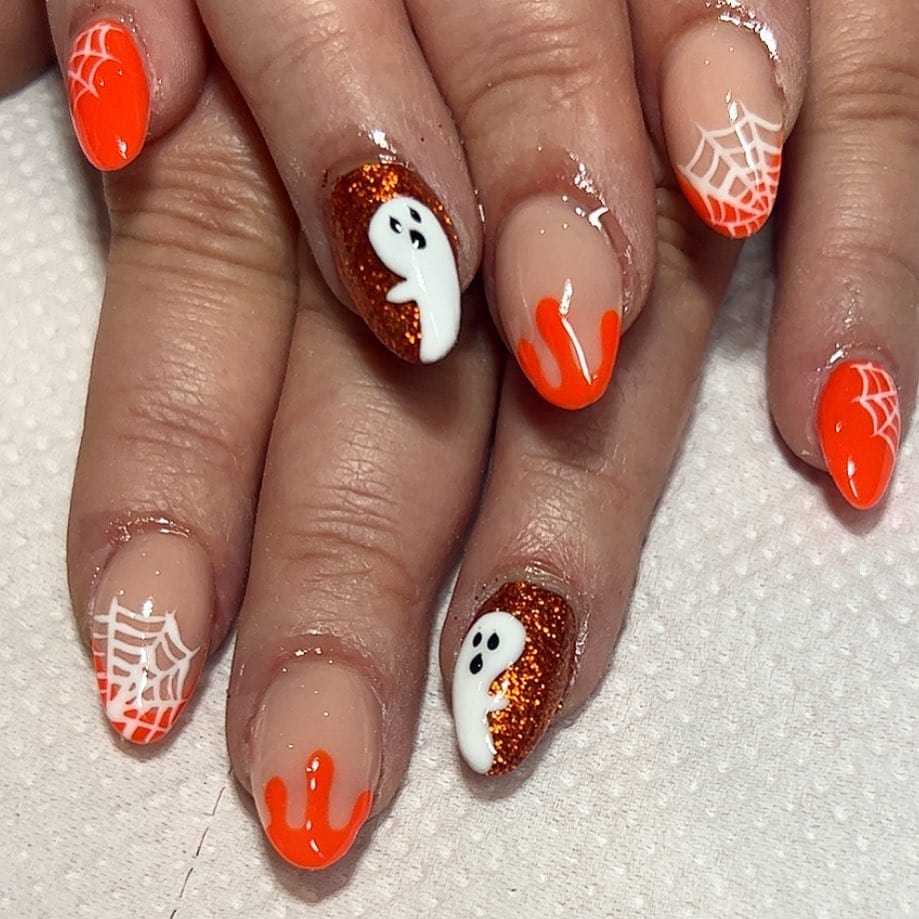 If French tips are your thing then switch things up and have them painted with blood drips instead. Orange polish makes them a bit less scary, especially when you add in a cute Boo ghost and plenty of glitter!
Oh the sparkle! I love the floral skull design as an accent nail.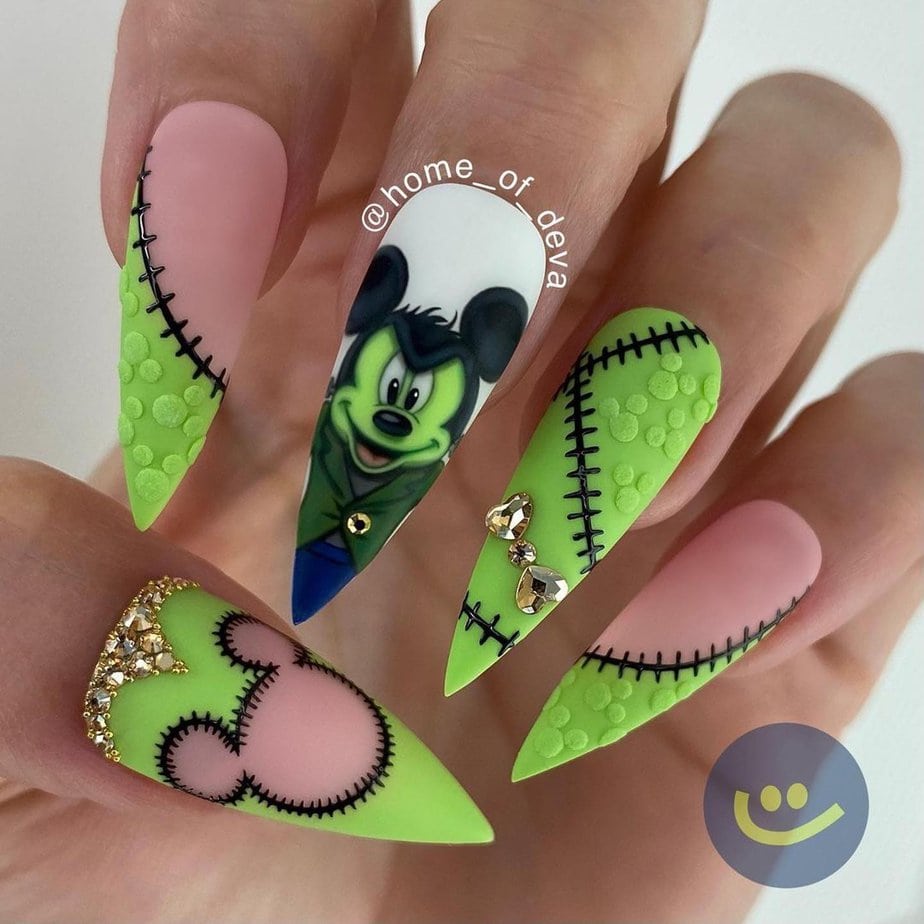 I totally needed this nail set when we went to Mickey's Not So Scary Halloween party at the Magic Kingdom a couple of years ago! If you're heading out to the party this year check out our collection of Disney Themed Family Halloween Costumes – oh and the Disney Nail Art one too!
OOh so many great designs in this collection of video tuts! I love those mermaid ombre shimmer base coat ones with the spider webs painted on top!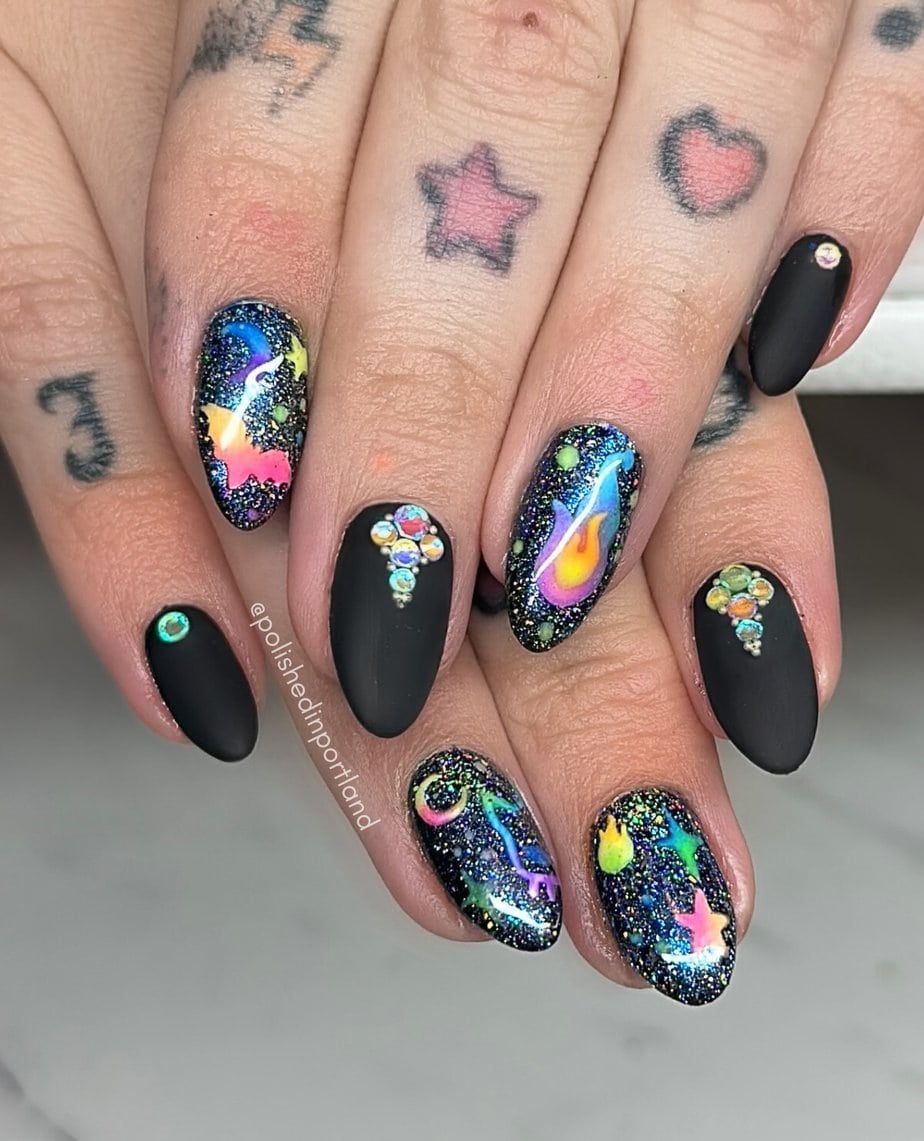 If you were looking for black nails these Halloween nails are just for you! Add a bit of neon glow-in-the-dark polish to really get the party started!
If you find it tricky to DIY your own nails but you don't have time to go to the salon check out this tutorial to see how to paint false nails.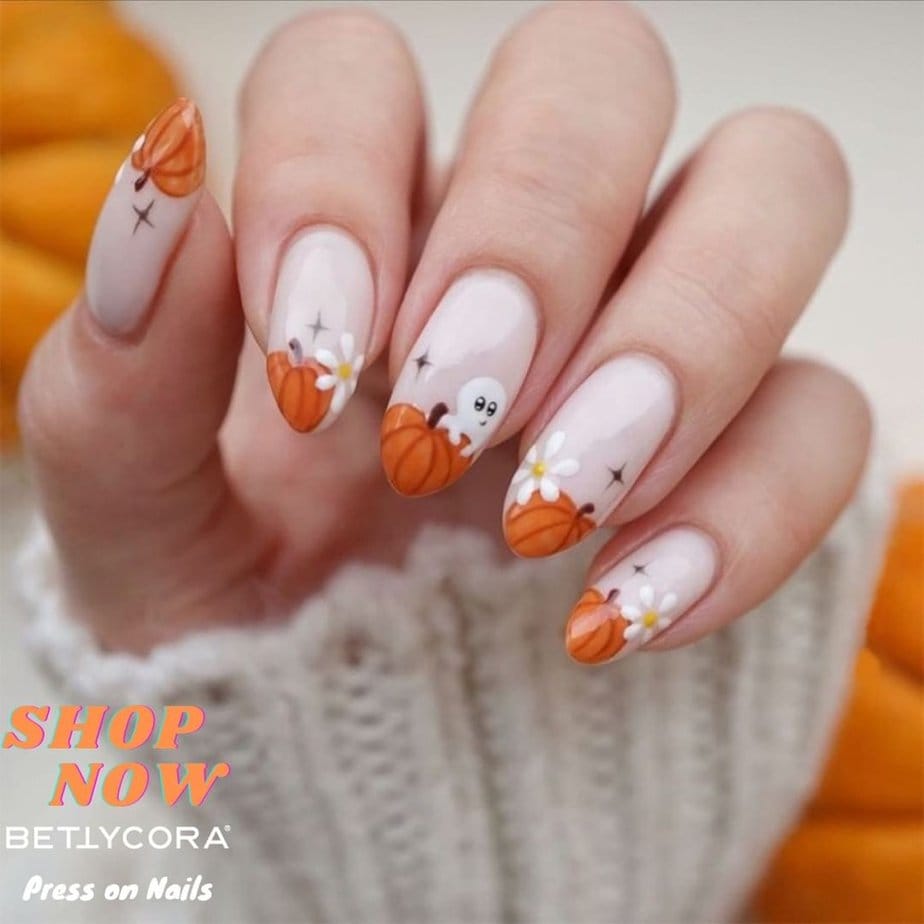 Pretty up your nails in no time with these daisy, pumpkin, ghost press ons!
If you haven't tried making a water marble effect on your nails before you need to check out this tut – it's mesmerizing!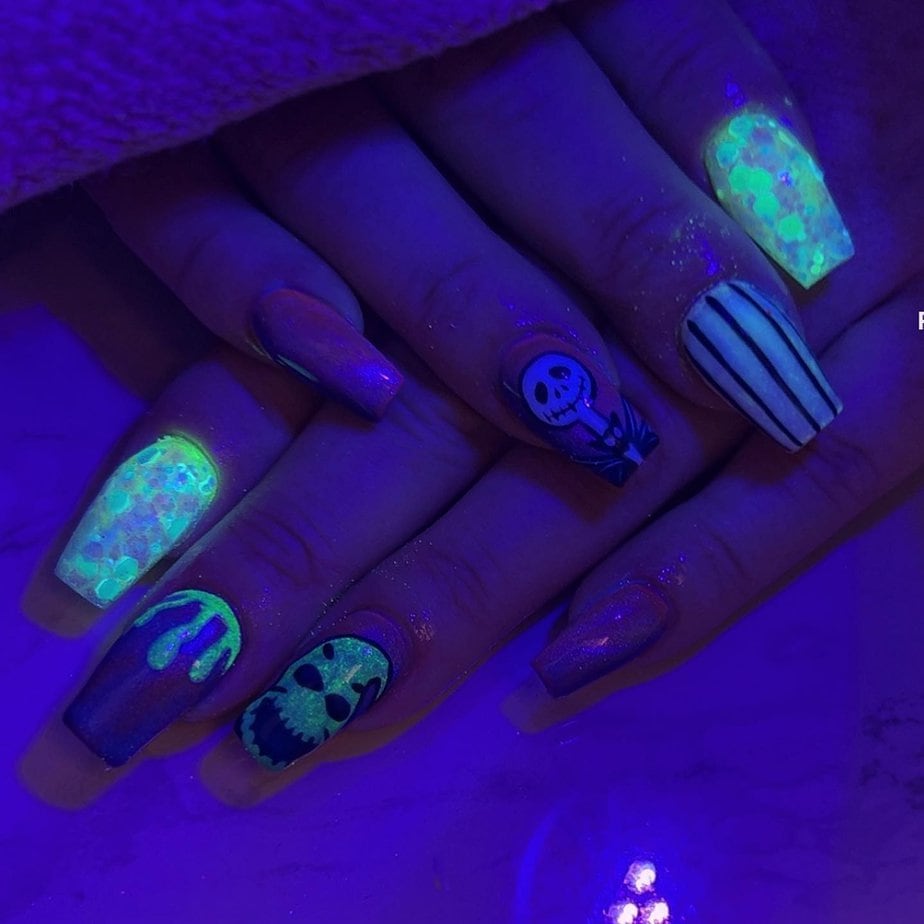 Did someone say glow-in-the-dark Halloween nails? Sign me up!
Need some nails to accompany your Vampire look for Halloween? The bloody design on the left is just what you need!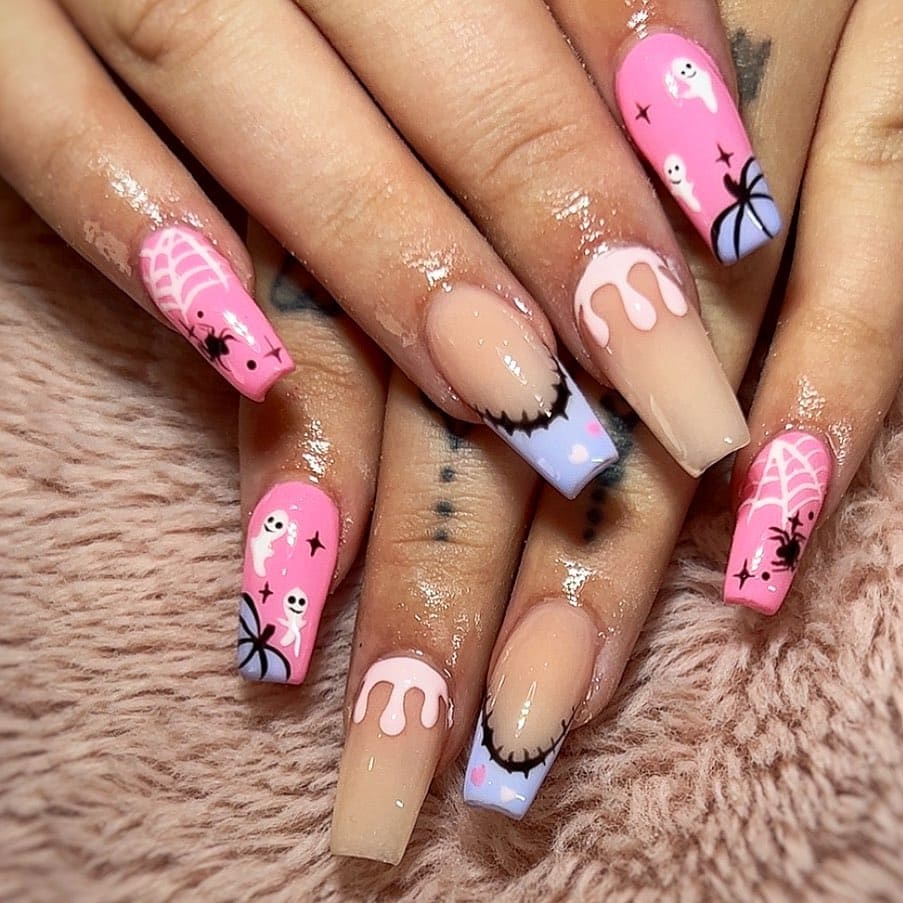 Here's another hint that pastel pink and purple is trending this year in Halloween nail designs. Use your black polish for the accents.
Here's a selection of 12 Halloween nail sets that even a beginner can handle.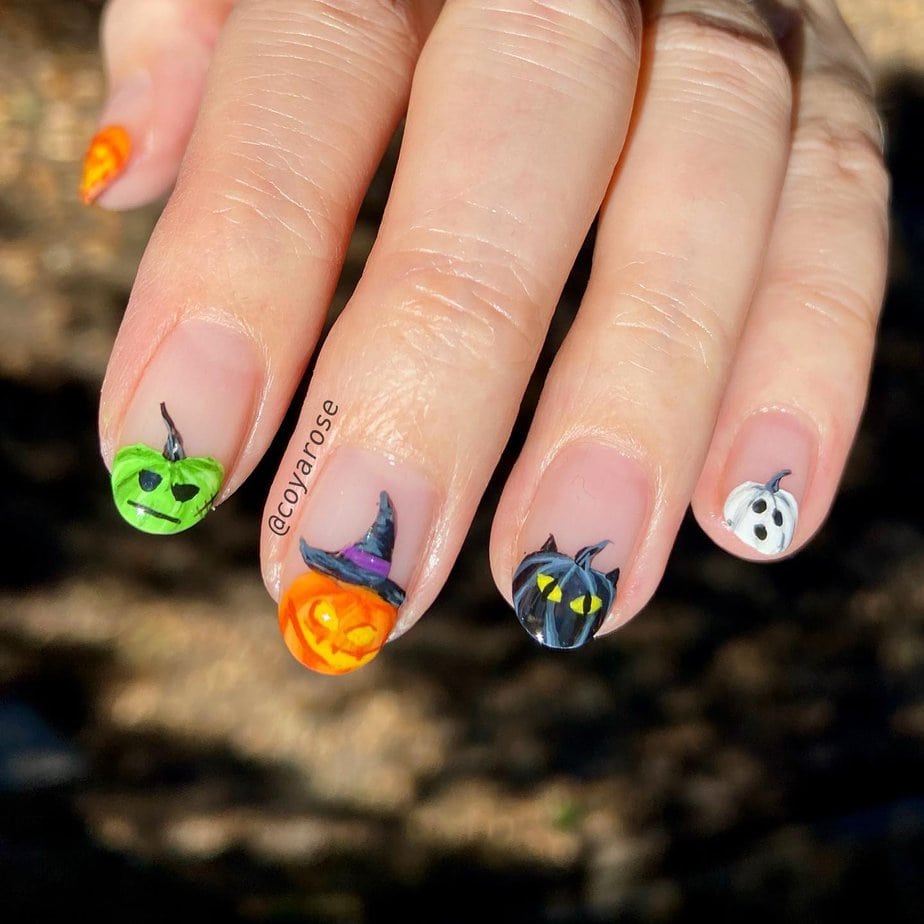 Just looking for nail tips designs? How about this spooky set of Halloween classics?
I am loving these simple skeletons… especially how you can put your fingers together to complete the body!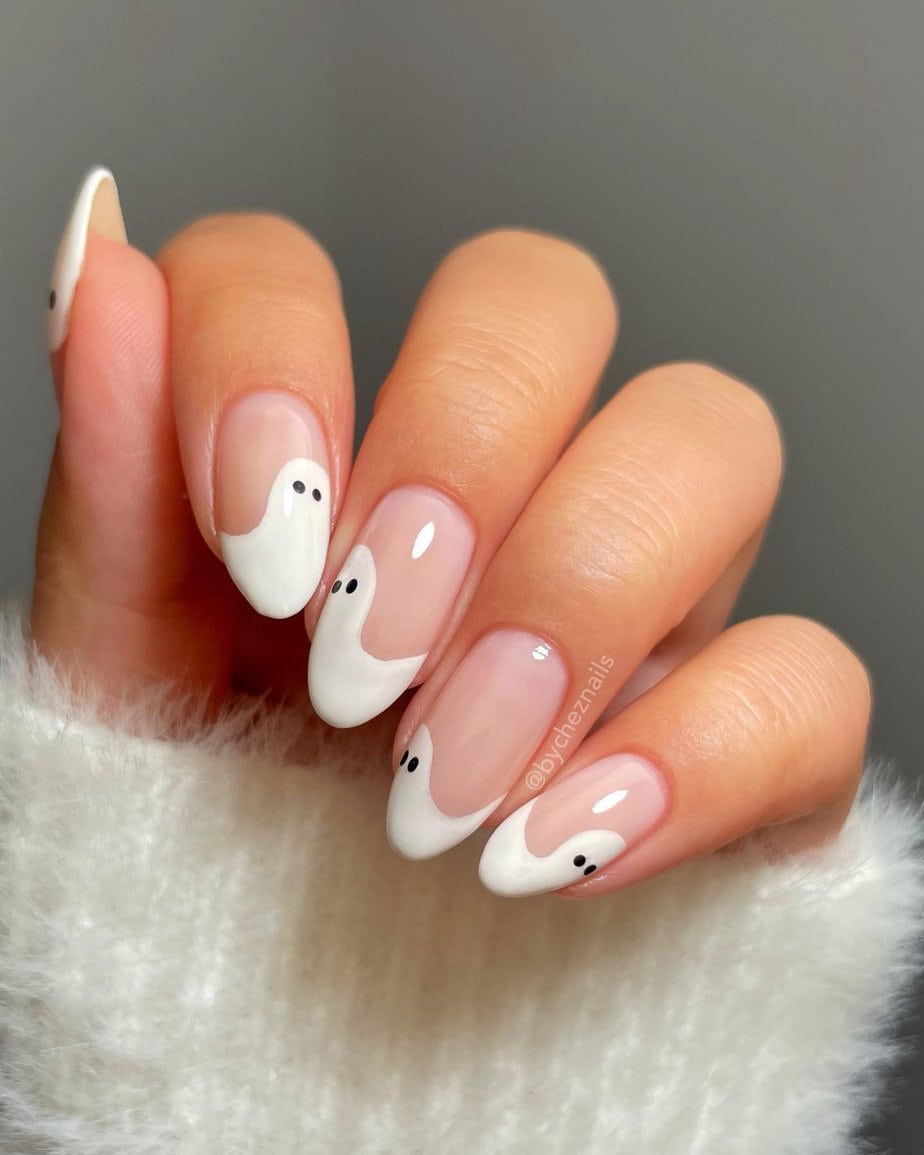 Loving this ghost twist on the classic French Tips!
And because you can't have Halloween without candy corn let's include this video tut with three different looks!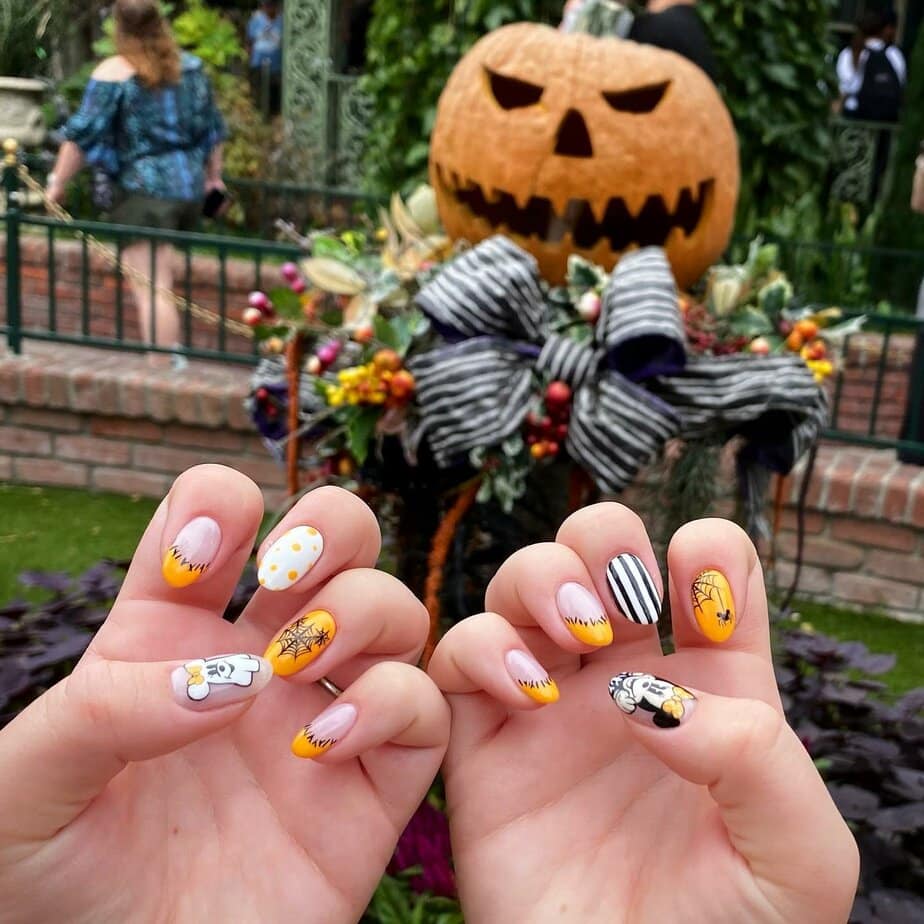 Here's another set for the Disney Halloween party! Can't beat Minnie in her skeleton PJs!
Thinking of going for a Blue Devil costume this year? Then you need these Halloween nails!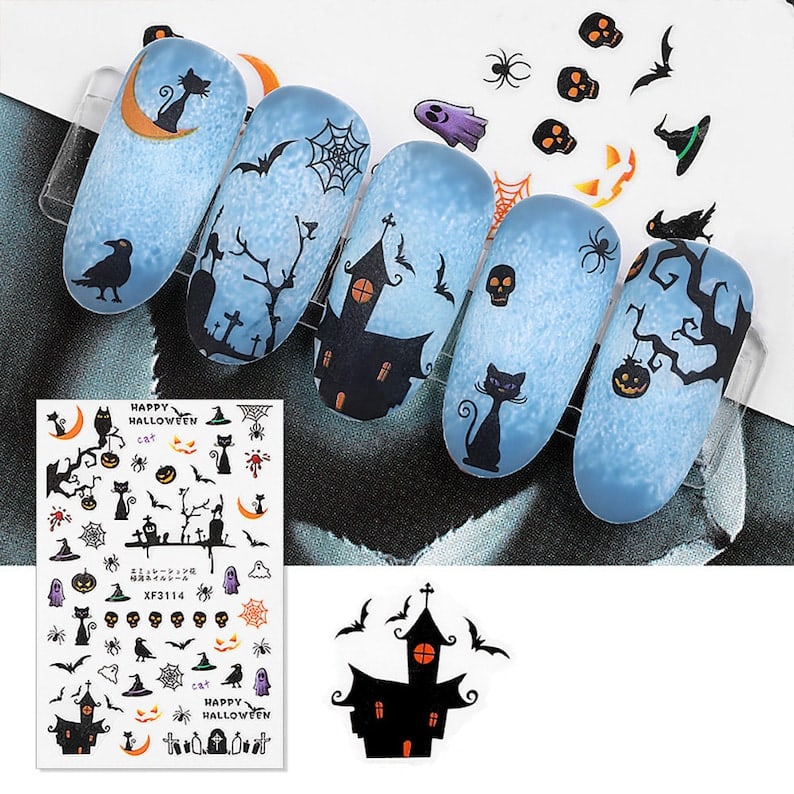 Not skilled enough to draw your own Halloween illustrations and have no time to get to a nail artist? Don't worry, just choose your favorite base color and then add these spooky nail stickers!
If you love coffin nails with texture check out this tutorial. You can also order pre-painted press-on nails from her Etsy shop.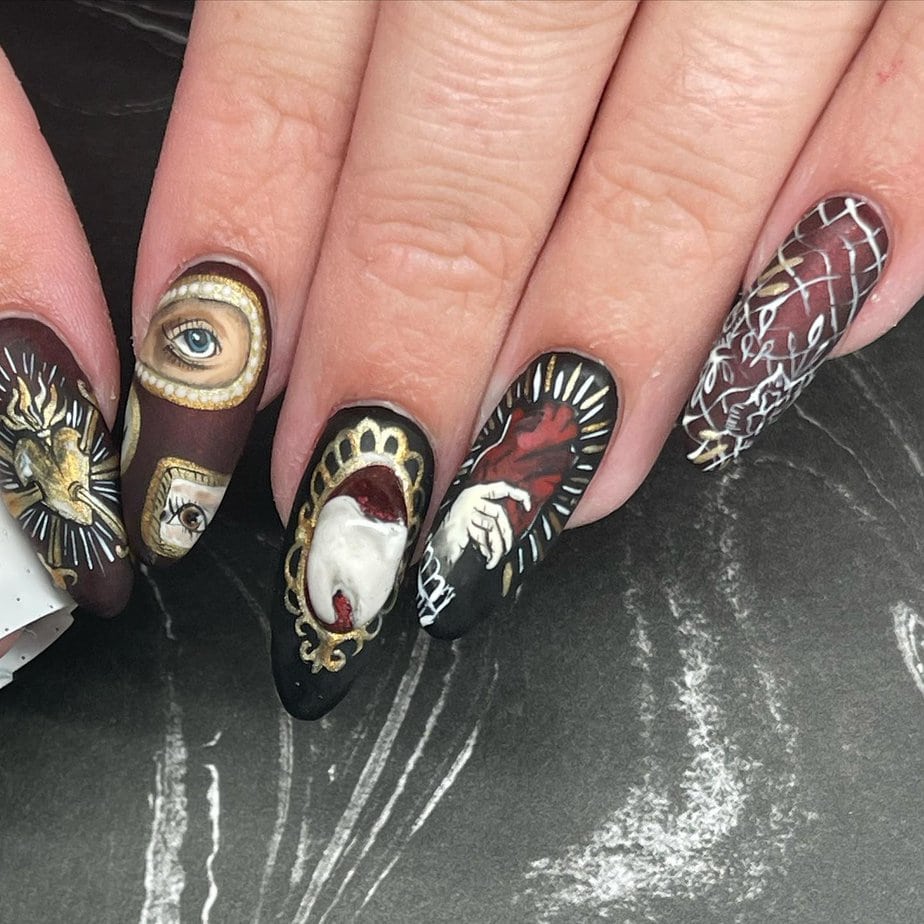 How about this fabulous set of nails for the dark romance / gothic aesthetic?
If you're looking for Halloween-themed French Tips you need to watch this video.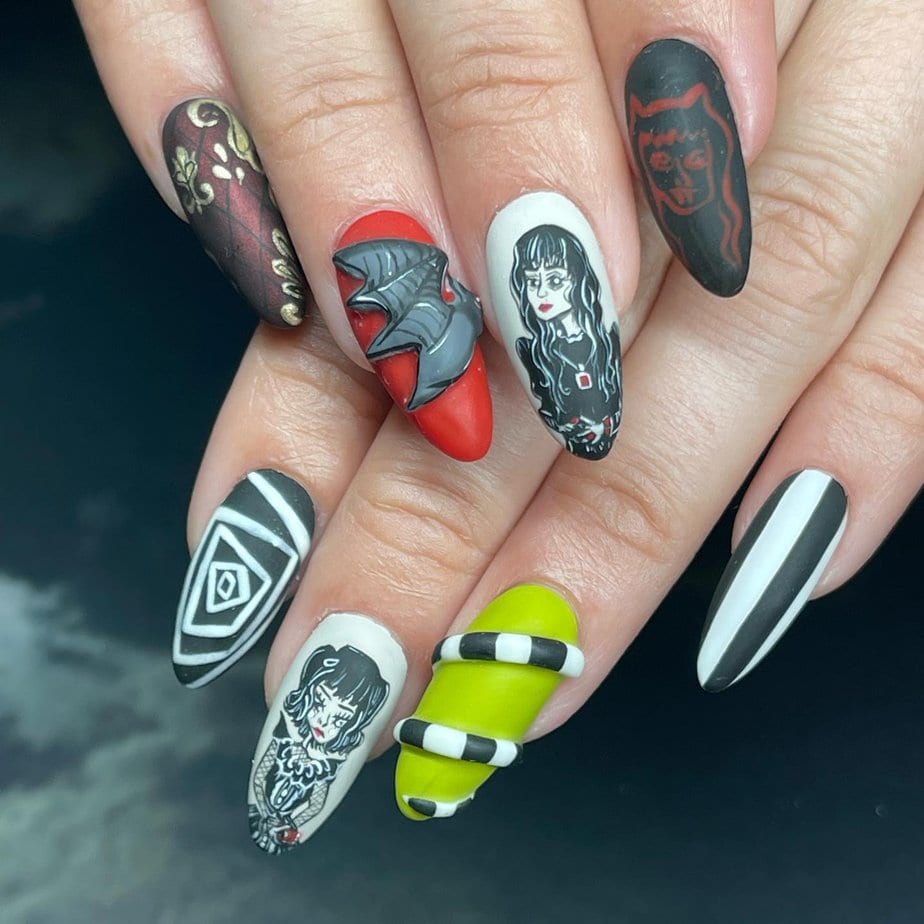 As Halloween nail designs go this set is pretty high up there on the list of the best nail art – just look at that 3D bat, and the black and white sandworm wrapping around the nail!