These heart bullet journal mood tracker ideas are just what you need to track your emotions during February, or maybe the month of your anniversary!
This post may contain affiliate links, which means I may receive a commission if you click on a link and purchase something. As an Etsy and Amazon Associate I earn commissions from qualifying purchases.
Heart Bullet Journal Mood Tracker
I couldn't help continue our February, Valentine's Day theme for just one more collection. And today we're all about heart bullet journal mood trackers!
If you've never used a bullet journal mood tracker before why not make this month the first time you give it a shot! Keeping track of your emotions is an important part of self care and what better way to remind yourself that you have that all important self love than to use a heart to track your emotions!
1 | Floating Hearts Mood Tracker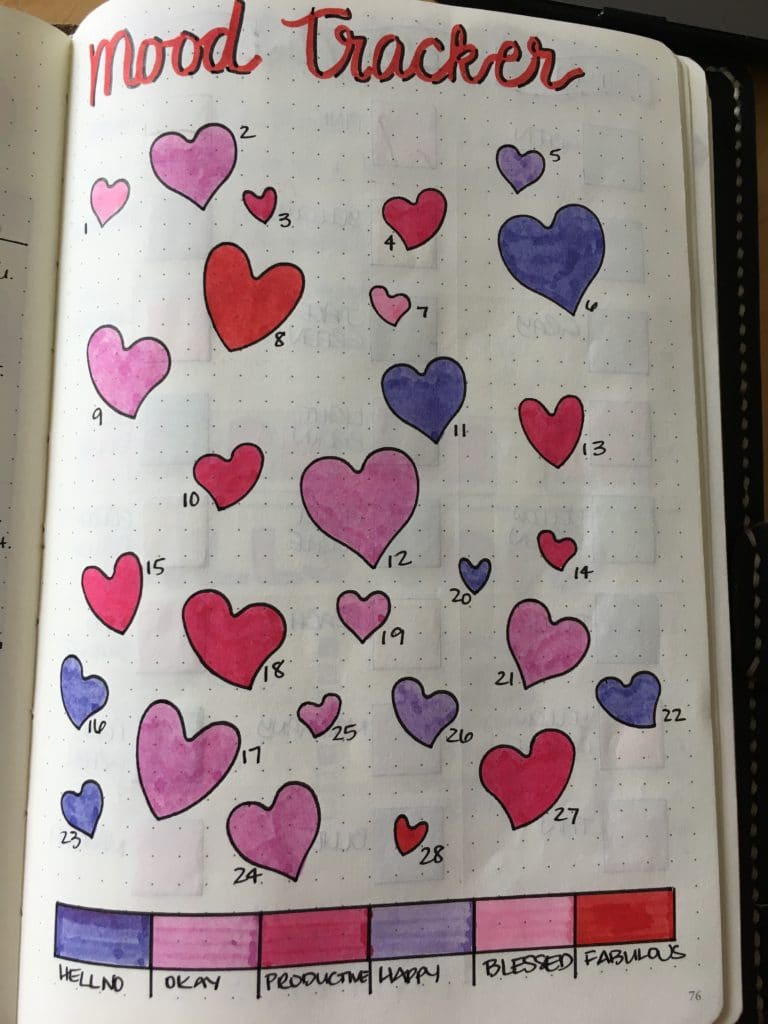 Let's kick off with this sweet "floating hearts" mood tracker. I love how they're all different sizes and then have been numbered (sort of like an advent calendar) so you know which heart to color in next.
Note how the emotions aren't on a scale, just a note of the different things she might be feeling each day.
Floating Hearts Mood Tracker by Planners and Polish
2 | Heart Shaped Heart Mood Tracker
Follow:
@rachelbujo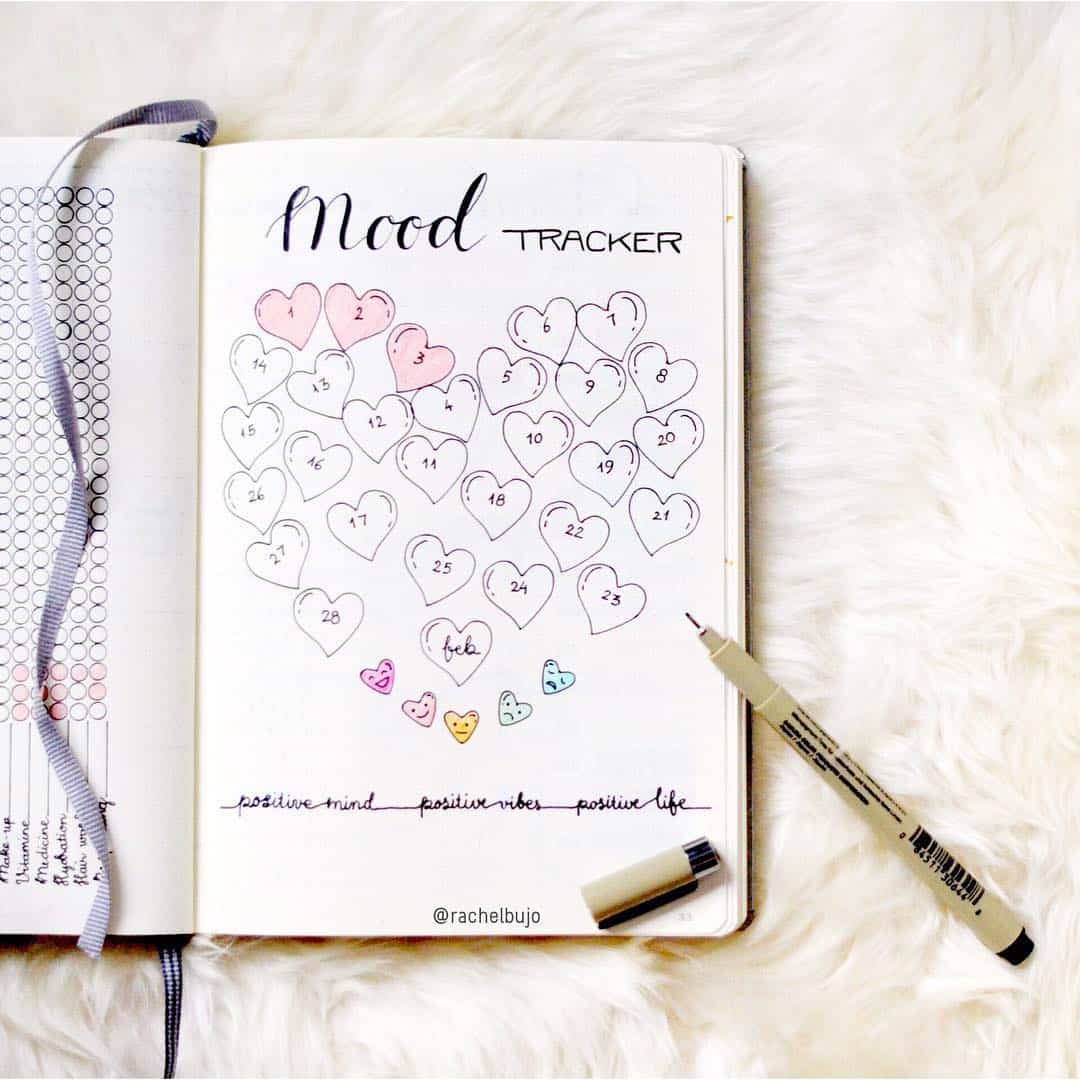 In this mood tracker Rachel has made her floating hearts in the shape of a heart! I like how she turned the smaller hearts at the base into her emotions key, using emoji faces to note which color applies to which mood.
3 | Geometric Heart Tracker
Follow:
@journal.doodles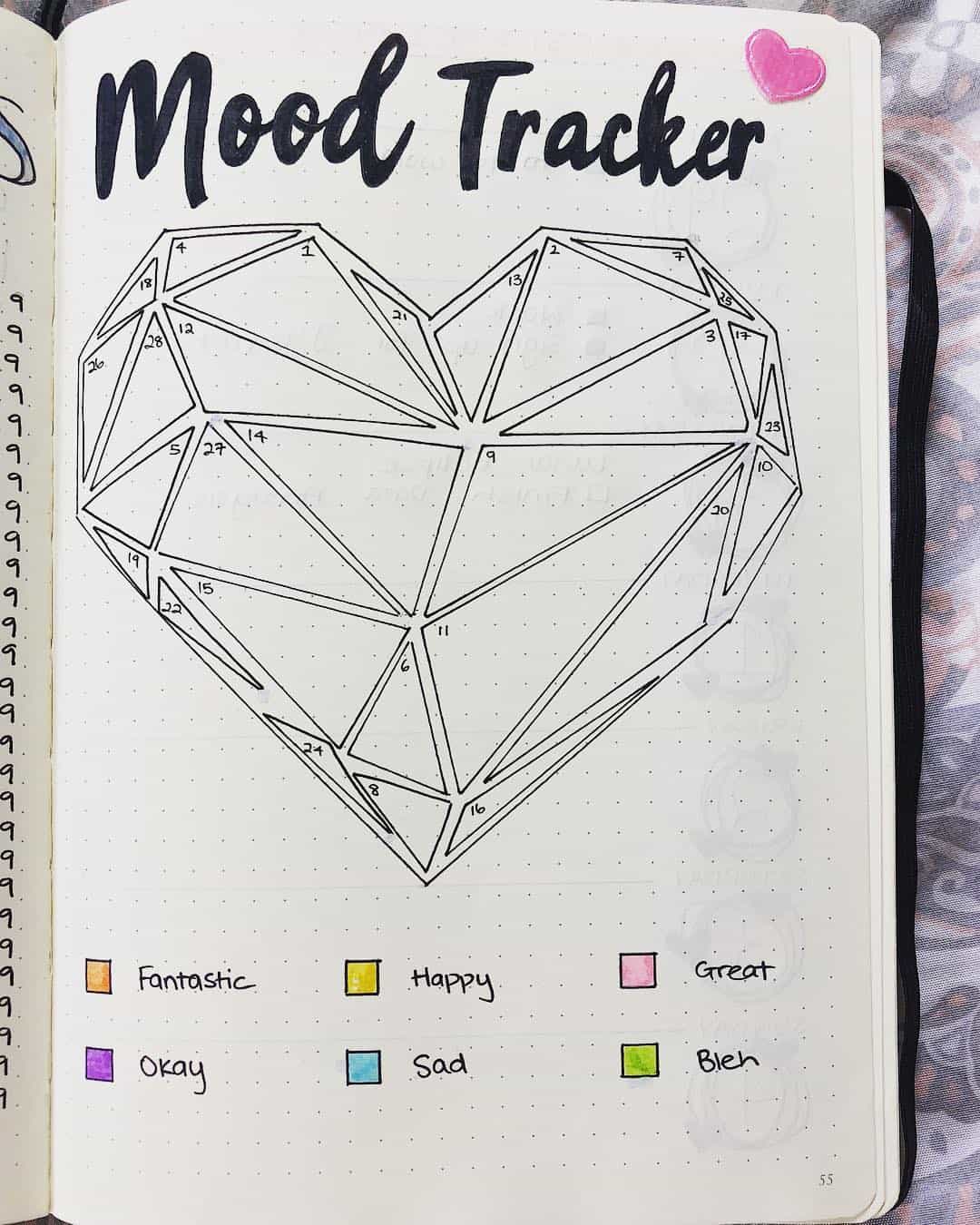 If you like the geometric illustration style for your bullet journal give this heart shaped tracker a try. Each day you color in one of the prism faces depending on your mood.
4 | Heart Dandelion Tracker
Follow:
@alexanndoodles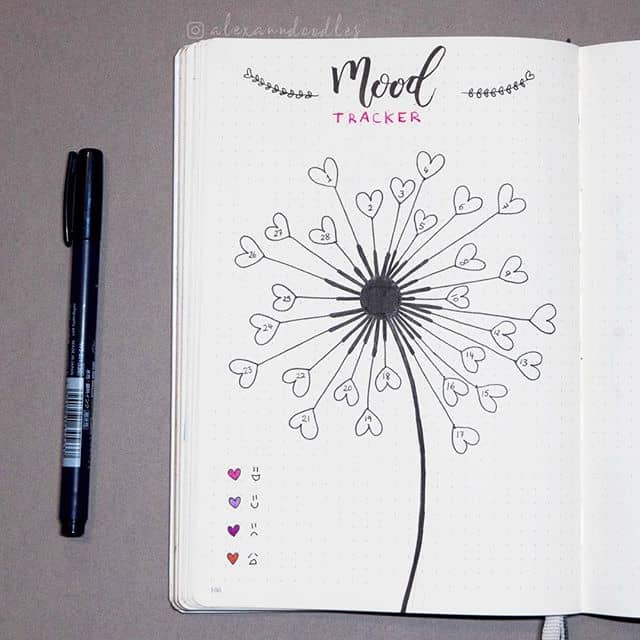 If you want to be a little more subtle about your hearts how about this fabulous dandelion "wish" tracker where the tips are heart shaped!
5 | Heart Tracker Printable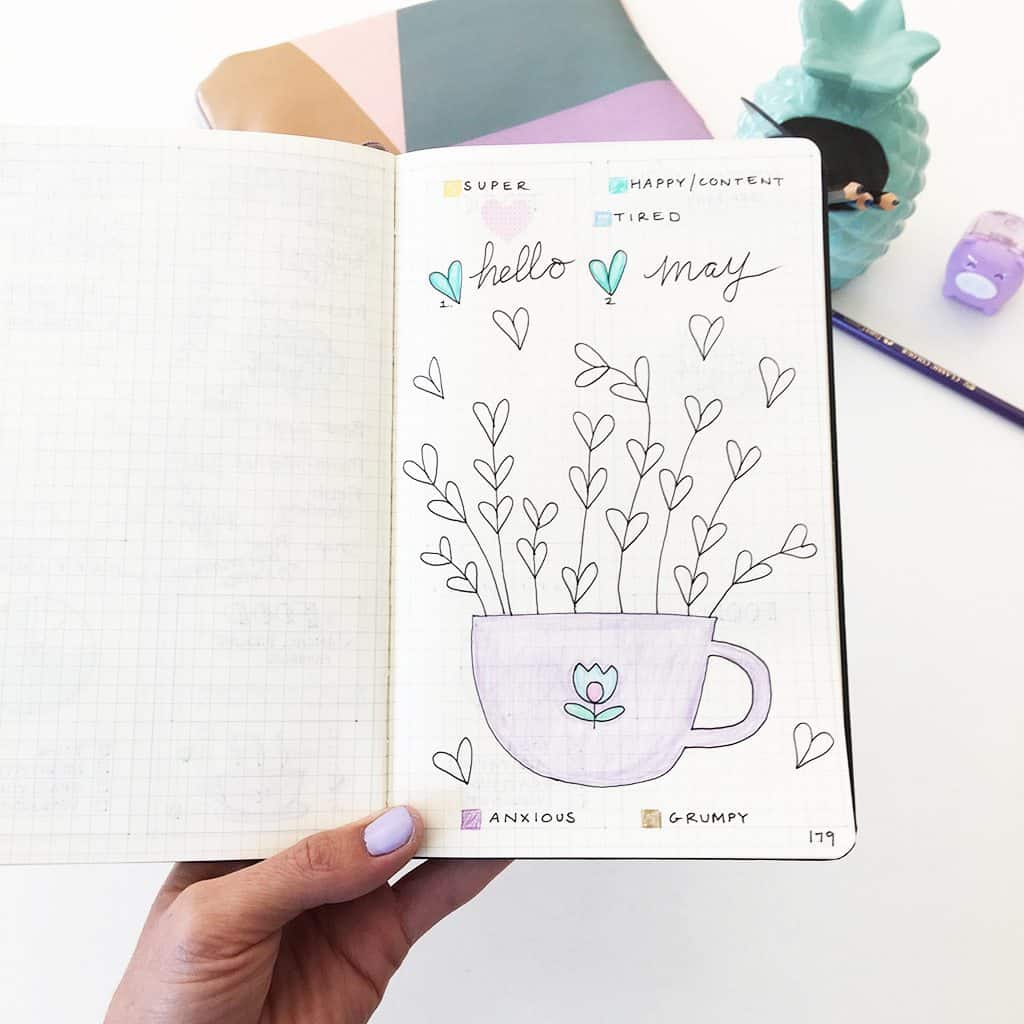 I know how y'all love
bullet journal printables
for when you don't have time to draw out all of your spreads. So I thought you'd like this heart inspired mood tracker, which is perfect for any month of the year!
Heart Tracker Printable by Space and Quiet
6 | Mood Tracker Heart Garland
Follow:
@Pinterest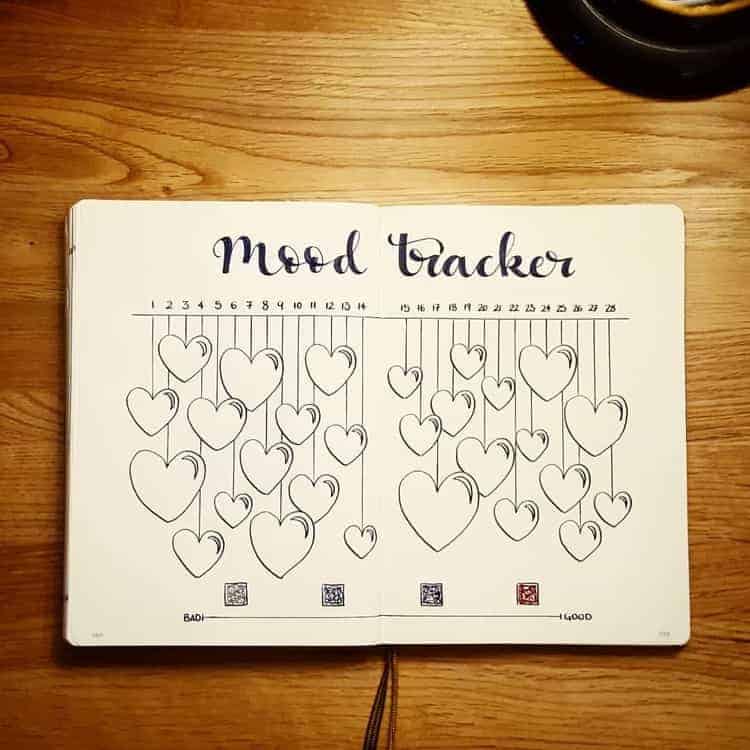 How about trying a garland style mood tracker like this one where the hearts hang down and you color them in daily working from left to right.
7 | Mood Tracker Hearts One Page Spread
Follow:
@Miss_Xara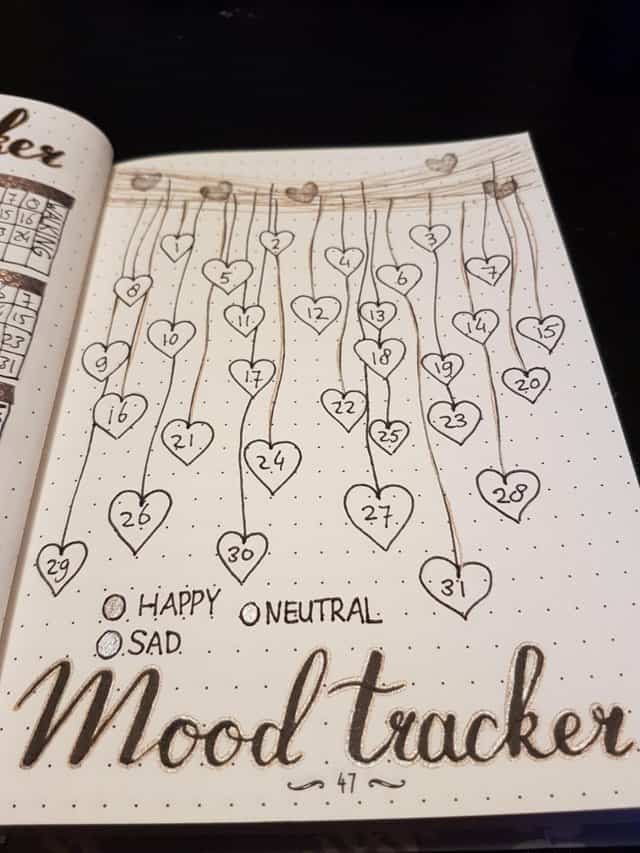 And here's an idea of how you can mix up the garland design, this time it's on just one page and the hearts are numbered randomly.
8 | Hearts in a Jar Bullet Journal Mood Tracker
Follow:
@Pinterest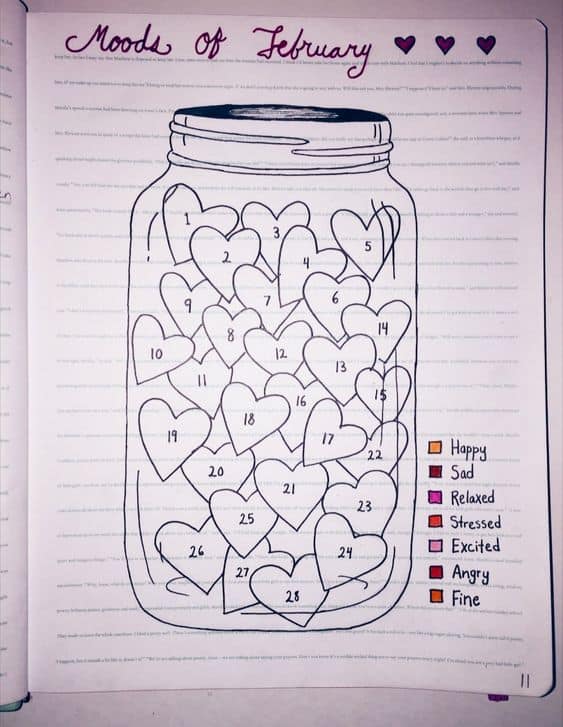 And let's finish up with this sweet hearts in a jar mood tracker. This is a really cute idea that you could modify to use for many different ideas, try filling your jar with flowers, pebbles, stars, snowflakes depending on your chosen
bullet journal theme for the month
!
More Bullet Journal Mood Tracker Ideas Here