This post may contain affiliate links, which means I may receive a commission if you click on a link and purchase something. As an Etsy and Zazzle Affiliate I earn commissions from qualifying purchases.
Don't miss our guide to mental health journals that will help you develop a healthy practice of being kind to yourself.
Mental Health Journal Ideas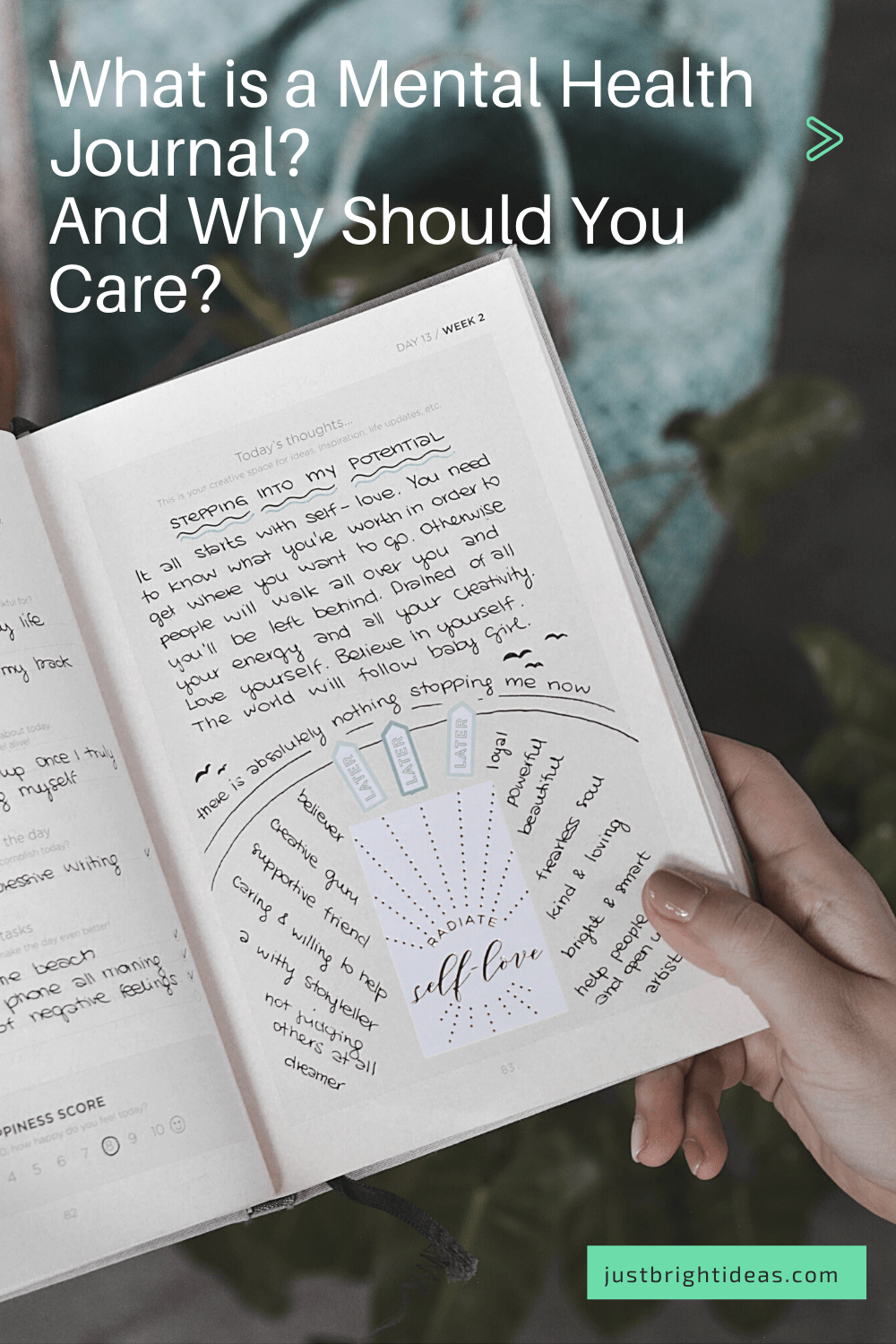 Today we're looking at some different mental health journal ideas.
Whether you are struggling to cope with anxiety, emotional eating or you just feel stressed and don't want to burn out using a journal can help you work through the issues you face and help you to feel more grounded and in control.
In this guide to mental health journaling we cover nine different journaling methods you can use to support your wellbeing.
As you read through the list you might find more than one that you think would help you.
Ou advice would be to start with the one that you think would have the most positive impact on your life.
When you first start our on your journaling journey it will require focus and commitment, and you are much more likely to succeed if you only have one area of your mental health to focus on.
Give yourself a month or even two to develop a journaling habit. And then if you think you need to add in a second journal.
Journaling is a positive way to support your mental health, but it is not a replacement for medical advice or support.
For help and support you can contact NAMI, Mind or your doctor.
Trigger Tracking Journals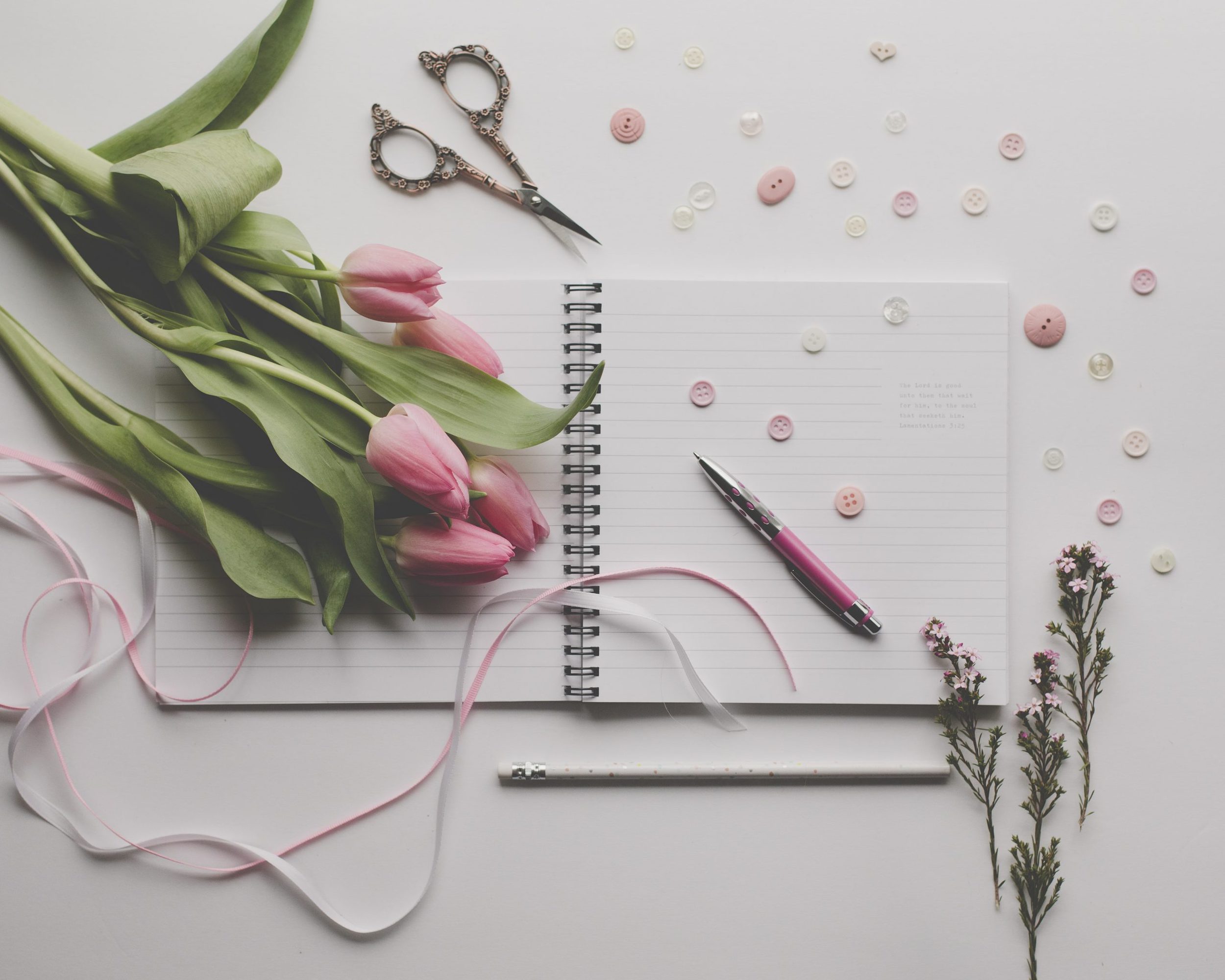 The first journals we will look at are known as trigger tracking journals.
Being triggered is a phrase that is used in social media, news reports, and in daily conversation.
The phrase refers to the emotional reaction you may have to certain topics.
You may become upset, violent, afraid, or a mixture of all emotions depending on the topic.
The bigger issue with being triggered is when you don't know why you were triggered or how to deal with it.
That is where a trigger tracking journal comes in.
When to use a trigger tracking journal
Trigger tracking journals are an immediate response journaling method.
You don't want to wait to write in the journals.
You want to do it at the time you feel the emotion.
This allows you to get your thoughts out without really thinking them over and without removing some of the thoughts you are having because you feel they are wrong or bad.
If possible, use the journal at the moment or just following the moment.
The longer you wait to use this type of journal, the less effective it is.
How a trigger tracking journal can help you
Trigger tracking journals work in several ways.
The first is to give you an immediate outlet for the emotions you are feeling from being triggered.
The second way they are used is to give you something to reflect on.
You should go back and look at the entries so you can reflect on them and look for patterns.
This will help you to see who or what is triggering you on a routine basis.
This allows you to begin to remove that from your daily life and help you reduce triggers and improve your mental health.
An Anxiety Journal
If you want to try and get down to the root of what is causing your anxiety so you can feel less anxious a journal can help you.
How to start your anxiety journal
Anxiety journals are also called ranting journals.
When we feel anxiety we usually feel a rush of emotions all at once.
Some of the thoughts can be quite chaotic while others are eerily calm.
The fact is though, the thoughts and emotions are fast moving and can be overwhelming if there is no outlet.
In fact, some people find that the manic nature of anxiety and thoughts can be worse than the actual onset of anxiety itself.
For this reason, there is no real set-up of an anxiety journal.
It is simply a lined journal that allows you to put in your thoughts as they come to you and get them out.
It can be a really good idea to leave space at the end of each journal entry to act as a reflective area, so that you can go back once your thoughts have calmed down to try and figure out what triggered your anxiety.
When you should use your anxiety journal
You should use the anxiety journal anytime you feel an anxiety attack coming on or find yourself in the middle of an anxious feeling.
This mental health journal is as simple as that.
When you feel like you need to rant and just get those feelings and emotions out you just grab your journal and start writing.
Ways that your anxiety journal can help you
Having a safe outlet for your thoughts can be so helpful in many ways.
Firstly your journal will help you to see the thoughts that you have, and over time you will be able to look for repeating thoughts, or connections that could be making your anxiety worse.
Writing in an anxiety journal won't cure your anxiety but it can help to reduce it.
You need to make sure you use it as both a ranting and a reflective journal.
Write in it when you are feeling anxious, and then go back afterwards to reflect on what happened and your feelings about it to try and figure out your triggers.
An Emotional Eating Journal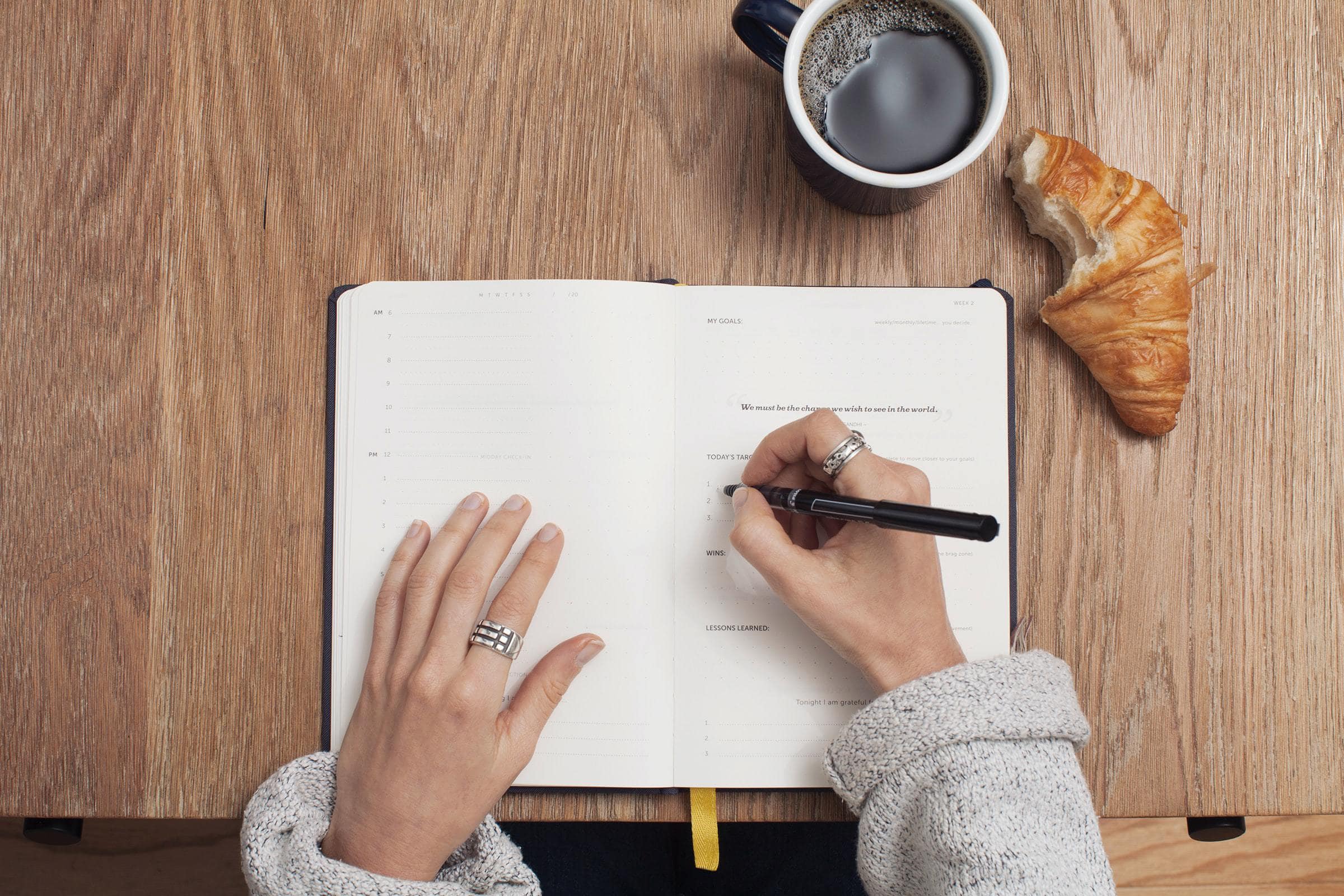 Emotional eating is one of the main reasons that people struggle to lose weight, and keep it off and can lead to severe health issues and eating disorders.
If you always manage to stay on a healthy eating or exercise plan only until your emotions get the better of you and the thing you turn to make yourself feel better is food, then an emotional eating journal could really help you.
Not only will it help you to be successful with your weight loss, but it will also help your mental health as you won't feel like a failure.
How to set up an emotional eating journal
You can use pretty much any journal you like to start an emotional eating journal.
Just make sure that for each entry you write you include:
the date and time
what you were eating
what happened to cause your emotional binge eating session
Be sure to leave some space between journal entries so you can go back and reflect on your emotions and their triggers.
Just like an anxiety journal an emotional eating journal is a space for you to rant.
A safe space to unload your feelings and emotions.
And the more you write about what happened, however uncomfortable that can be at the start, the more helpful your journal will be for your mental health.
It is very important that you make the connection between the trigger and the food you were eating.
As an example say you find that you often reach for grilled cheese sandwiches for comfort following an uncomfortable verbal exchange with someone.
Once you start journaling you might then remember that there was someone in your past who was verbally abusive towards you and you always ate grilled cheese afterwards because you found that comforting.
When should you use your emotional eating journal?
If you find yourself eating something that is not on your healthy eating plan then you should pick up your journal and write about it.
You might find yourself writing while you are eating.
That is fine.
In fact it can be very helpful, because over time you will find yourself eating less during an emotional binge eating session, because it's tricky to eat and write at the same time.
And then the next step is that instead of reaching for the food, you reach for your journal to use as an emotional outlet.
How your emotional eating journal can help your mental health
Writing in your emotional eating journal can help you by reducing the amount you are eating during that moment.
It can also help you get to the root of the problem.
Over time you will be able to filter through your thoughts and feelings to find the root of what is triggering you, why it is triggering you, and why you are eating instead of displaying other emotional responses.
Just remember that for it to work effectively you need to write in your journal when you feel the need to eat.
And in the beginning you might be writing while you are eating.
But over time you will be able to develop more healthy ways to deal with the emotional triggers.
A Mood Journal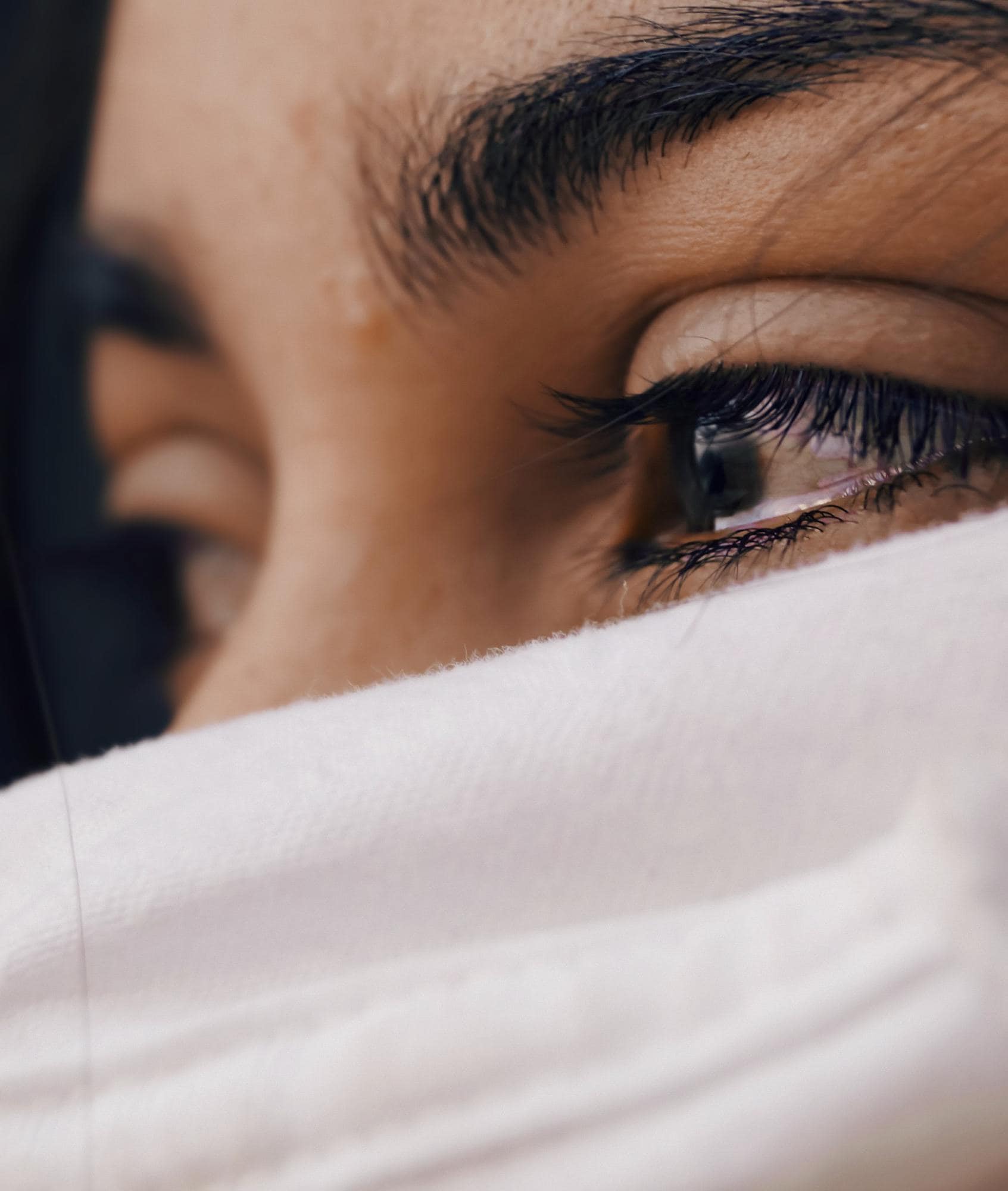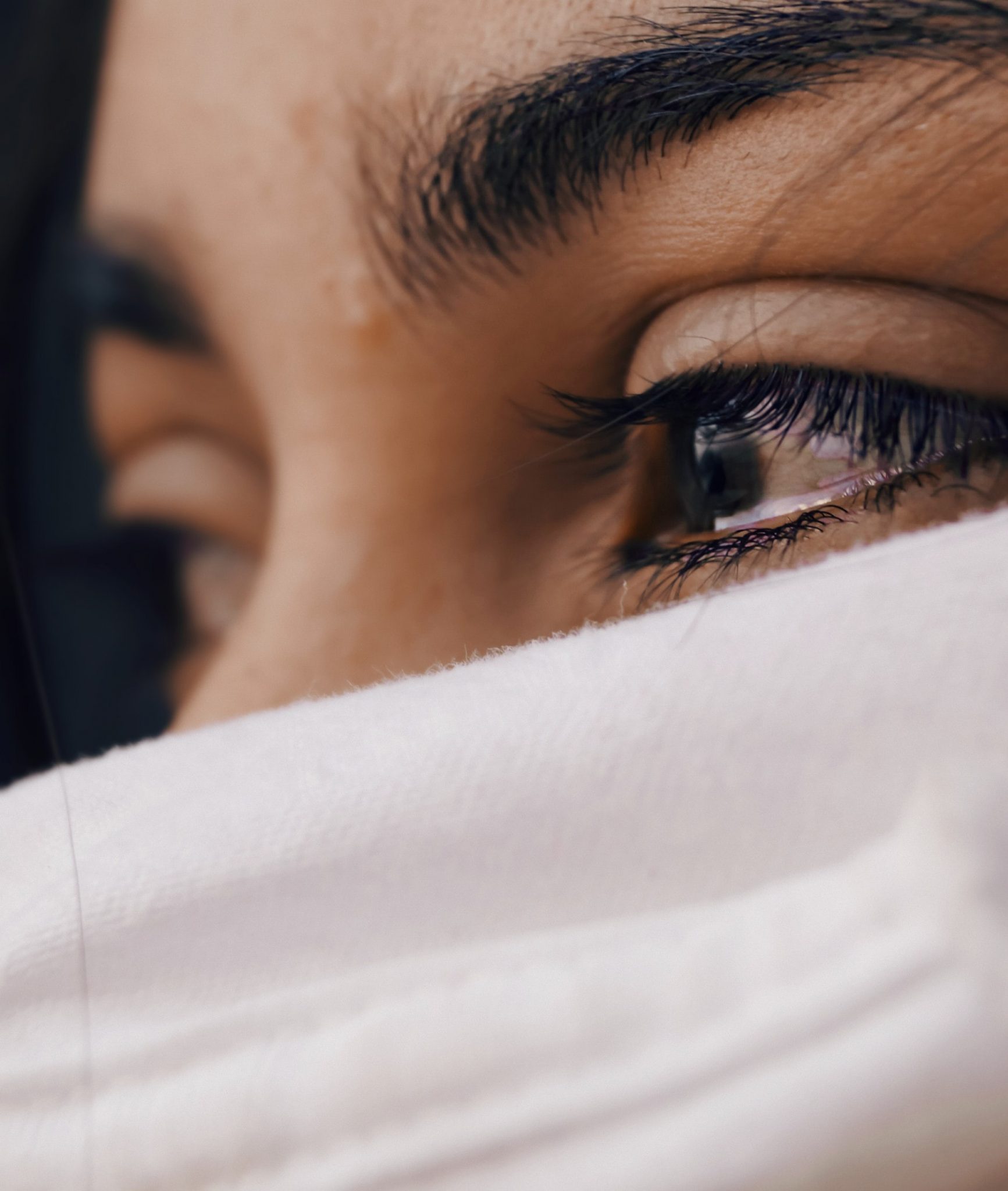 If you find yourself easily triggered into feeling negative emotions, falling into negative moods, or struggling to change your mood when you need to then you might benefit from using a mood journal.
Mood journals can help you determine not only what put you in a certain mood, but also what to focus on to remove negativity from your life and reduce bad moods.
If this sounds like something you want to do, here are some ways to create and use a mood journal in your daily routine.
How to set up a mood journal
A mood journal can be set-up in various ways.
Some people include a mood tracker in their bullet journals. This is a really simple way to track the single emotion that they felt was the strongest each day.
If you find yourself struggling with negative emotions this may not be enough for you.
Using a single mood journal, where the only thing you write about is your emotions may help you more.
You can use a guided journal like this one which contains a series of writing prompts to help you explore your moods and emotions.
Or you could simply use a lined notebook to write about and reflect on your feelings and emotions.
Mood journals are similar to trigger journals in the sense that both are done at the time of the emotion. So choose a notebook that is small enough and light enough to carry with you.
When to use your mood journal
Mood journals are ideal for moments in your day when you find yourself an extreme of a mood.
Most people start mood journals as a way to focus on why they may be sad, depressed, or feeling anxious and work through those issues.
Many users of mood journals benefit from seeing their entries and their lives go from a negative extreme to a positive feeling over time.
How a mood journal can help you
The mood journal helps you focus on you.
That may sound odd, but if you are going through an emotional or mood extreme you may focus on the problem or emotion and not on yourself.
By writing down your thoughts and recognizing the emotion or mood connected to them you can help bring the focus back to you and work on making your life a bit better from the mental health journal entries and routine.
A Stress Relief Journal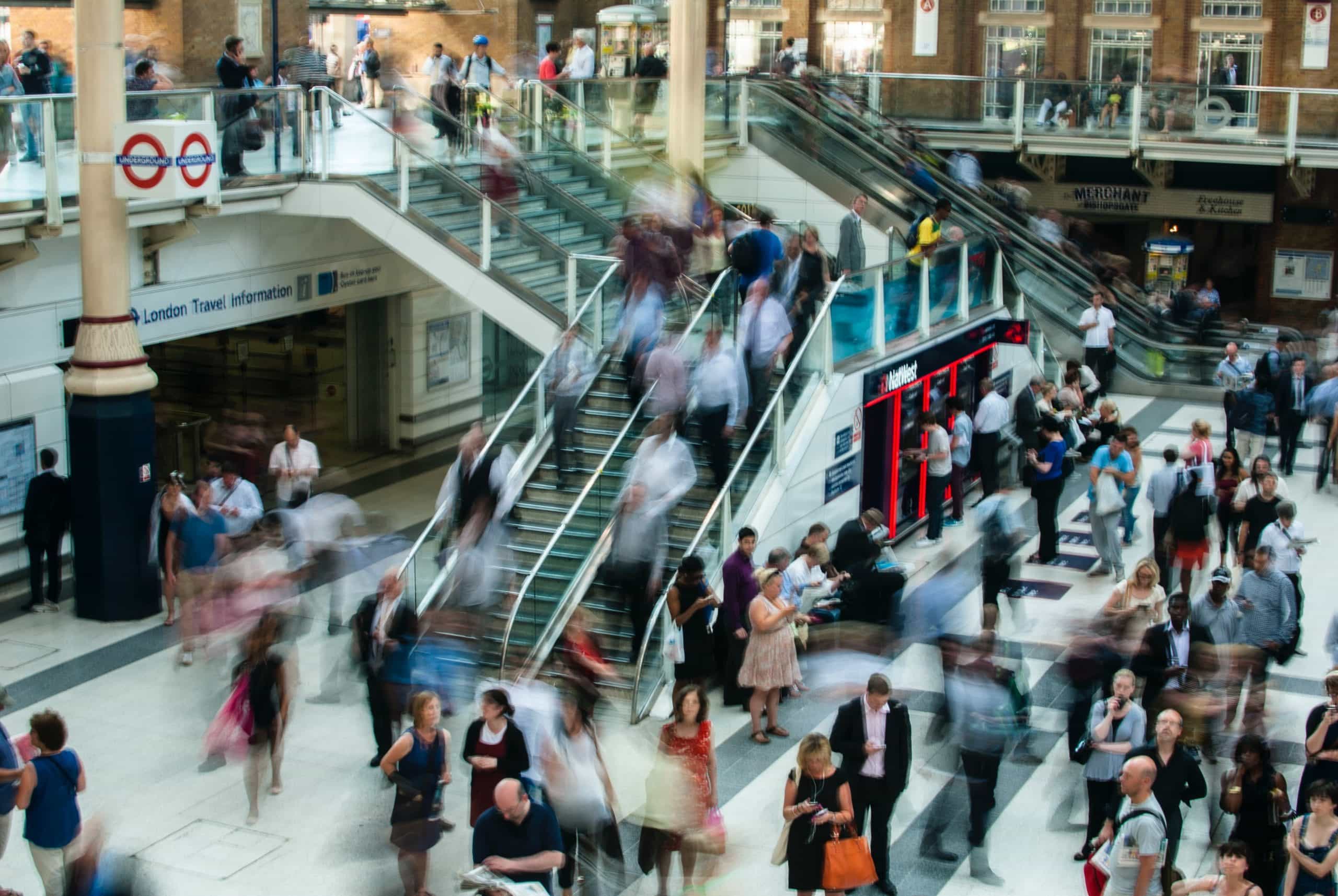 Stress can lead to multiple health issues including heart problems, breathing issues, and more.
You can end up with anxiety and even severe depression.
All of this from stress.
Relieving that stress may not seem easy, especially if you don't really understand what is triggering your stress.
This is where keeping a stress journal can really help your mental health.
Here are some ways to make a stress relief journal and put it to use in your daily life to reduce your stress naturally.
How to set up a stress relief journal
A stress relief journal can be set-up in several different ways, but there is one way that seems to work well for most people.
This method uses a mix of visual aides, journaling, and routine reflection.
You use visuals that represent your mood. These can be pictures, smiley faces, or emoticons if you are using a virtual option for your journal.
After expressing your mood for the moment, you can then begin to journal what is causing that mood and the stress that you are experiencing.
You may find that your journal becomes a hybrid of stress and mood journaling, which is fine and just as beneficial.
When to use a stress relief journal
As this is a form of trigger journaling you need to write in your journal at the point you are feeling stressed.
Don't forget that it is also important to go back to your entry and reflect on what triggered your stressful response. This is how you can find the root of your stress and take steps to remove it from your life.
How a stress relief journal can help you
The stress relief journal helps you get to the root issue of your problem.
Like most journals of this type it is a two step process and both steps must take place for it to work.
The first step is being able to rant about the stress you are feeling in a safe space.
The true statements of how you feel will come out and then reflecting on those later may be the key to finding out something about yourself and your stress that you did not see before.
So the second part of the process is in the review of the journal itself.
When you go back and review the journal you will find what is causing the stress.
You can then look for ways to reduce your stress and live a happier life.
Other Types of Journal
Now let's have a look at other types of mental health journal you can use that don't need to be written in "during the moment".
A Bullet Journal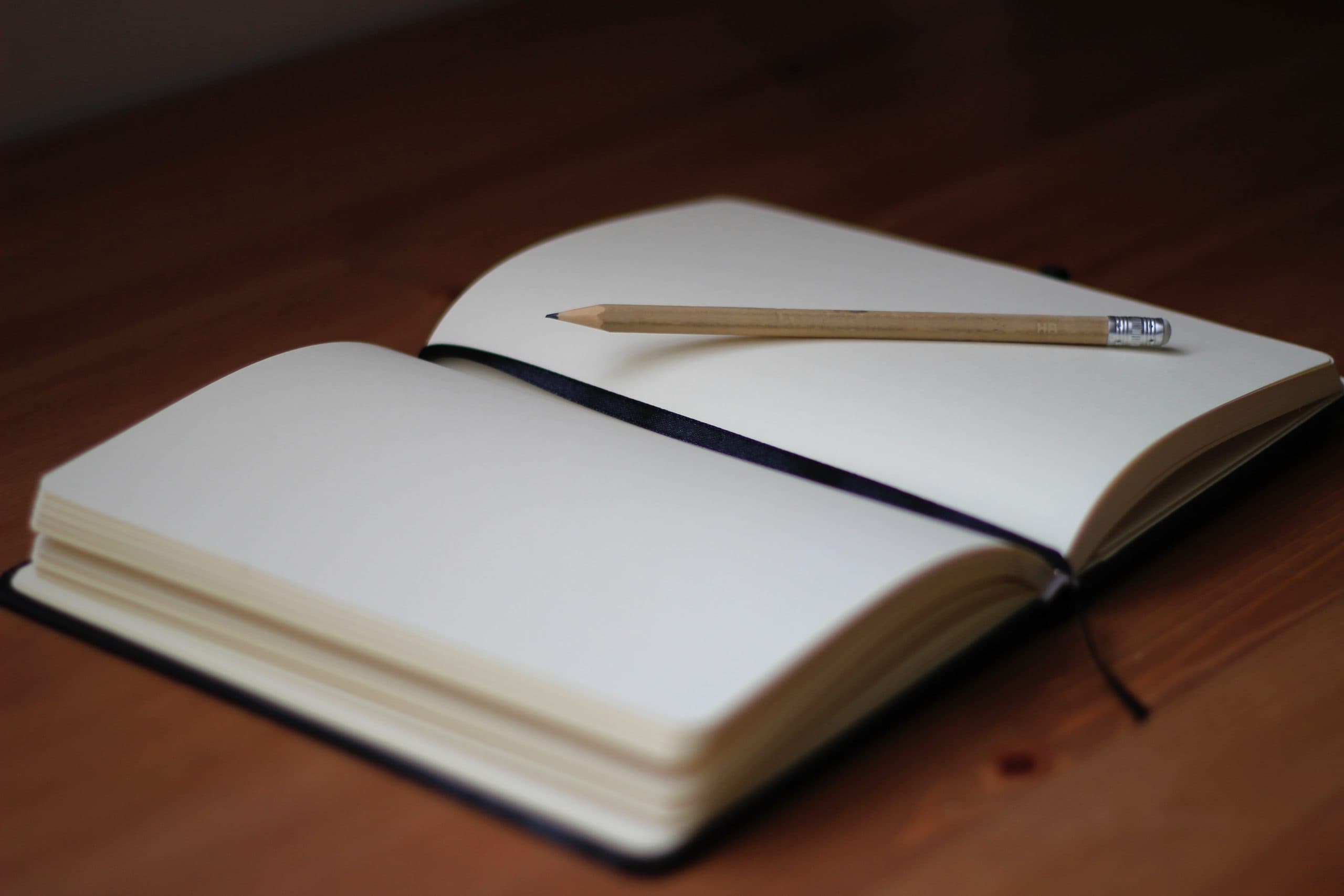 One way to support your mental health and feel less stressed is to use a planner or another organizational tool so that you don't have all of your plans and commitments and responsibilities buzzing around your head.
If you've seen people sharing their bullet journal spreads and layouts on Instagram or Facebook you can be forgiven for thinking that it's a very time consuming way to use a planning tool that also requires a lot of drawing and creativity.
The truth is, once you know how to make your own bullet journal, and how to use it properly, you can create a really effective way to organize your life that is personalized to your needs.
Here are some simple steps to making and using a bullet journal effectively.
How to set up a bullet journal
We actually have a whole guide to show you how to set up your bullet journal, but in brief all you need is a notebook or a journal in which you can keep a running list of your responsibilities.
Most avid bullet journalers swear by the leuchtturm 1917 dot grid journal, but this one is also a good choice if you are on a budget.
When to use your bullet journal
For the bullet journal system to work and help you feel more organized and less stressed you need to use it every single day. Just as you would an agenda book or planner.
How a bullet journal can help you
The bullet journal is primarily there to help you with organizing your tasks.
If you find yourself procrastinating a lot, or you feel like you just have far too much on your plate then a bullet journal can help you to feel more organized.
You can see at a glance exactly what you need to get done, feel a sense of accomplishment as you check things off your list and most importantly declutter your mind!
The best way to be successful with a bullet journal is to start with the basic set up and use it diligently until you feel comfortable with it. Then you can explore the "bells and whistles" like weekly spreads or trackers and collections.
A Gratitude Journal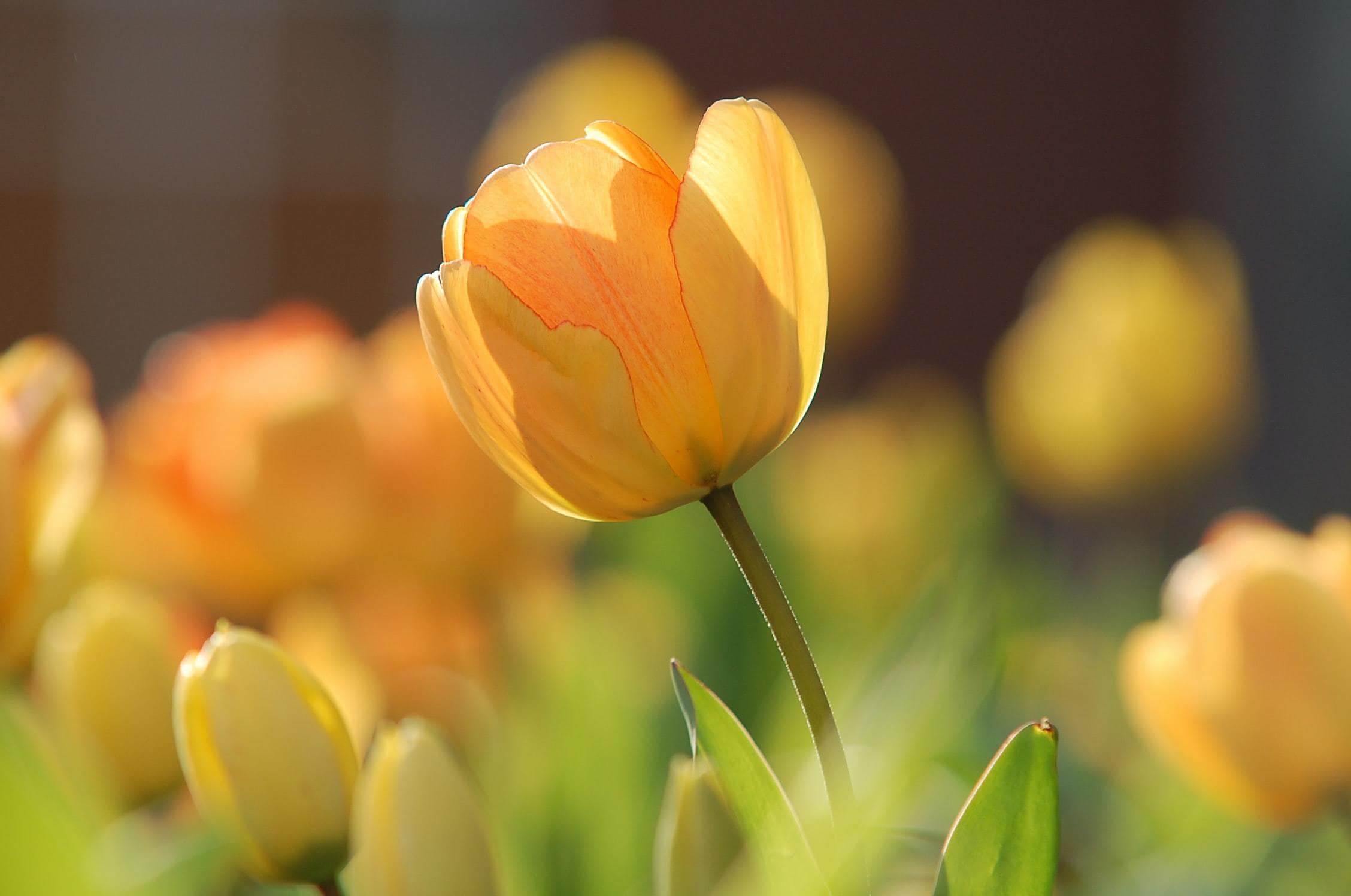 Negativity may seem like just an emotion that we all go through.
The issue with negativity is that it can cause reactions beyond just your emotional well-being and mental health.
If you find yourself dealing with or surrounded by negative thoughts on a regular basis, you may find yourself also feeling depressed and anxious.
This can affect your eating, sleep patterns, and much more.
And suddenly you're on a downward spiral that can have a negative effect on your health.
One way to get rid of the negative influences in your day is to start finding the gratitude in even the smallest of things.
And this is another way that starting a journal can help your metal health.
Let's look at how to make and use a gratitude journal to remove the negative influences of your daily life.
How to set up a gratitude journal
Again you don't need a specific type of gratitude journal.
Just choose one you will enjoy writing in (like this one).
Your first feelings of gratitude could come from not having to write on cheap paper with a scratchy pen that keeps leaking ink!
There isn't really any set up involved with a gratitude journal so they are really easy to get started with.
You could decide that you will write in bullet points. Maybe focusing on a specific number of items you want to be grateful for each day.
Or you might find that in itself is overwhelming and you'd rather just write down one item, as a short sentence.
You might also have times when you feel so grateful for something that happened that you want to write more about it. So that the positive feelings you are experiencing flow onto the page for you to reflect on later.
When to use your gratitude journal
Many people like to write in their gratitude journal at the end of every day as part of their evening routine.
It's a good way to reflect on the positive things you felt or experienced during the day, so that you can go to sleep on a positive mindset.
When you are just getting started with journaling about the things you are grateful for you might actually want to carry your journal with you. That way you can be more intentional about seeking out the positive things in your day and writing them down before you forget them.
The smell of your fresh coffee brewing.
The warm sunlight on your skin.
The way your favorite tshirt makes you feel.
Finding gratitude in the small things in life will begin a snowball effect that lifts your mood and helps you notice the bigger things.
How a gratitude journal can help you
The benefits of a gratitude journal can have a slower burn than some of the other journaling methods we are sharing today. So you need to stick with it.
Ideally the journal is supposed to help you remove negative energy from your life, reduce stress, and reduce depression by finding the good in your world.
For this form of journaling to work you need to be really intentional, and focus on the small things.
As you move on with routine journaling, you may find that you are finding less bad and much more good in your day.
These are the gratitudes you list.
This will lead you to mindfulness and peace in your daily life and a new way to look at things.
A gratitude journal can be as simple as a few lines or just one line.
Just make sure that you find at least one thing to be grateful for in each day, no matter how bad the day was.
A Mindfulness Journal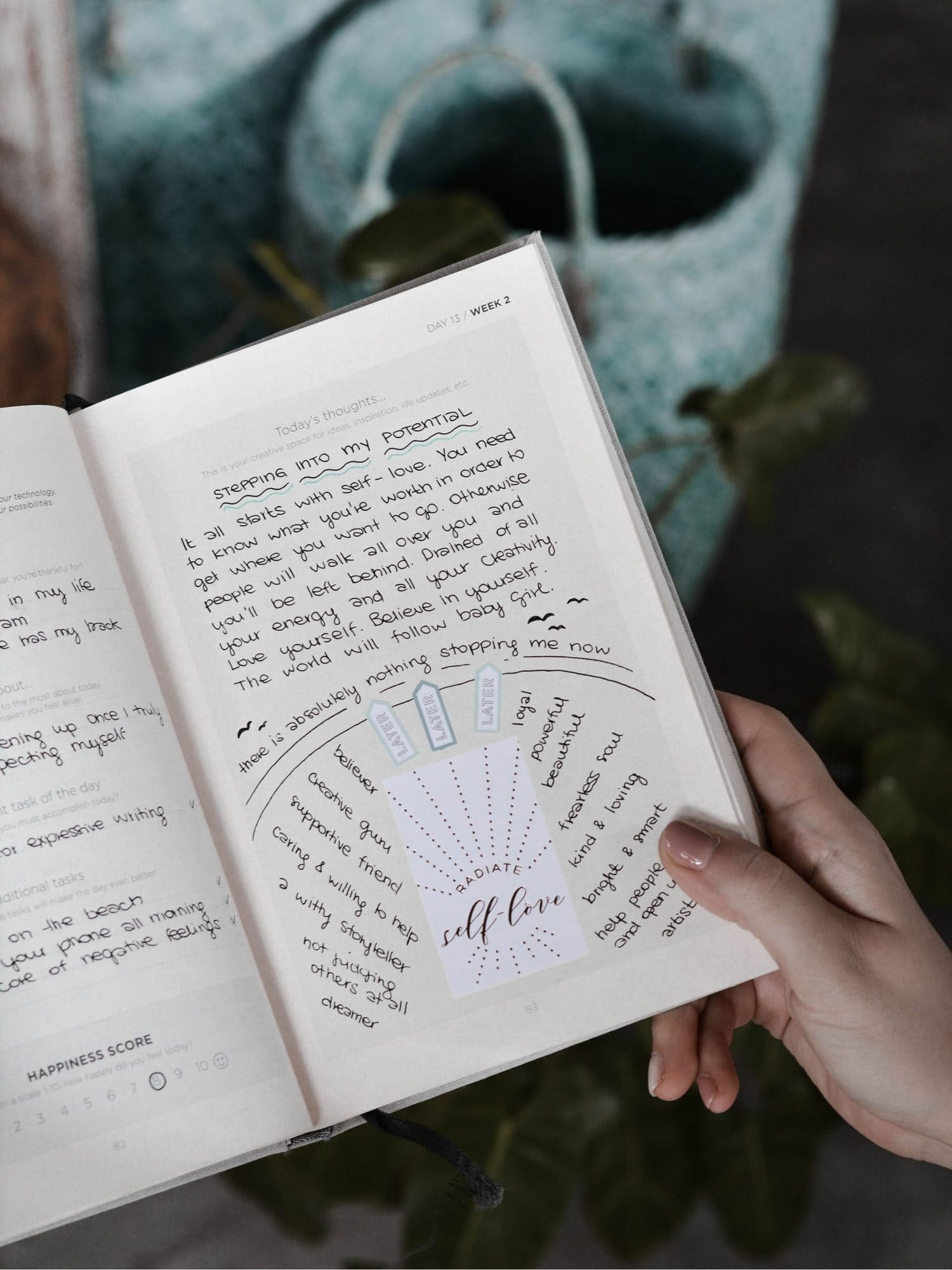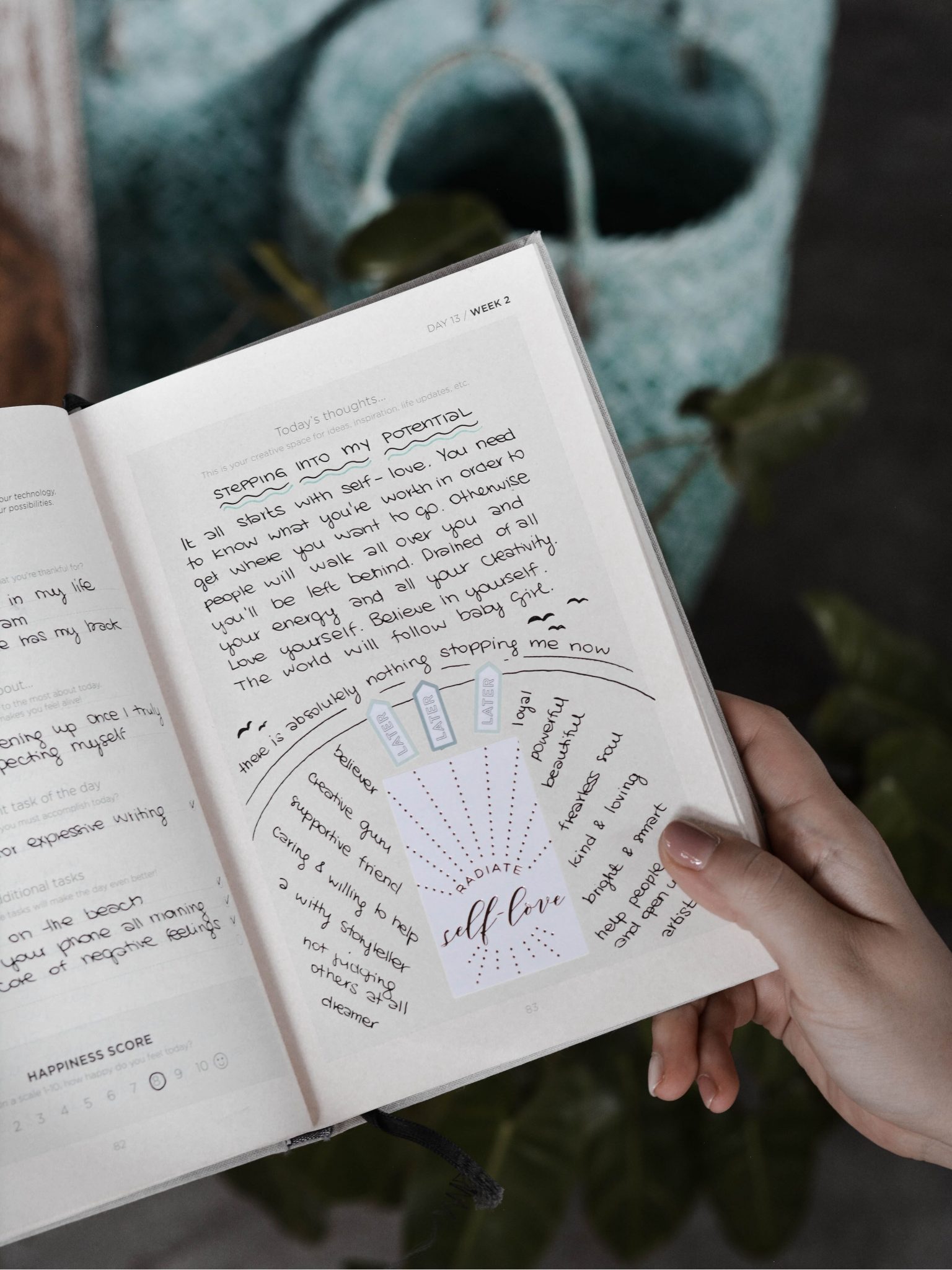 You've probably already heard of mindfulness because it's a bit of a self care buzz word.
Being mindful is a complete body, mind, and spirit practice.
Through meditation and contemplation, you begin to remove negative energy from your life.
You also start to see what is triggering you and how your body reacts to that triggering.
One way to help with this is to have a mindfulness journal.
Here is some information on how to make a mindfulness journal and how to put it to effective use in your daily routine.
How to set up a mindfulness journal
A mindfulness journal strongly resembles what most would call a devotional journal.
In many cases, people use a small blurb or quote to push their journal along.
This blurb, quote, or statement gives you something to reflect on about your own life.
For example, you may choose to have a reflective quote from the Dali Lama or Edgar Cayce to start off each day.
As you use your journal you will be reflecting on the quote and giving your thoughts on that quote and how it applies to you.
Many mindfulness journals (like this one) are prompt based to get your mind thinking and focusing on you and your feelings about your day or stress in your life.
When to use your mindfulness journal
The ideal time to use a mindfulness journal is in the morning.
This allows you to bring the focus to you and keep that focus for the day.
It is usually part of a meditation routine that allows you to meditate for several minutes, write about your thoughts, and take those thoughts with you throughout the day.
A mindfulness journal is a form of written meditation that can help you focus and de-clutter your mind and thoughts.
How a mindfulness journal can help your mental heath
The overall method that mindfulness journaling uses to help your mental health is to give you a de-cluttering method of your thoughts.
You can look at it as taking out the trash of your life.
Meditation helps you to take out the trash that clutters your soul and spirit while mindful journaling allows you to take out the trash that clutters up your mind and refocus your mind on you and your wellbeing.
It is a way of getting to know yourself again.
The best way to put a mindfulness journal to use is to use it as a tool.
The most effective way to get the most benefit from a mindfulness journal is to use it as a tool.
This isn't a form of "rant journaling" where you just focus on getting thoughts out of your head.
Instead you use your entries to find peace, to find the issues, and to help you remove them from your life so that you can be more peaceful in and of yourself.
An important part of mindfulness journaling is reflecting on your entries and learning from them.
An Art Journal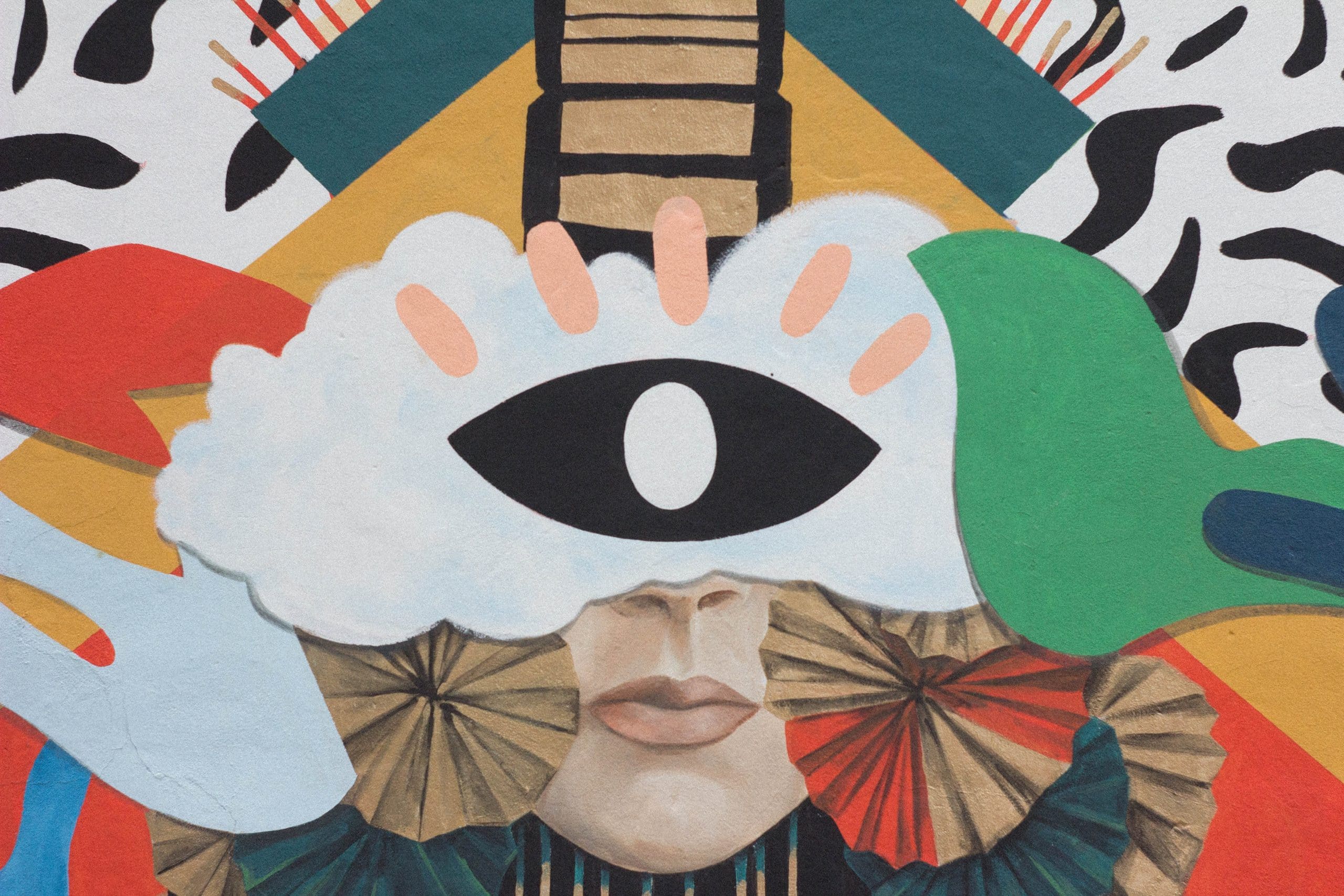 One misconception that many people have about journaling is that it has to involve writing.
If that thought has been putting you off you might want to consider an art journal to help with your emotional issues and to support your mental health.
How to set up an art journal
It's really easy to get started with an art journal because all you need is a blank journal (like this one).
It's entirely up to you whether you buy a blank journal from the store or whether you make your own by picking out papers and sewing them together.
My most recent art journal started out life as a magazine.
What you are looking for is a space that you can use to express yourself.
When to use your art journal
Art journals do not really have a time or place they are best used.
They are a totally free-from method of expression that helps you to connect with your moods and emotions.
You could set aside some time every day to work in your art journal, or you could use it only when you feel the need to express yourself artistically.
How your art journal can help you
The art journal helps you by giving you an artistic outlet for your mood and thoughts.
It is designed to help someone who is more visually or artistically inclined use journaling just as someone who is inclined to writing can use journaling.
It gives you a safe space to express yourself, a possible outlet for stress, and an area to pull from for other creative projects and ideas.
Art journals can be as plain or as decorative as you want.
You may decide you want to share your journal pages on a platform like Instagram or in a Facebook group. Or you might choose to keep them completely private.
Keep in mind that art journals are a way for you to express yourself and review your life journey through images. Even if you use no words at all, it is still journaling and can still be a helpful way to look after your mental health.
Check out these creative prompts if you need some help to get started with your first art journal.
It's Time to Get Started
And that brings us to the end of our ultimate guide to mental health journal ideas.
All that's left now is for you to choose the one you think will help you the most, grab a notebook and a pen and commit to starting a new practice that will improve your life and put the spring back in your step.