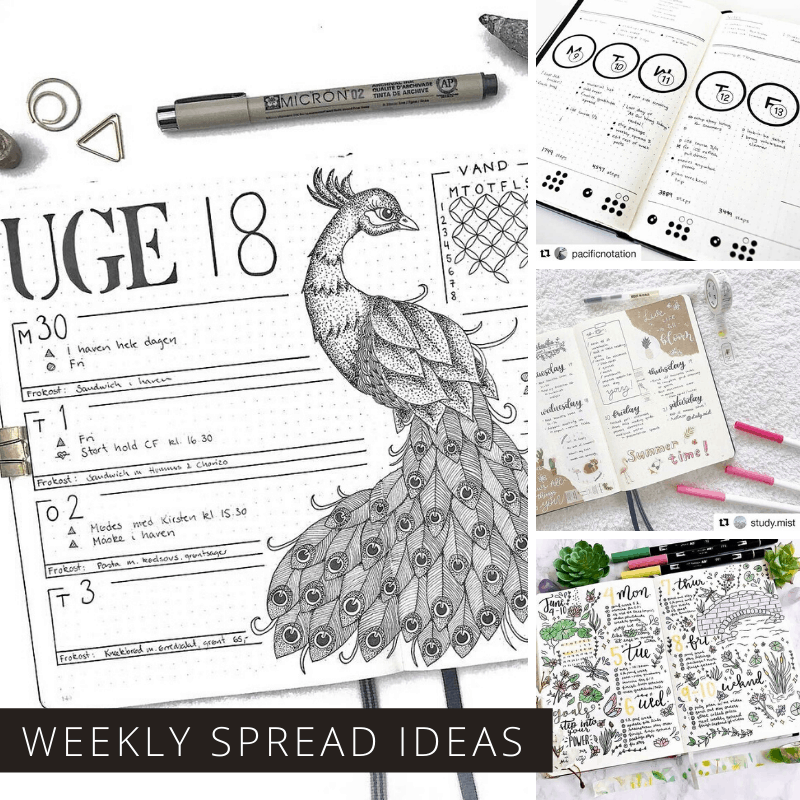 Bullet journal weekly spreads can be as simple or as complex as you want them to be. Let your creative side run free and be inspired by these weekly layouts!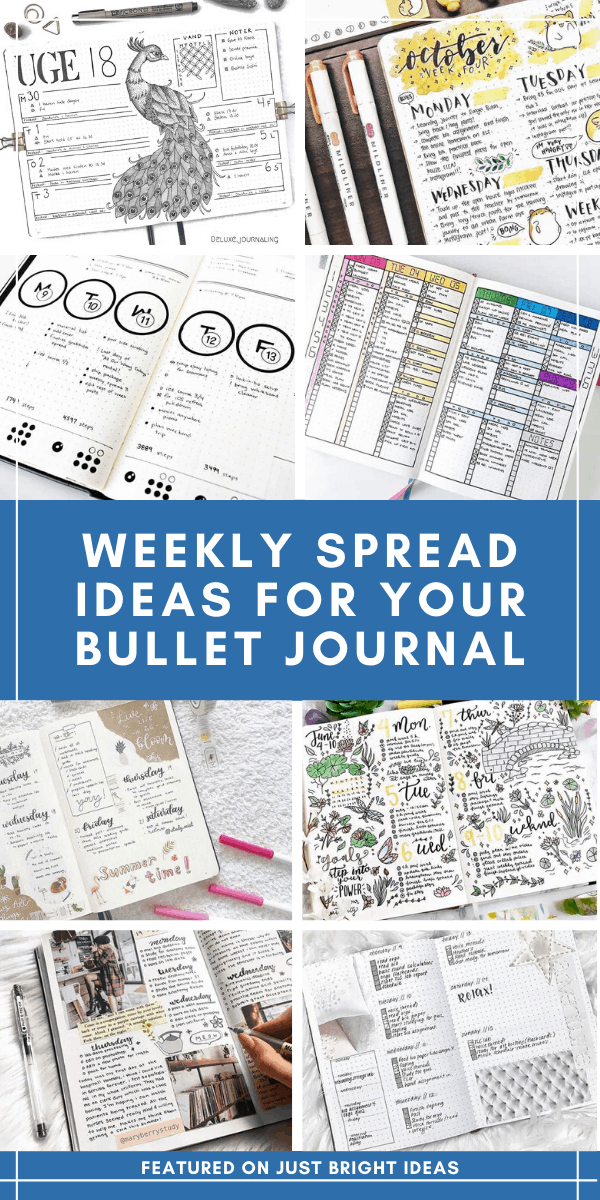 Bullet Journal Weekly Spread Ideas
Last week I shared Bullet Journal tracking spreads to try this year as part of your Bullet Journal set up and that list has gone viral, so today I wanted to inspire you with some amazing bullet journal weekly spread ideas.
When I first started my Bullet Journal I followed the official instructions to get started and while I had a functional list of tasks it looked pretty boring.
And then I discovered a whole world of creative people who make their bullet journals much more engaging!
I headed over to Instagram and picked out some of my favourite weekly layouts to inspire you.
Whether you're tying to decide between horizontal or vertical layouts, or whether you should include journaling, washi tape or even photographs let these ideas inspire you to switch you your own layout next week!
Try a space theme
Try out a dutch door
Decorate your week number with a wreath
Try a vertical layout
Add some washi tape decorations
Add in illustration to your sidebar
Document the weather on your weekly spread
Washi tape your margins
Keep things simple with a weekly one page spread
Try a top half page layout like this to leave room for notes and tasks
Here's another one page weekly spread with a lovely pop of color and doodles
This weekly layout leaves room for your calendar and this week's events
Here's another take on that layout
Here's a clever way to incorporate your habit tracker into your weekly spread
Bring your weekly spread to life with an illustration!
This creative weekly spread has room for gratitude and journal notes too!
Make room on your weekly spread to track your self care goals and habits
Love this festive weekly for the Holiday season!
Combine your weekly spread with your running list
Here's another idea for a creative weekly spread if you want to leave space to illustrate
Here's a weekly that includes space for study goals
If you like a geometric style try this weekly
Here's another layout style that leaves room for decorating and doodling
This one page spread uses gift boxes for each day
Leave room for an inspirational quote
This spread works if you don't have lots of tasks each day
Or try this if you need lots of room to write things down!
Here's another way to get the most out of a dutch door
Or try this free flowing style of layout
Embrace your doodles with your weekly spread
Leave room for some mixed media journaling in your weekly spread
Or try this boxed layout
Try this simple style of horizontal weekly spread
Or go crazy with the stickers!
You can combine the stickers with photos or pictures from magazines
Or try a doodle a day
Here's another way to combine your weekly with your weather and habit trackers
Or make room for doodles, goals, notes and still have plenty of space for your weekly!
If floral is you're thing you'll love this weekly spread!
Or try this if you like to track the weather and the temperature!
Bullet Journal Dreamcatcher Weeklies
I love dream catchers. There's just something about the design that is so whimsical and of course they help to weed out our bad dreams from the good.
The weekly spread ideas I'm sharing here are all beautiful and I hope they'll inspire you to try something similar in your own journal.
1 | Vertical weekly spread with decorative header
2 | One page weekly
3 | Dreamcatcher dates
4 | Illustration that could double as a mood tracker
5 | Pretty watercolors
6 | Small dreamcatcher doodles
7 | Dreamy falling feathers
8 | Bring a spread to life with color
9 | One page weekly with sleep tracker
10 | Elegant design
11 | Boho weekly
Crystal Bullet Journal Weekly Spread Ideas
Recently I've seen a lot of Bujoers using crystals in their weeklies. They sure do make for a pretty spread which is why I thought I'd share some of the best crystal bullet journal weekly spread ideas I could find.
1 | How to Draw Crystals
2 | Horizontal Crystal Weekly
3 | Crystal Header
4 | Crystal Doodle Header
5 | Doodle Stickers
6 | Galaxy Inspired Crystal Spread
7 | Crystals and Lettering
8 | Crystal Sidebars
9 | Using Crystal Photos
10 | Crystal Theme – Plan With Me Video
Flamingo Weekly Spread Ideas
And now let's embrace the pink and tropical vibe with some fabulous flamingo weekly spread ideas to inspire you!
1 | Zero Flocks Given!
2 | Watercolor Flamingo with a Crown
3 | Flamingo Headers
4 | Minimalist Flamingo Spread
5 | Vibrant Weekly with Dashboard
6 | Weekly Spread with Meal Planner
7 | Flamingo Reflection
8 | Illustrated Weekly Spread
9 | Be a Flamingo in a Flock of Pigeons
10 | Tropical Weekly Spread
11 | Pretty Pastel Flamingo Spread
Disney Weekly Spreads
I'm counting down the days to our next Disney World vacation so it seemed like a good idea to bring you some Disney inspired weeklies!
From the Disney castle to your favorite ideas there are so many ideas here to inspire you!
1 | Disney Castle Weekly Spread
2 | Aladdin Inspired Weekly
3 | Aladdin Weekly with Stickers
4 | Genie Weekly
5 | Pinocchio Bullet Journal Weekly
6 | Seven Dwarves Weekly Spread
7 | Frozen Inspired Weekly Spread
8 | Frozen Weekly Spread
9 | Lion King Bullet Journal Spread
Comic Book Bullet Journal Weekly Spread Ideas
If you've got a tough week ahead why not bring your inner superhero to the party with these fabulous comic book bullet journal weekly spread ideas!
1 | Wonder Woman Weekly Spread
2 | Star Wars Spread
3 | Comic Book Themed Hand Lettering
4 | Pastel Retro Comic Book Weekly Spread
5 | Comic Book Headings
6 | Vintage Comic Book Spread
7 | Comic Book weekly Spread Printable
Peacock Bullet Journal Weekly Spreads
Next week why not go all jewel tones and feathers in your weekly spread?
I've found 7 super creative spreads to inspire you, with a mix of doodles, illustrations, watercolors and of course good old stickers and washi tape!
1 | Create a peacock banner
2 | Add some peacocks feathers as accents
3 | Add peacock flags to each day
4 | Add a heart peacock doodle
5 | Embrace black and white
6 | Paint a peacock feather
7 | Use stickers and washi tapes