This post may contain affiliate links, which means I may receive a commission if you click on a link and purchase something. As an Etsy and Zazzle Affiliate I earn commissions from qualifying purchases.
Whether you're looking for a wedding present or a housewarming gift you can't go wrong with a personalized charcuterie board. Check out our top picks today!
Personalized Charcuterie Boards Make Wonderful Gifts
Are you looking for a unique gift for someone special? A personalized charcuterie board is a one-of-a-kind gift idea they will love!
A handmade wooden charcuterie board is the gift that keeps on giving… it will be used and loved for years to come for Christmas, weddings, anniversaries, or any other special occasion.
If you saw our collection of Halloween Charcuterie Board Ideas you will know that we're big into this new trend of fun food platters for parties and get-togethers.
So when the team at Etsy invited us to share one of their Holiday Gift Guides with you we knew we had to choose their Custom Charcuterie Board collection!
There are so many GORGEOUS boards to choose from, we didn't want you to be overwhelmed, so we've narrowed them down to our favorite eight picks. All you have to do is choose which one you think your loved one will like the most and click through to place your order.
Our Favorite Custom Charcuterie Boards
This large, personalized charcuterie board is a beautiful way to serve charcuterie or desserts. I love the script that has been used for the monogram name, and the acacia wood is BEAUTIFUL. When not in use, it makes a great decoration on its own. This would be a perfect gift for a new couple or take as a hostess gift. These boards also make great corporate gifts, and client gifts.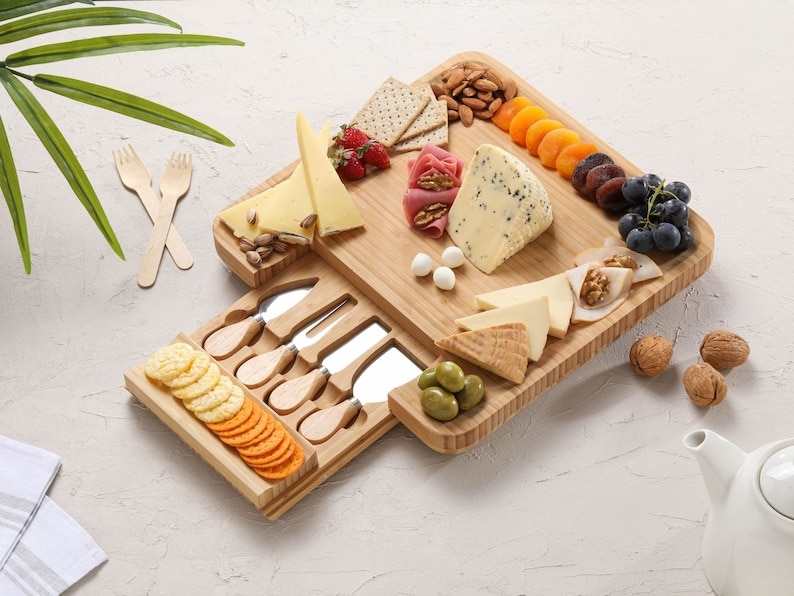 This custom cutting board is made from bamboo and your choice of monogram or picture can be laser engraved on the top to make it a thoughtful and unique gift.
This board has a handy drawer inside which pulls out to reveal a cutlery set for shredding, slicing and serving all kinds of cheese, sausage and fruit.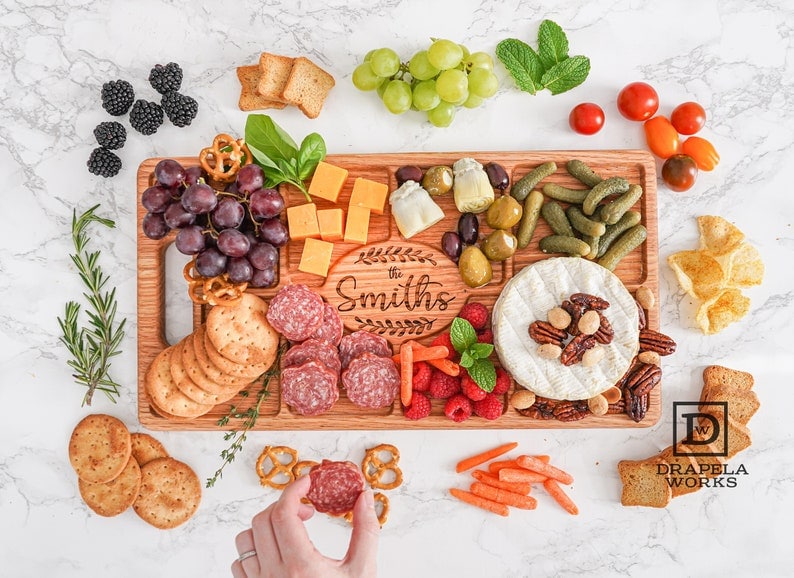 This personalized charcuterie board is made from red oak from the Appalachian Mountains and has sections to help organize the meats and cheeses. You can choose from four different styles of monograms to add a personal touch to your gift.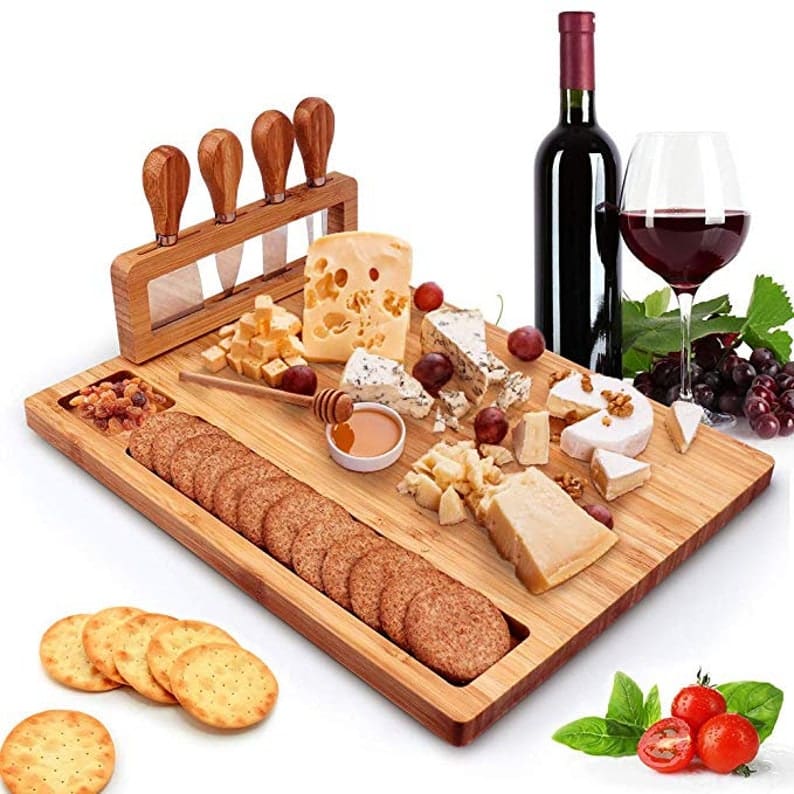 This bamboo wood cheese board has a clever groove down the side for storing crackers and comes with a set of four handy tools for slicing and spreading.
There are so many different personalization options available from a family name or monogram to a phrase or a favorite quote.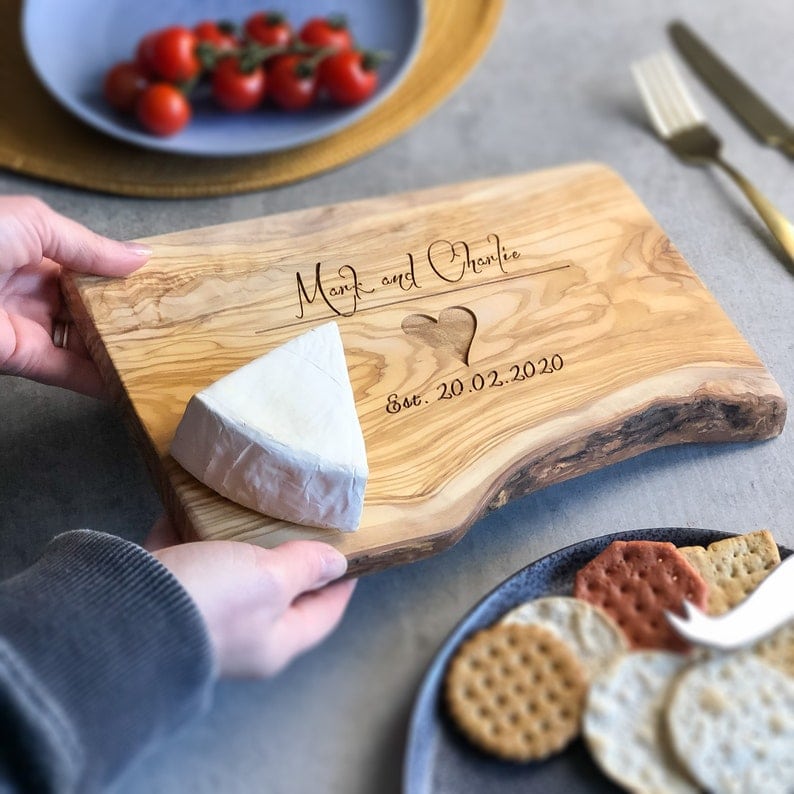 I love live edge wood pieces and this personalized charcuterie board cut from a piece of olive wood is just stunning!
Again there is a range of personalization options making this a great choice for everything from a wedding present for the newlyweds, to a unique gift idea for the head chef in your family.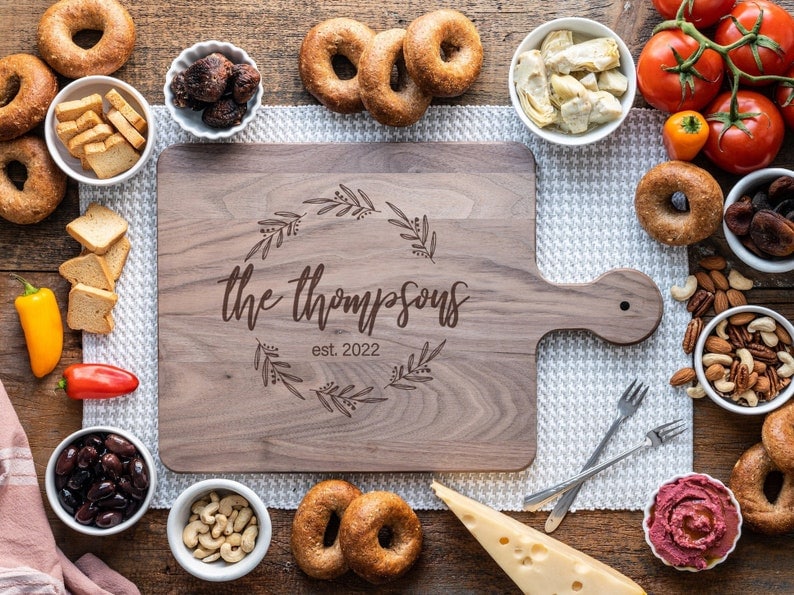 These personalized cutting boards make a great wedding gift for couples, a bridal shower gift or an excellent housewarming gift!
You can choose from walnut, cherry or bamboo wood as well as a laser engraved personalization. When they're not using the cutting board it can be hung on the wall as a decorative piece.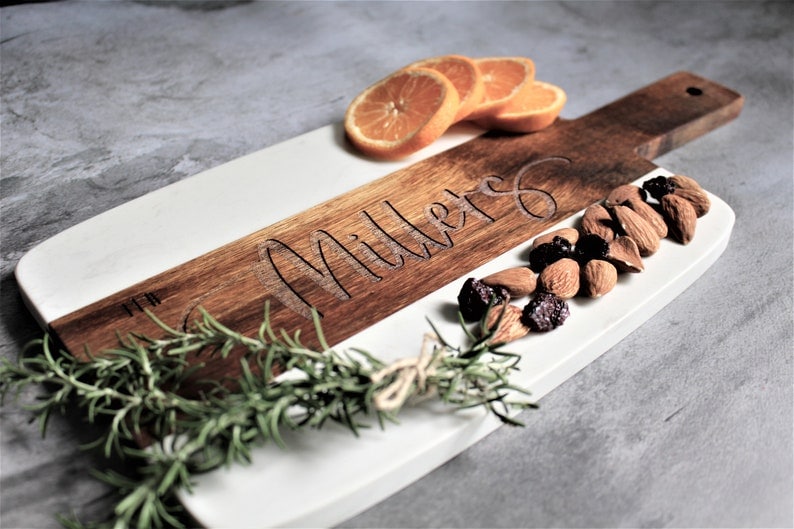 This modern Rustic Acacia wood and marble serving board is just STUNNING!
Personalize the board with a name in a gorgeous script font and you have a one-of-a-kind gift that is sure to be treasured… and actually used… as often as possible!
Let's finish up this collection of AMAZING personalized charcuterie boards with this circular cutting board. It's made from acacia wood and marble with a brass inlay for a luxe finish.
This board comes with a beautiful three-piece cutlery set that can also be engraved.
Whether you're looking for a unique gift as an engagement present, a wedding gift for the newlyweds, a thoughtful gift for mom for mother's day or something for your partner for Christmas you're sure to delight them with any one of these GORGEOUS personalized charcuterie boards!
After all, what's not to love about a gift that encourages you to surround yourself with friends and family and enjoy good food together?