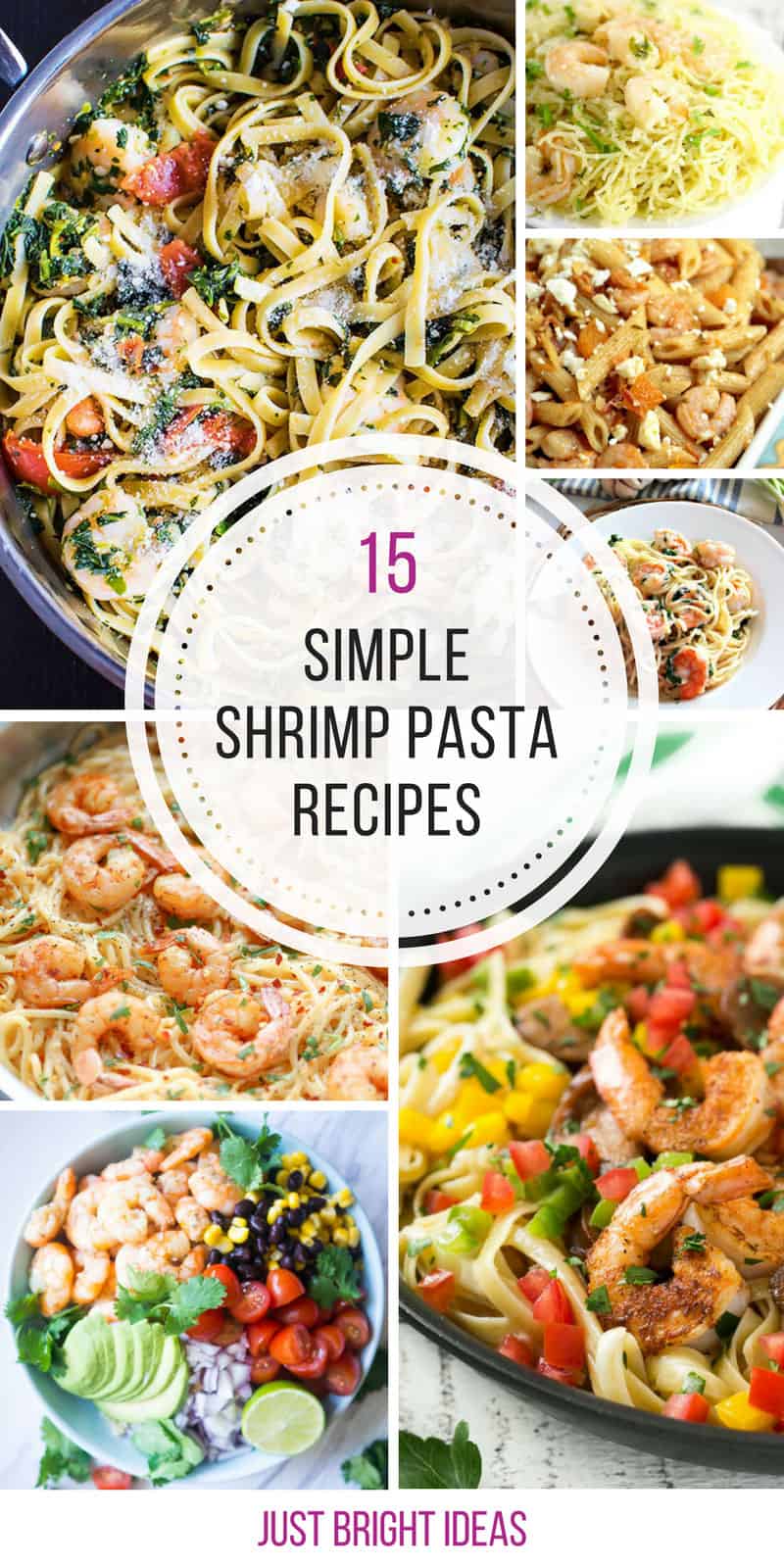 Pin these ideas! Hit the button to save these ideas for later. Don't forget to follow us on Pinterest for more great stuff!
This post may contain affiliate links, which means I may receive a commission if you click on a link and purchase something. As an Etsy and Amazon Associate I earn commissions from qualifying purchases.
&
---
Garlic Shrimp Pasta Recipes
If garlic is your go to ingredient for comfort food you will love these garlic shrimp pasta recipes!
9. Shrimp, Spinach, and Tomato Pasta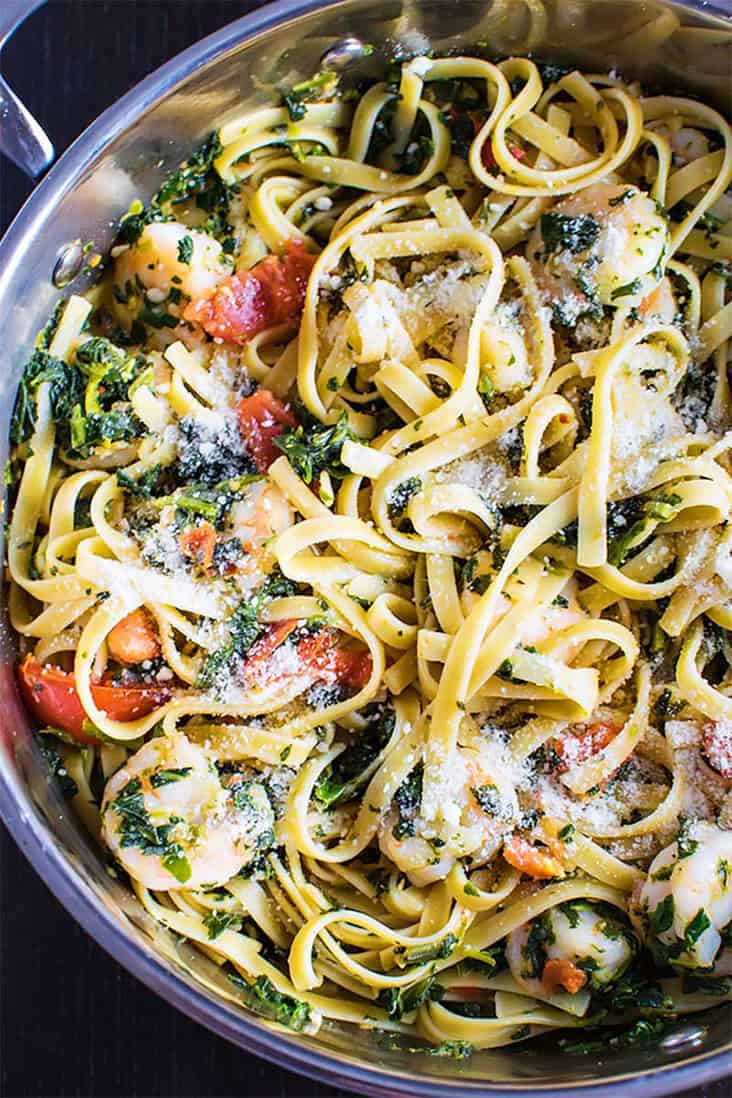 If when you think "comfort food" you think pasta and shrimp you need to take a closer look at this Shrimp, Spinach, and Tomato Pasta recipe. It's light and easy and while it might look gourmet it's the perfect quick and easy midweek meal!
8. Garlic Shrimp with Chilli Pesto Pasta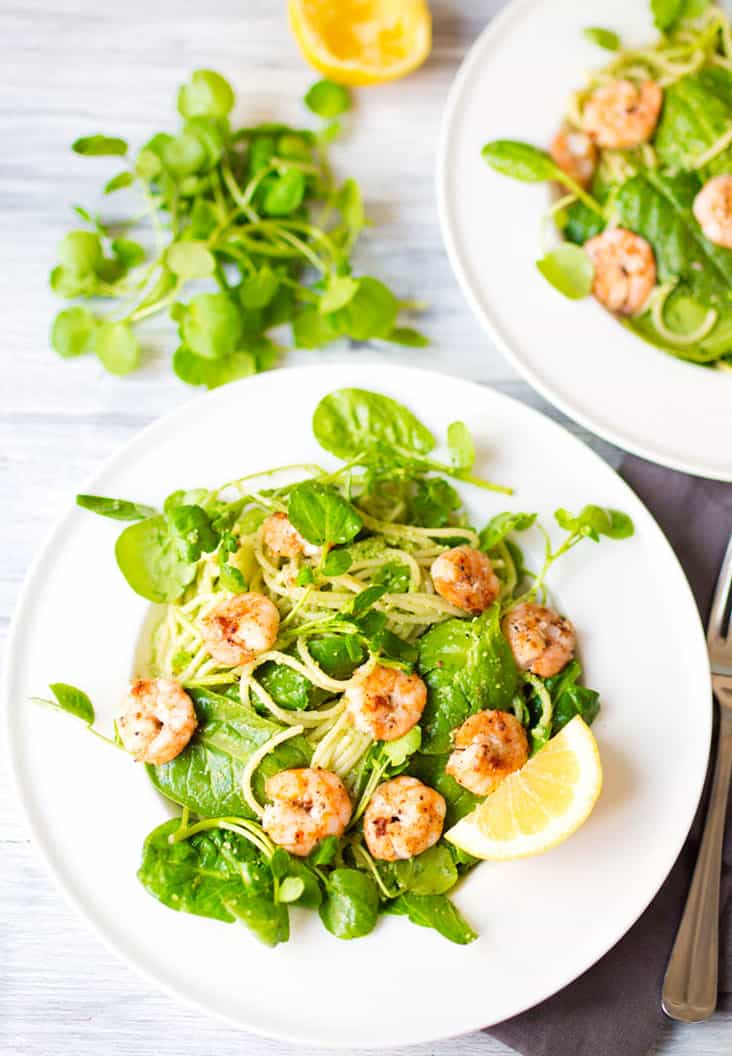 This delicious Garlic Shrimp with Chilli Pesto Pasta dish includes a homemade chilli pesto so it's a great excuse to put your Mini Prep to good use!
7. Pasta and Garlic Shrimp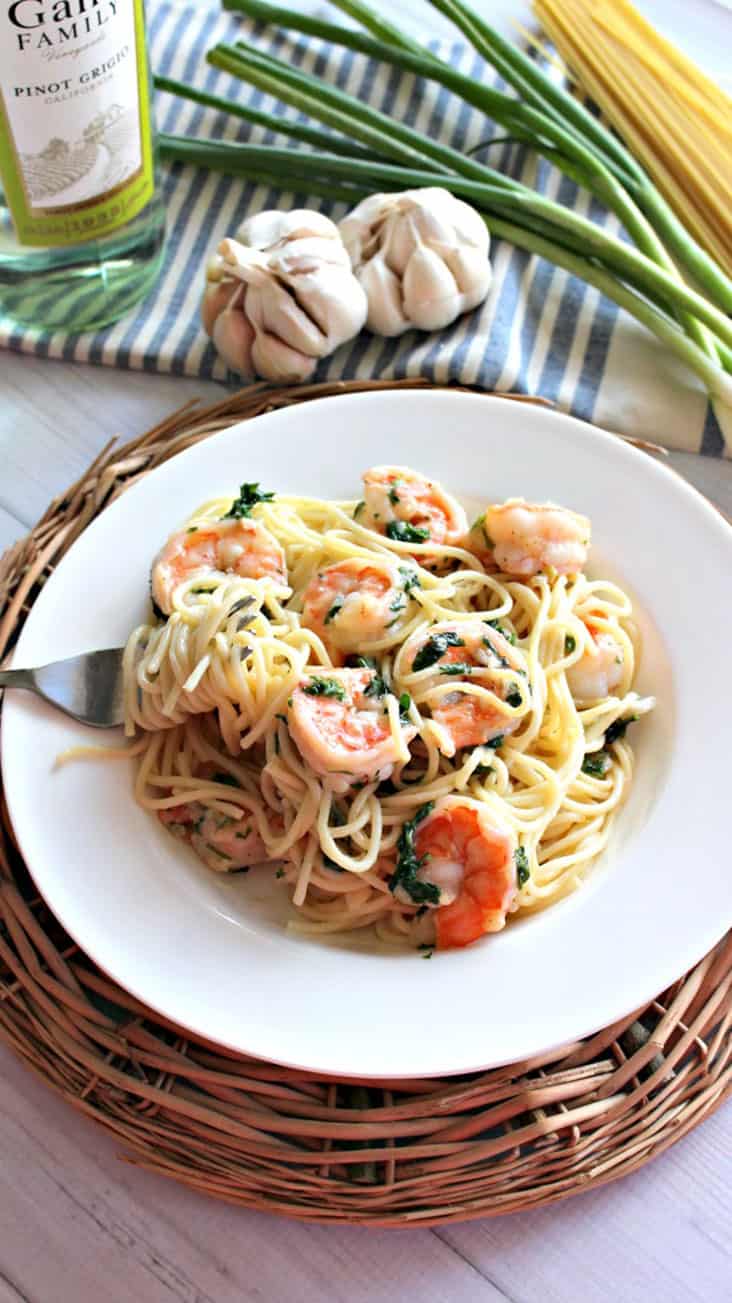 Don't you just love versatile dishes that can be dressed up or down to suit any occasion? This Pasta and Garlic Shrimp is perfect for lunch or a family dinner, then add a bottle of wine and break out your cutest dinnerware and fancy napkins and you've got a date night winner!
Creamy Shrimp Pasta Recipes
Looking for creamy shrimp pasta recipes that make great midweek meals with as little clearing up as possible? Well here you go!
6. Garlic Parmesan Shrimp and Angel Hair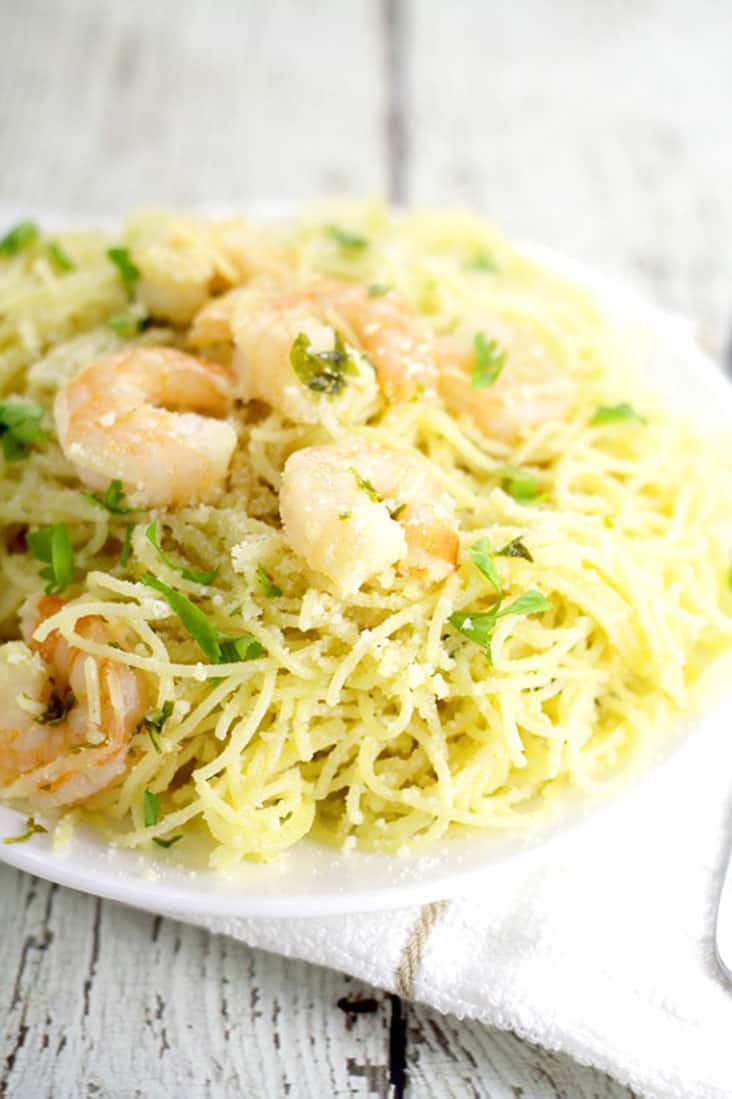 You probably already know that we're huge fans of 30 minute dinners which is why this Garlic Parmesan Shrimp and Angel Hair dish jumped out at us! If you love Fettuccine Alfredo but find it far too heavy for a midweek meal then this is the perfect alternative. All the yumminess without the creamy pasta coma!
5. Creamy Shrimp Scampi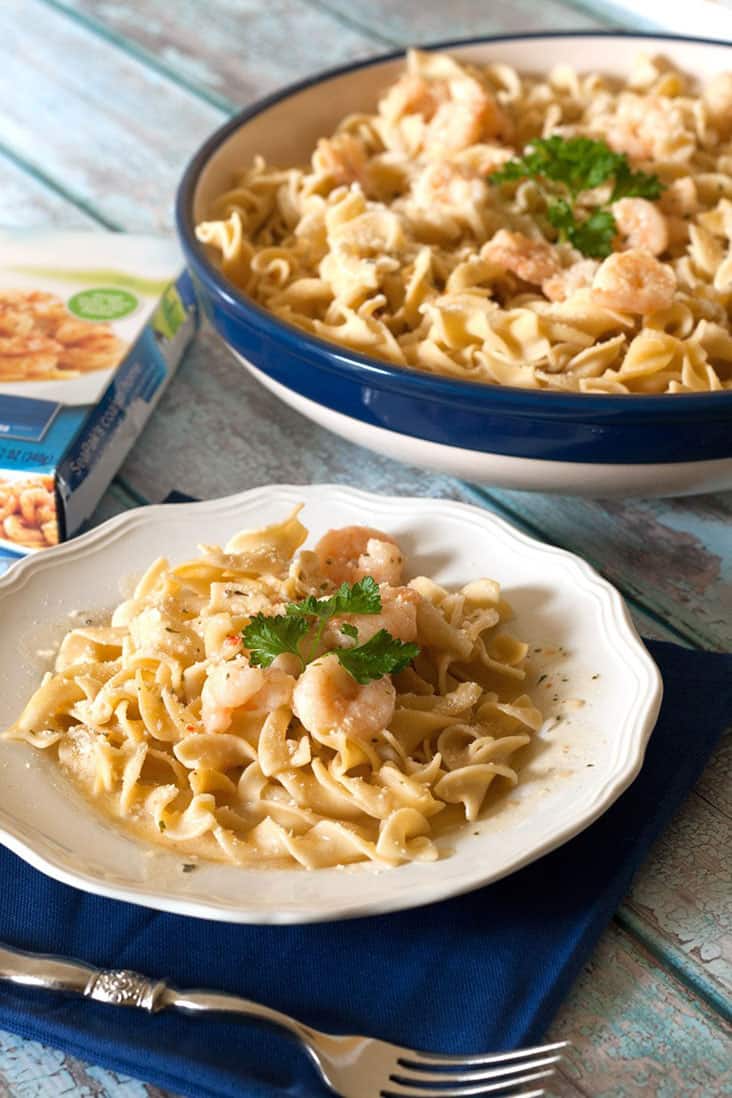 You have to love a recipe that only uses 5 ingredients, better yet this Creamy Shrimp Scampi dish only uses two saucepans, so there's hardly any washing up to do!
4. Creamy Pesto Shrimp Pasta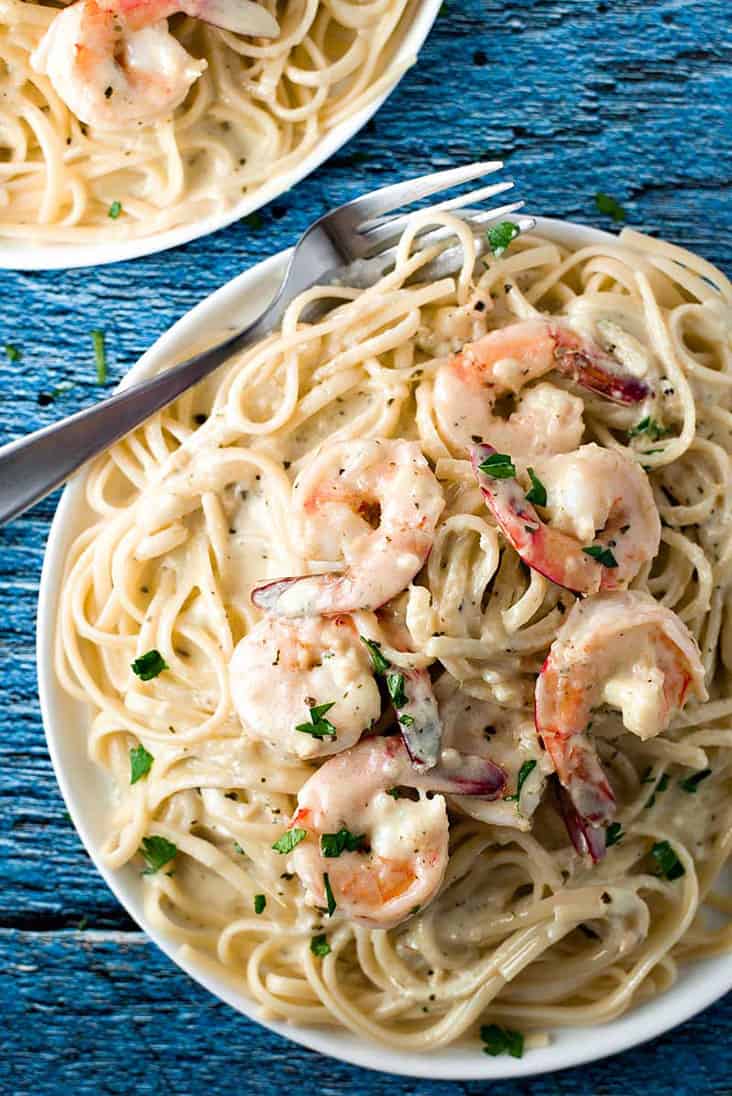 If two pots is far too much cleaning up for you to contemplate on a busy evening then check out this Creamy Pesto Shrimp Pasta recipe, because it's all made in just one pot! It's a really easy way to make seafood at home, and because it takes less than 20 minutes to get dinner on the table you won't mind adding it to your regular meal plan!