If you're looking for a cute baby shower gift check out this sock monkey baby rattle. He's ADORABLE and all colorful and stripy! He's sure to make the baby smile!
This post may contain affiliate links, which means I may receive a commission if you click on a link and purchase something. As an Etsy and Zazzle Affiliate I earn commissions from qualifying purchases.
Sock Monkey Baby Rattle
Are you ready for another baby rattle crochet pattern? Today we've got an adorable rainbow sock monkey!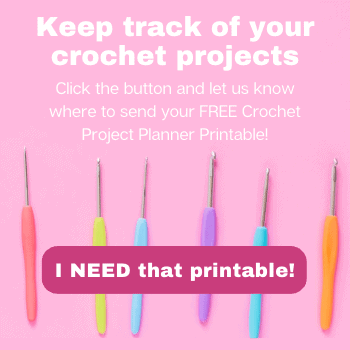 Isn't he just the cutest? With his bright red nose and rainbow stripes? I love the fact that his ears are two different colors too!
The ring is perfect for baby to hold in his hand and the ears and his nose add some texture for baby to explore.
You'll need Worsted Weight yarn for this baby rattle, but don't feel you have to run out and buy specific colors.
This rattle is a great way to use up your scrap yarns since you can make it in any colors you'd like. Here's how he looks in green and pink!
The finished rattle is about 4.5 inches in diameter and you can make it larger or smaller by simply changing the yarn or the hook size.
Since it's for a baby I think it would be safer to embroider some eyes with black thread rather than using the little "toy" eyes, just because if they're not attached really tightly they might come off.
The pattern is easy to follow and written in American crochet terms.
It's easy enough for a beginner to complete.
Get the pattern here: Monkey Rattle by One and Two Company
If you want to make a set of these animal rattles for the baby you can also get a bumblebee pattern (who looks so sweet in pastel colored yarn) or a little cat rattle who also looks adorable with her different colored ears!
More Crochet Ideas Here