This post may contain affiliate links, which means I may receive a commission if you click on a link and purchase something. As an Etsy and Amazon Associate I earn commissions from qualifying purchases.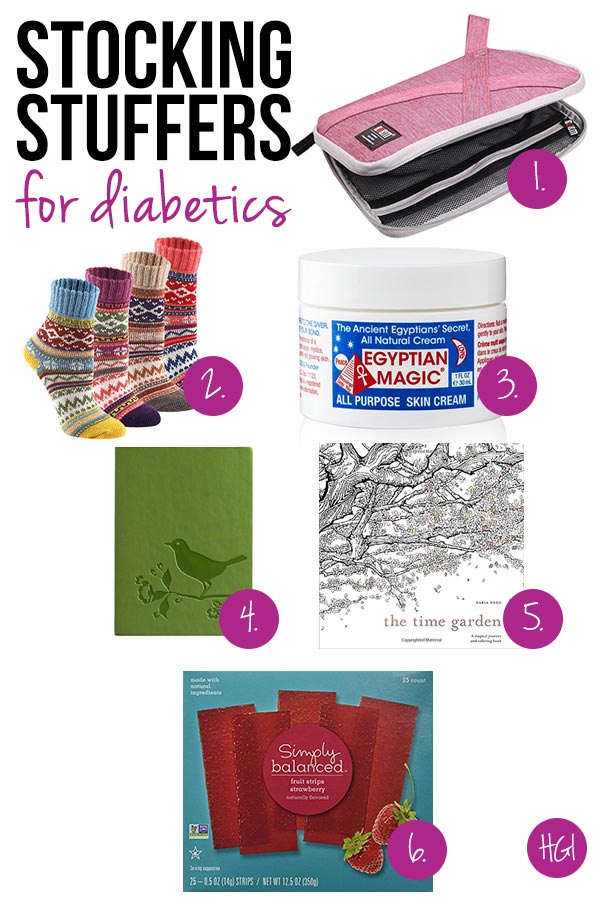 In today's Stocking Stuffers for Diabetics collection we'll show you how you can put together some thoughtful and affordable treats for a friend or loved one who has diabetes.
Stocking Stuffers for Diabetics

1. A Handy Pouch for Carrying Essentials
Handy pouch for carrying essentials
Your friend will have to carry some essentials with her everywhere she goes and while you can buy specific pouches for carrying diabetic supplies this one is less "medical" and more discreet.
It opens flat to create a "work area" which is useful when your friend is away from home.
To make this stocking stuffer extra useful it would be great if you could stock it up with test strips or insulin syringes. Those small but much-needed items become expensive when you need to use them every day. Check with her first to see which brands she uses as there are many available.
It's also available in grey or green if pink isn't their colour!
2. A Cosy Pair of Socks to Keep Feet Warm
People with diabetes can experience Peripheral Neuropathy which is a form of nerve damage that typically starts in the feet.
A pair of cozy socks like these will provide comfort and warmth in the cold months.
3. A Moisturiser to Keep Skin Soft and Supple
Speaking of feet, diabetics can also struggle with dry, cracked skin on their feet which can be painful.
This cream contains all-natural ingredients and will help your friend keep her skin soft and supple.
4. A Journal for Keeping Track of Diet and Exercise
Journal for tracking diet and exercise
It's important for your friend to keep track of what she eats and when she exercises so this beautiful journal is a really useful stocking stuffer for diabetics.
There are a range of designs and colours available, click here to see them all.
Add a pack of these cheerful coloured pens so she can think of a tropical island while she tracks the necessities.
5. A Colouring Book to Help Them Relax
Dealing with diabetes every day can be exhausting and tedious. Help your friend relax by popping a colouring book link this one in her stocking.
We chose this one because it's not just a book for colouring, its a chance for her to immerse herself in a magical world away from reality.
Include a pack of beautifully coloured pens like these which won't bleed through the paper.
6. A Sweet Treat
Most of us love to find some candy in our stocking and just because your friend has diabetes doesn't mean she has to miss out on that sweet treat.
These strawberry fruit strips from Simply Balanced are a safe choice, and they're actually a good thing for your friend to carry around just in case her blood sugar drops.
---