DISCLOSURE: Some of the links below are affiliate links. This means that, at zero cost to you, I will earn an affiliate commission if you click through the link and finalize a purchase. All opinions are my own, and I only recommend products that will add value for my readers.
Bring your nursery to life with one of these GORGEOUS stripe crochet baby blanket patterns. They make wonderful baby shower gifts too!
Stripe Crochet Baby Blanket Patterns
Let's continue our crochet baby blanket patterns theme with stripes! Today's blankets are snuggly and cozy for wrapping up baby but will also add a pop of color to your nursery.
Of course a homemade baby blanket also makes a wonderfully thoughtful gift for a friend having a baby. Just be warned that all of your pregnant friends will want you to make one!
1 | V-Stitch Rainbow Blanket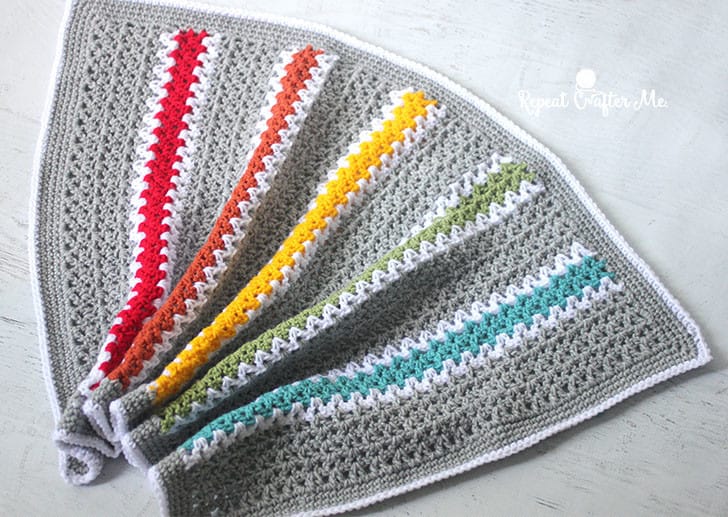 This first blanket caught my eye because the rainbow colors pop but overall the grey yarn and the simple edging mean this blanket is perfect for a baby boy. It was designed for a rainbow baby (that's a baby born after a still birth or miscarriage) and since I have two rainbow babies of my own I just had to share it with you!
V-Stitch Rainbow Blanket by Repeat Crafter Me
2 | Crochet Rainbow Stripes Baby Blanket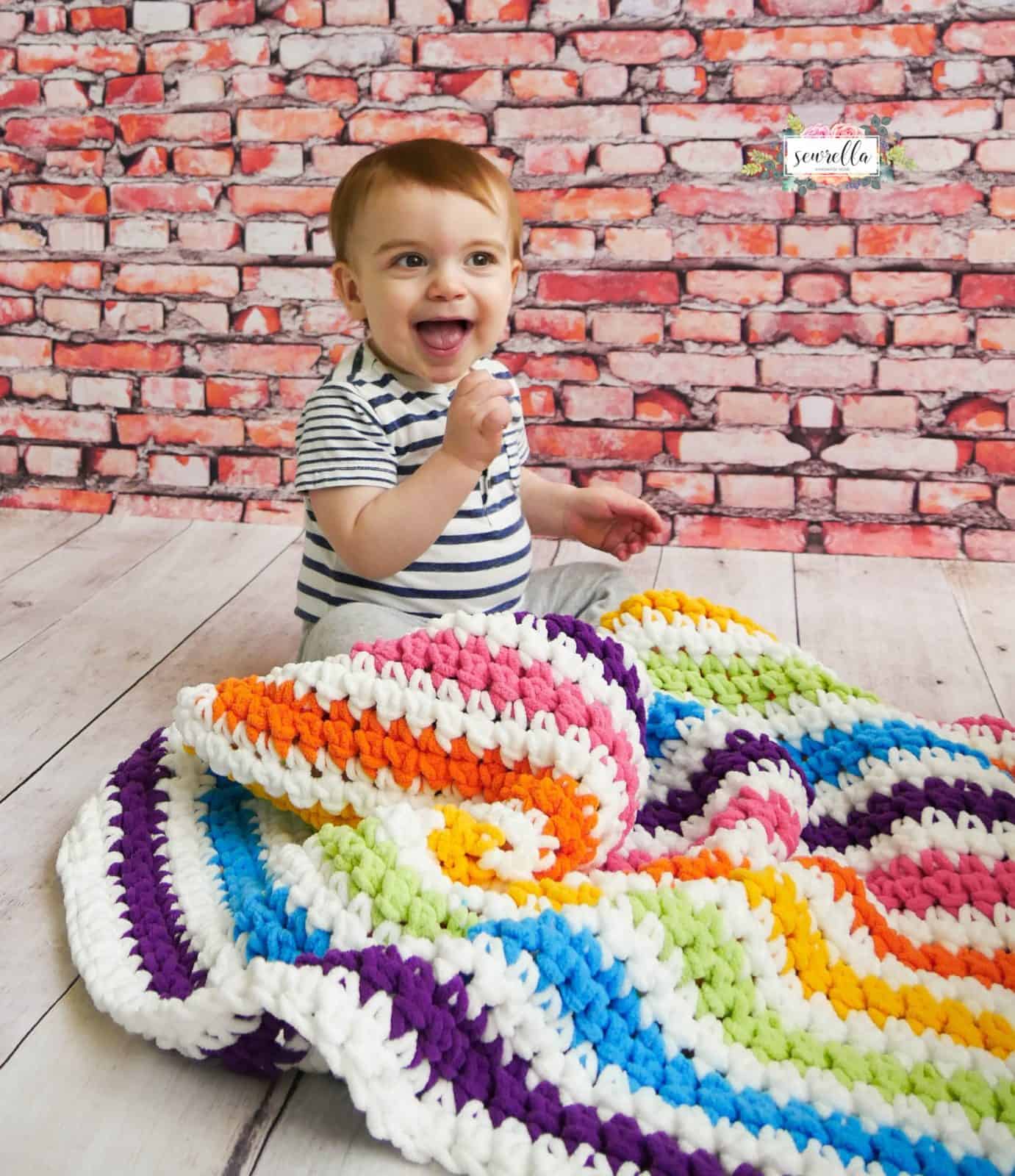 Oh look, here's another rainbow blanket that is so bright and colorful, and oh my so snuggly too! You'll need a 15mm hook for this one and the pattern is simple enough for a beginner to follow (especially if you check out this video). If you're a pro you'll whip this blanket up in no time at all (and then you can make one for yourself because you will not want to give this one up!)
Crochet Rainbow Stripes Baby Blanket by Sewrella
3 | Stripe Baby Blanket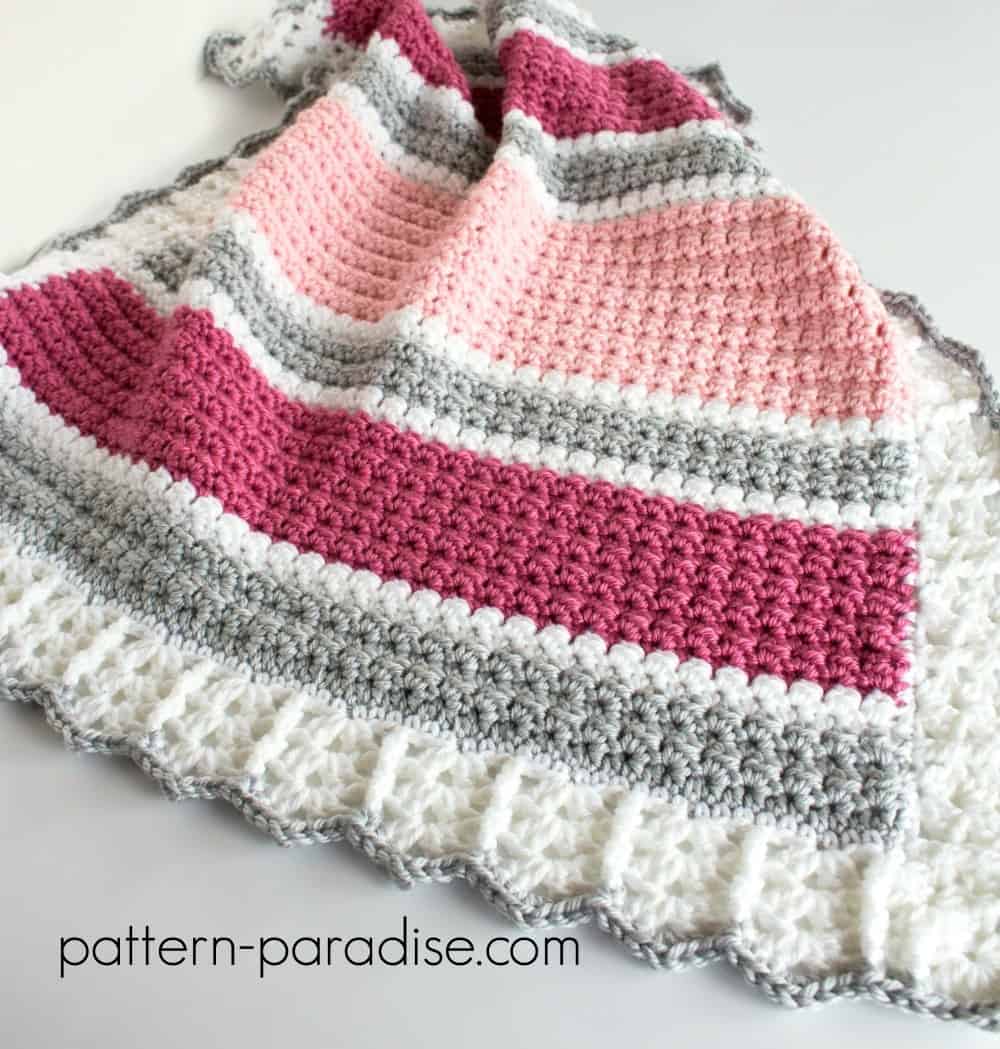 I picked out this blanket because I love how the stripes are different widths which adds a lovely visual texture, and look how precious that border is! This is the perfect blanket for someone expecting a sweet baby girl, and you can use whatever colors you like – perhaps to match the nursery decor?
Essentials Baby Blanket by Pattern Paradise
4 | Unicorn Stripes Baby Blanket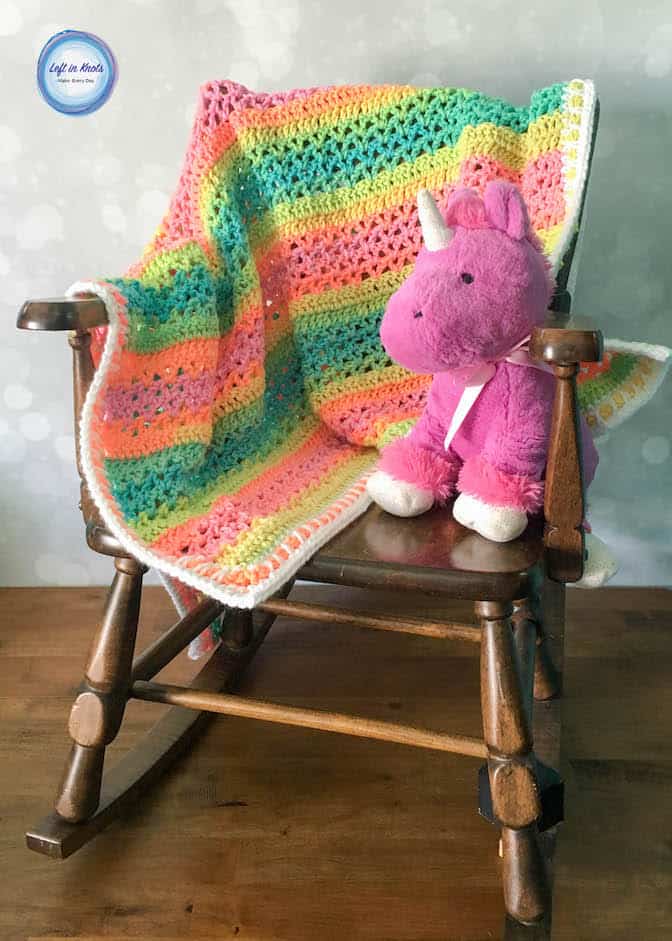 I know how y'all just cannot get enough of
unicorn patterns
so here's another one to add to your list!
If striped blankets put you off because of the color changes this pattern has you covered, because it uses self striping yarn!
Unicorn Stripes Baby Blanket by Left in Knots
5 | Summer's Day Baby Blanket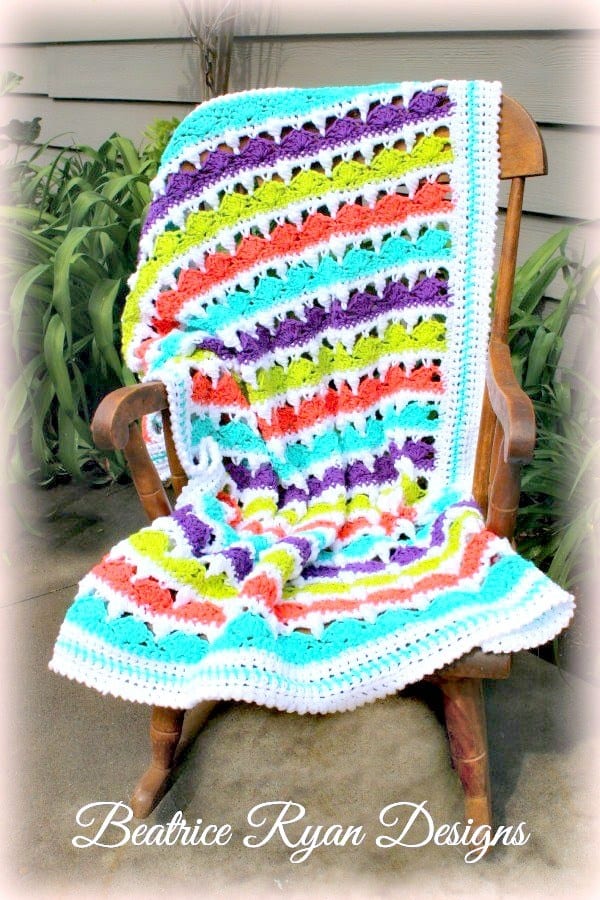 What a fabulous name for a blanket, and doesn't it just remind you of a summer's day? I love the color combination on this one. The pattern uses the Front Post Cluster stitch that I hadn't heard of before so just in case you need some help with it too I found a video tutorial!
Summer's Day Baby Blanket by Beatrice Ryan Designs
6 | Bobble Stitch Baby Blanket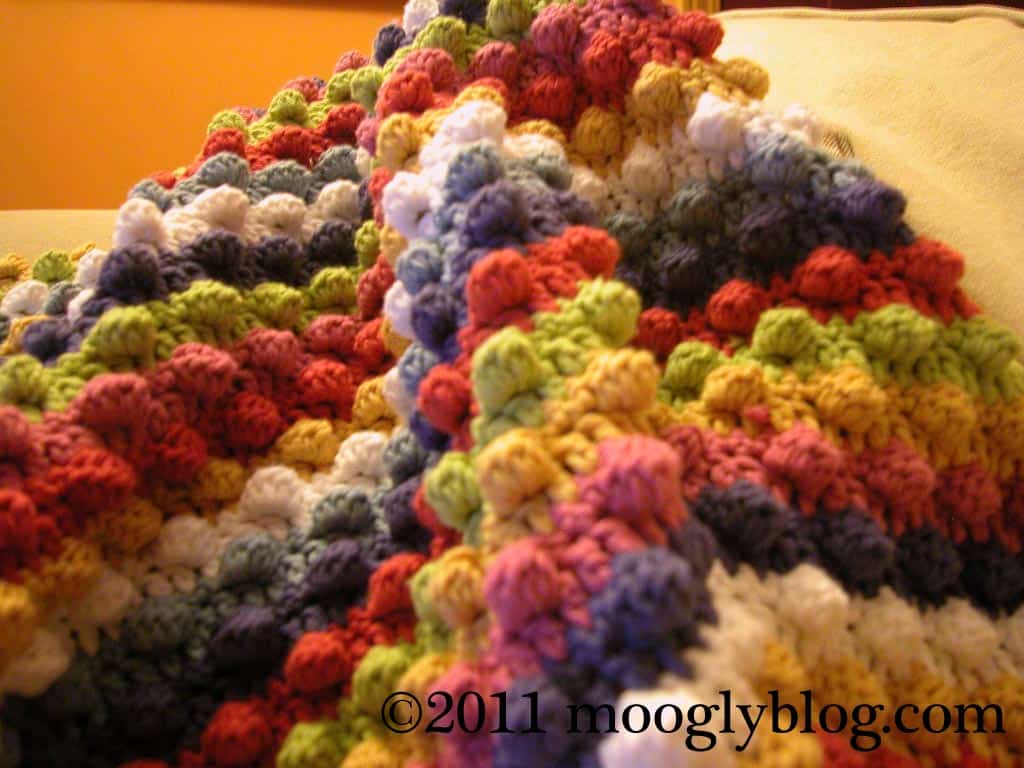 I love the texture of this baby blanket! I don't think the photos do it justice. This pattern uses bobble stitch, which are worked from the wrong side so that they pop out. Here's a video in case you can't wrap your head around it!
Bobble Stitch Baby Blanket by Moogly
7 | Cluster Stripes Baby Blanket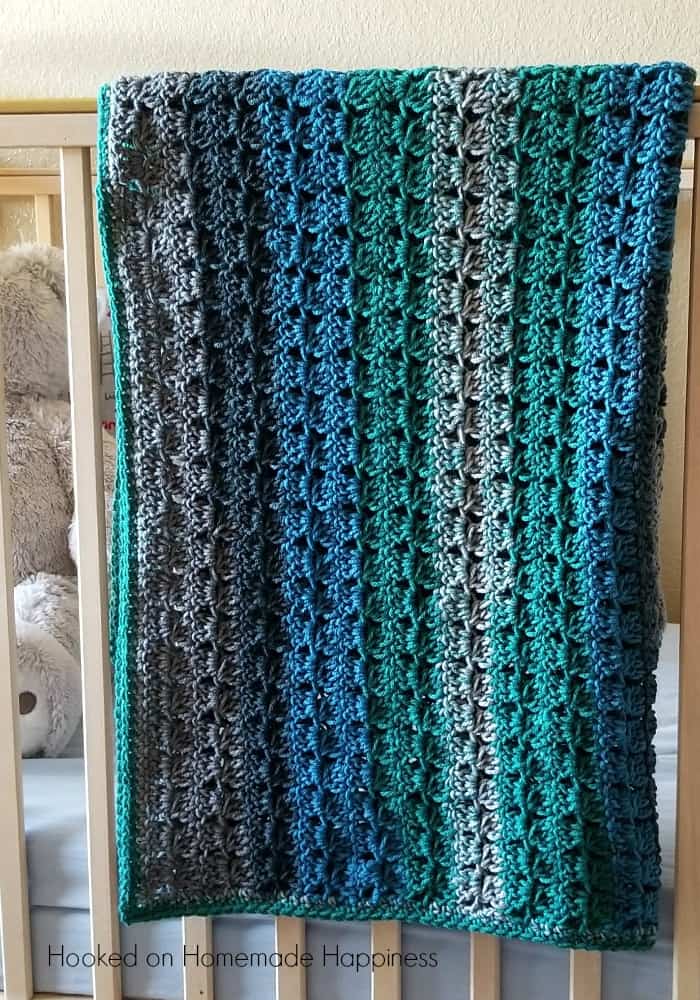 Here's another crochet abby blanket pattern that uses yarn cakes so you don't have to worry about weaving in all the ends of your color changes! You'll need to pay a little extra care to this pattern since it uses crown clusters and you don't want them all to end up sideways!
Cluster Stripes Baby Blanket by Hooked on Homemade Happiness
8 | Broad Stripe Baby Blanket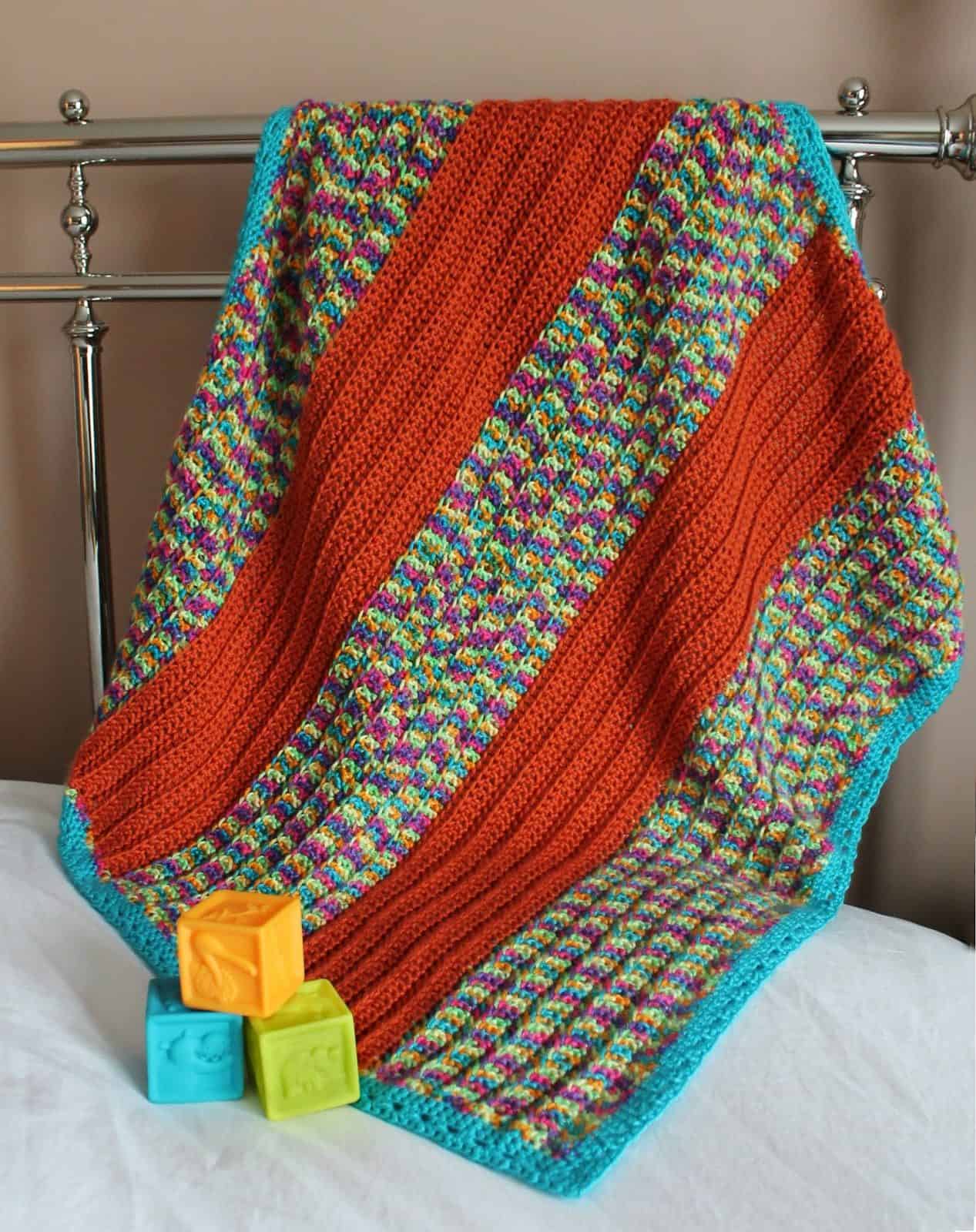 Here's another gender neutral baby blanket design. I really like the broad stripes on this one, and the mix of the variated yarn with the block colors.
Broad Stripe Baby Blanket by The Inspired Wren
9 | Striped Baby Blanket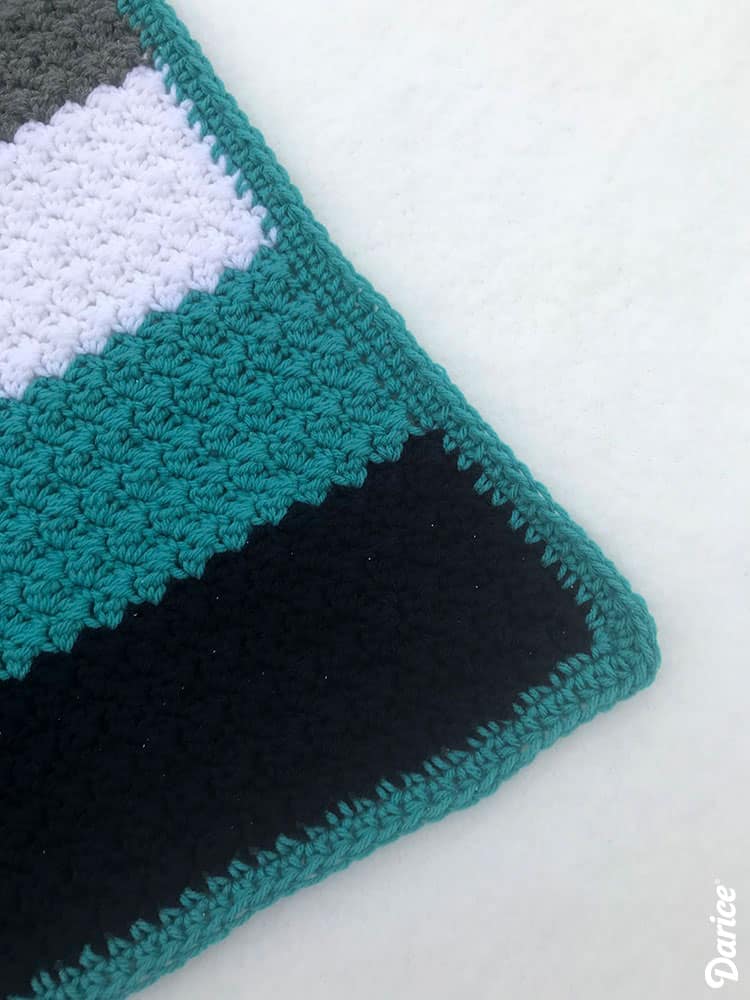 And lets finish up with this gorgeous grit stitch blanket (wow so many new stitches for me today!) I love the color combination here, just perfect for a winter baby don't you think? The grit stitch makes the blanket nice and thick because there aren't any open stitches.
Striped Baby Blanket by Live Craft Love
More Baby Crochet Ideas Here