Looking for ideas for Halloween activities for toddlers and preschoolers? We've got some fabulous fine motor, gross motor, crafts, snacks and sensory play ideas your child will love!
This post may contain affiliate links, which means I may receive a commission if you click on a link and purchase something. As an Etsy and Amazon Associate I earn commissions from qualifying purchases.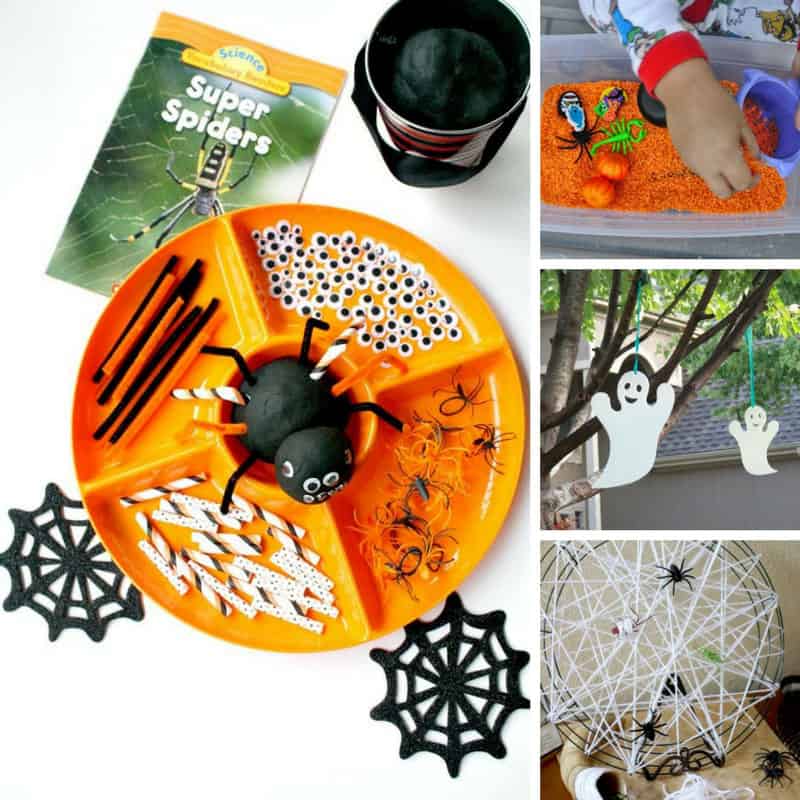 Halloween Activities for Toddlers and Preschoolers

Are you ready for Halloween Tot School? This week we've rounded up some of the best fine and gross motor skills activities and crafts we could find. And as usual we've thrown in some links to Halloween themed printables, books and yummy snacks so you have everything you need for a Halloween Tot School for your toddler or preschooler.
We've got everything from spider play dough and a giant lacing spiderweb to a scavenger hunt and even a witches brew!
As always be sure to scroll all the way to the end so you don't miss any of the great ideas. And don't forget to pin your favourites as you go!
Related Posts:
Halloween Fine Motor Activities
Fine motor skills are an important part of your tot's development, because without them they won't be able to write, grasp small objects or fasten zips on their clothing.
Here are some wonderful Halloween fine motor activities for them to have fun with:
1. Spider Play Dough Invitation to Play

I love this invitation to create with lots of straws, pipe cleaners and goggly eyes to have fun creating spiders from play dough. (via Fantastic Fun and Learning)
2. Spider Learning and Fine Motor Table

A bag of spiders and spider web can easily be turned into a fine game that will test fine motor skills by playing catch the spider. (via Twodaloo)
3. Halloween Fine Motor: Giant Lacing Spiderweb

For fine motor skill development on a giant scale this lacing activity is perfect! (via Fun at Home with Kids)
4. Scissor Practice Activity for Preschoolers – Cutting Practice Spider

Most of the time we use printables to encourage scissor practice, so I love this activity because it helps to develop those skills slightly differently using spiders and webs. (via Lalymom)
5. Witchy Fingers – A Halloween Fine Motor Activity

If your little one has been practicing picking up items with tweezers this witchy themed activity will be perfect. (via Fun a Day)
6. Halloween Playdough – A Ghoulish Invitation to Play and Create!

I love this ghoulish invitation to play with witches, cats and spiders! (via Our Little House in the Country)
Halloween Books
Here are some Halloween themed books for you to read together:
Peek-a Boo!
Room on the Broom
Lift-the-Flap Tab: Spooky House (Lift-the-Flap Tab Books)
10 Trick-or-Treaters
Halloween ABC (Little Golden Book)
Little Blue Truck's Halloween
Halloween Gross Motor Activities
We must not forget about helping develop the larger muscles needed for gross motor skills and encouraging climbing, running, crawling and jumping. Here are some wonderful Halloween gross motor activities to get your little one up and moving.
1. Spider Web Walking Halloween Game

This one caught my eye because I love the mix of balance and problem solving. (via No Time for Flash Cards)
2. Halloween Hopscotch

There are four gross motor activities to choose from here, I think the spider toss looks like a lot of fun too! (via Simple Play Ideas)
3. Free Printable Halloween Scavenger Hunt for Kids

If your neighbourhood has been decorated for Halloween why not take the kiddos out for a scavenger hunt and see what they can find. (via Edventures with Kids)
4. Spider Web Run!

If it's cold and wet outside why not build an indoor spider web run! (via Dirt and Boogers)
5. A Sticky Spider Web Activity for Kids

This is a wonderful gross motor activity to help the little ones practice their throwing skills. (via Hands on As We Grow)
Halloween PreSchool Printables
To help develop numeracy and literacy skills you can use one of the many free printable packs shared by other moms. Here are some of the Halloween printables that we loved:
1. Free Printable Book for Beginning Readers

(via The Measured Mom)
2. Jack-o-Lantern Printable Pack with more than 70 Halloween worksheets and activities for kids

(via Gift of Curiousity)
3. Free Printable Halloween Bingo Game

(via Crazy Little Projects)
Halloween Sensory Tubs and Small World Play
Sensory tubs are a brilliant way to encourage learning through invitation to play. Little ones can explore their senses as well as practicing pouring and measuring, counting and patterning. There is also an opportunity for small world play too as they explore and comprehend the world around them. Here are some brilliant ideas for Halloween sensory tubs and small world play:
1. Halloween Sensory Bin

Orange, black and purple just screams witches doesn't it? Your little one will have a blast discovering this sensory bin, and I love the idea to try it in a room with a black light. (via Teach Mama)
2. Halloween Sensory Bags for Kids

I have hair gel and zip lock bags ready to make a sensory bag and I think Halloween might be the perfect time to do it! (via Growing a Jeweled Rose)
3. Slimy Spaghetti Sensory Activity for Toddlers

Oh this one just looks perfect for some Halloween sensory fun, might need to do this one while it's still warm enough to play outside! (via Hands On As We Grow)
4. Monster Stew – A Halloween Sensory Bin for Baby

If you have a baby around and you want to involve them in the Halloween fun check out this monster stew that Jen created. (via Plain Vanilla Mom)
5. Halloween Sensory Bin

I love how this started out life as a sensory bin and then turned into a loading zone. It just goes to show that our children have vivid imaginations. (via Glittering Muffins)
6. Witches Brew Sensory Play

If the weather where you are is still warm enough for some outdoor water play this witches brew activity will be the perfect choice. (via Plain Vanilla Mom)
7. Halloween Sensory Bin for Baby and Toddlers: Edible Eyeballs

Here's another awesome sensory activity that's great for toddlers and babies to play together… edible eyeballs! (via Fun at Home with Kids)
Halloween Crafts
Crafts are another way to develop fine motor skills and creativity and at the end of the session your tot will have created something they can show to daddy or their grandparents. These are some of my favourite Halloween crafts for toddlers and preschoolers!
1. Kids Paper Plate Craft: Black Cat

This black cat is so cute with his pipe cleaner whiskers. (via Coffee Cups and Crayons)
2. DIY Halloween Crafts: Coffee Filter Spiderwebs

If your little one is ready to practice cutting with scissors this adorable craft is another great way to practice that fine motor skill. (via The Artful Parent)
3. Tape Resist Skeleton Paintings

If you're looking for a life sized craft then this one is just perfect, and it would work great for a medical/know your body themed Tot School too. Older siblings will have a blast making these too, you could have a whole family of skeletons! (via The Artful Parent)
4. A Halloween Beaded Spider Craft for Kids

This adorable little guy is a great Halloween craft for practising threading and beading skills. (via Hands On As We Grow)
Halloween Snacks
All this learning is enough to make anyone hungry, so why not fix one of these tasty Halloween snacks to enjoy together!
1. Chocolate Sprinkle Halloween Cookies

I don't usually let my kiddos eat chocolate, but since it's Halloween I might make an exception! (via Confessions of a Cookbook Queen)
2. Spooky and Simple Bat Sugar Cookies

Here's another tasty snack that your little one can help you decorate before they eat it. (via Jenny Steffens)
3. Frozen "Boo"-nana Pops

My two go mad for bananas but we've never tried them frozen before… or covered in chocolate! (via Skinny Taste)
Related Posts:

Pin these ideas!
Hit the button to save these ideas for later.
Don't forget to
follow us on Pinterest
for more great stuff!
&
---
[text-blocks id="end-post-list-kids"]