DISCLOSURE: Some of the links below are affiliate links. This means that, at zero cost to you, I will earn an affiliate commission if you click through the link and finalize a purchase. All opinions are my own, and I only recommend products that will add value for my readers.
Welcome to Easter! Get in the spirit with an adorable amigurumi crochet bunny pattern. Whether you're a beginner or an expert, you're sure to find the perfect bunny pattern to make your Easter holiday extra special. With so many options available, you're guaranteed to find something special for everyone. So grab your hooks and yarn, and let's get crafting! Scroll to see all the patterns!
Amigurumi Bunny Pattern
Last year y'all went crazy over our collection of Easter bunny crochet patterns so I couldn't resist looking to see if there were any new ones to share. And this year, to mix things up a little, all of the crochet bunnies are wearing clothes!
Any one of these bunnies would look cute in a basket alongside some easter eggs. They'd make great baby shower gifts too!
You are sure to love one of the crochet amigurumi projects on this list!
1 | Fleur the Amigurumi Bunny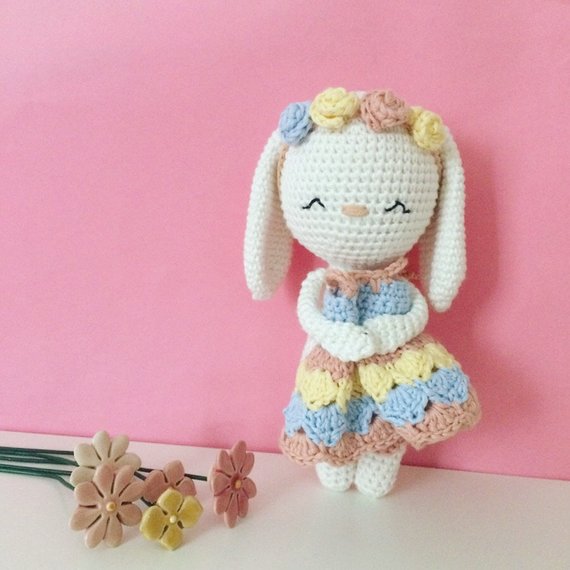 Let's kick things off with
sweet little Fleur
who has a flower headband and the cutest dress that is removable. Doesn't she look like she's ready to go to the Easter Day parade?
2 | Amigurumi Rabbit Toys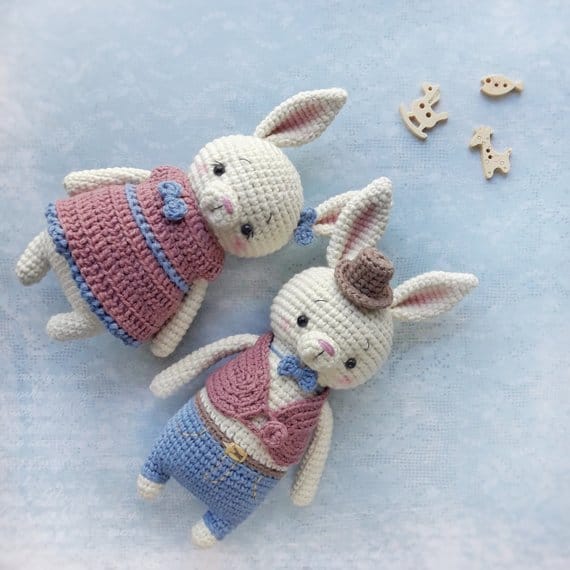 Speaking about bunnies who are all dressed up with somewhere to go,
take a look at this pair
all stylish looking in their Sunday Best!
3 | Flory the Leaf-eared Bunny Crochet Pattern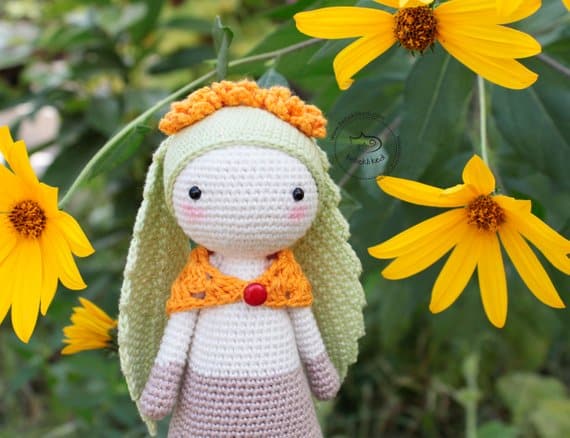 If you have a daughter who loves fairies and all things whimsical she is going to fall in love with
Flory with her long leaf ears
! She's perfectly at home in the forest with her woodland friends!
4 | Frilly-Pants Bunny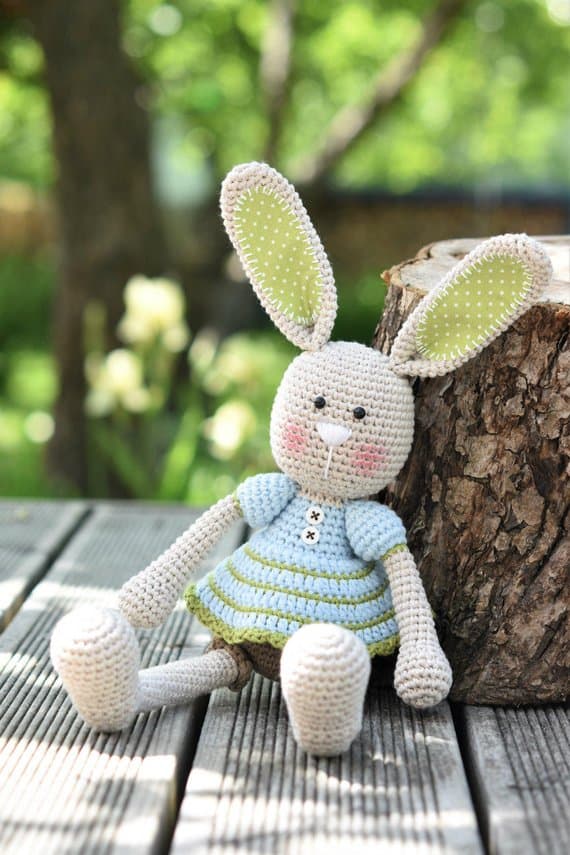 Oh how sweet is
this long-eared bunny
with her fabric ears! She looks cute in her little crochet dress and frilly pants ensemble. If you're looking for a boy rabbit then
this version of the pattern
shows you how to make a bunny wearing shorts and a sweater instead.
5 | Crochet Bunny Pattern Easter Bunny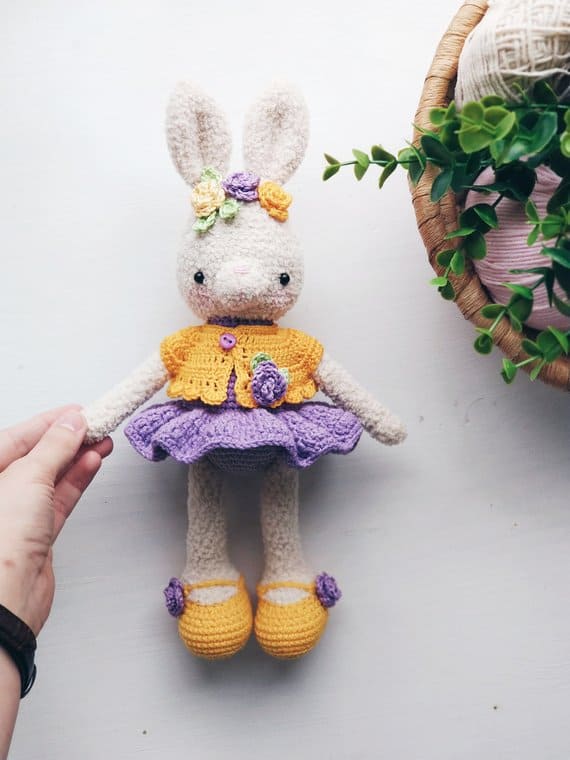 Well I think
this rabbit
will win the award for best dressed bunny this Spring! Just look at those Mary-Janes and the little shrug cardigan with the flower applique. Oh and of course the flowers in her hair!
6 | Mimi the Amigurumi Bunny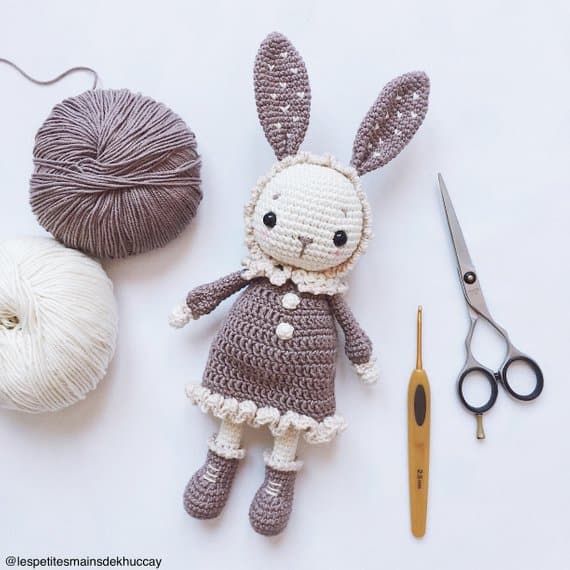 If you struggle with guage then the the thought of making clothes for a doll can be quite daunting (I know!) which is why I picked out
this cute bunny
because her clothes are not removable!
There's a boy version too
!
7 | Camille the Bunny Amigurumi Project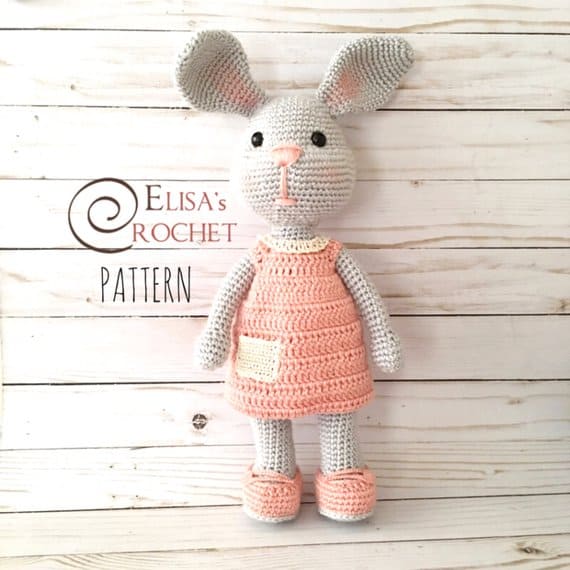 If you're looking for a beginner-friendly bunny pattern then
try Camille
, in her pastel dress and shoes she'd be a lovely gift for a little one I think.
8 | Crochet Bunnies in Love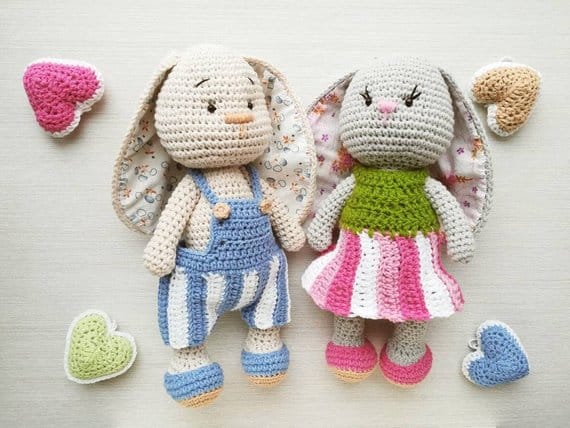 Oh just
look at this pair
all dressed up for Date Night! Valentine's Day is nearly here but they'd be a cute gift or addition to your decor!
9 | Hallie the Amigurumi DIY Bunny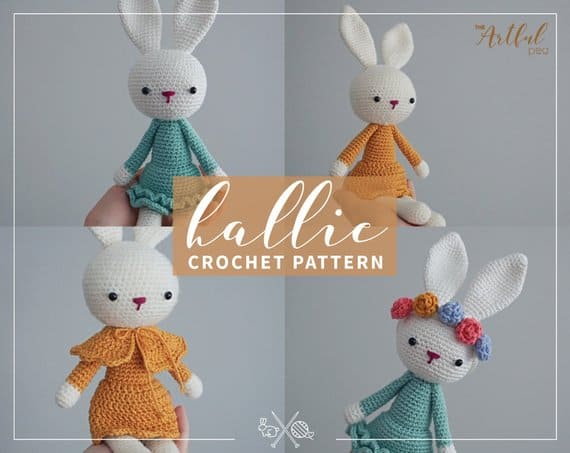 And let's finish up our collection of amigurumi bunny patterns
with Hallie
, who is just the right combination of cute and cuddly, while also being delicate and elegant! The pattern shows you how to make the rabbit herself as well as two skirt finishing options, a capelet and a floral headband. This is one pattern that you can mix up in lots of different ways and if you make crochet items to sell you will be pleased to know that you can do that with this rabbit.
Have fun crocheting amigurumi bunnies!
Want more? Check out the 50 Best Free Amigurumi Crochet Patterns!