It's Valentine's Day, and what better way to show your love than with a handmade gift? Check out our roundup of 24 crochet patterns for Valentine's Day gifts, including everything from heart-shaped decorations to cozy blankets. Find the perfect present for your loved one today!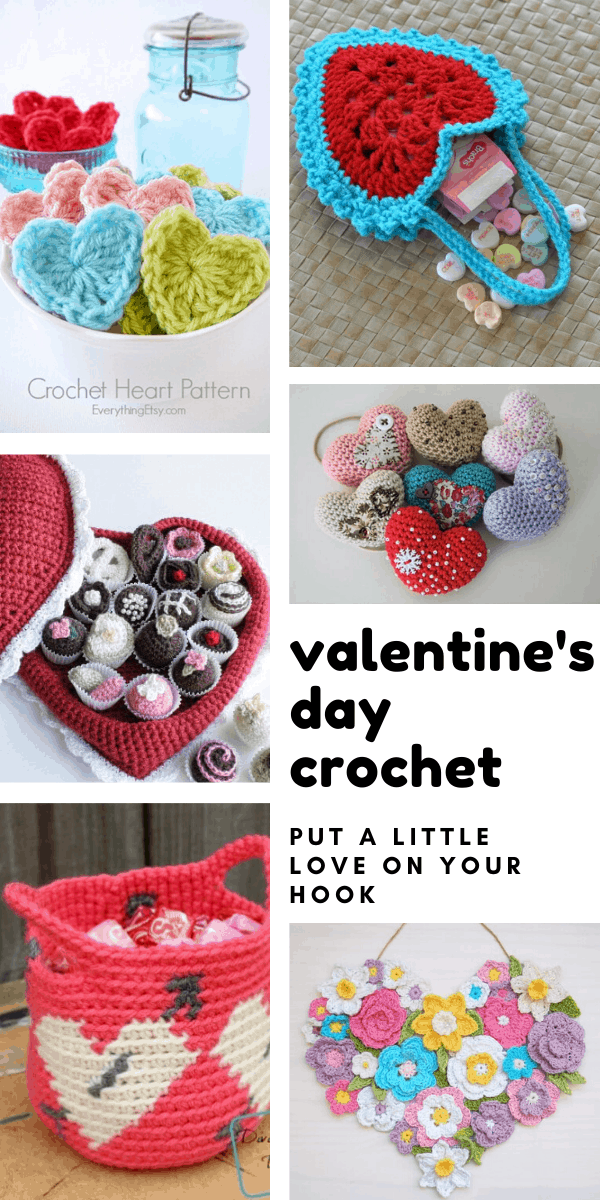 Valentine's Day Crochet Patterns
It's time to grab some yarn and hook some hearts and flowers as we are heading fast toward Valentine's Day!
Whether you want to bring a little love to your home decor, or make a sweet gift for your loved ones, I've found some fabulous Valentine's Day crochet patterns to inspire you!
Everything from an adorable heart earflap hat to heart-shaped wreaths and Fair Isle cushions! 
These easy crochet patterns will help you make the perfect Valentine's day gift for the kids or your partner. Everyone loves to receive a handmade gift to make them feel special, so have a scroll and see which of these lovely crochet projects you want to make!
Valentine's Day Gift Ideas You Can Crochet
Free Pattern: Crochet Valentine Heart Earflap Hat
Oh my goodness how adorable is this little hat! I love the hearts being used as ear warmers. It looks so cozy! Make one for your little one for Valentine's Day but you can bet they'll want to wear it on every cold day of the year!
Valentine Chocolates Crochet Pattern
What a great idea… a box of chocolates that lasts forever! This would make a great pretend play gift for a child, but if you want to make one for your partner as a Valentine's day gift you might want to mix in some real chocolates with the crochet ones to avoid disappointment!
PDF Granny Heart Superstar Hanging Hearts Valentine Crochet Pattern
These heart-shaped treat bags are perfect for Valentine's Day! You could use them as party favor bags, or gifts for your child's classmates!
Amigurumi Valentine Teddy Bear – Video Tutorial
Aww how cute is this little Valentine's Bear! If you like to crochet along then this video perfect is easy to follow.
Crochet Rose Pattern
Did you have to look twice at that picture? Because I did! The first time I saw these crochet roses I could have sworn they were real. Totally amazing!
Little Amigurumi Heart Crochet Pattern
These embellished amigurumi hearts are super sweet and can be used in so many ways. Turn them into a brooch to embellish a shawl, or attach them to a ponytail holder, or even use them as a pin cushion! Love a versatile valentine's day gift!
Crush on You Granny Square Blanket
This gorgeous blanket is simple enough even for a beginner. You can use any combination of colors you like to make your heart pattern across the blanket. It's a beautiful pattern for a baby blanket too!
Hearts Cushion
No one said that all Valentine's crochet crafts have to be red, which is why this striking black and white cushion cover really stands out from the crowd! I think this would make a lovely gift for mom on Mother's Day as well as a lovely piece of Valentine's Day decor!
Heart Arrow
How fabulous are these arrows! You need to know your way around a crochet hook to make these so they're a bit too tricky for a beginner. But you could use them to make a quiver full of heart arrows for Valentine's, or hang them above the crib in a woodland-themed nursery, or attach one to the front of a Valentine's card! They're a great stash-buster project so add them to your list!
Crochet Rose Heart Wreath
Once the Holidays are over and the Christmas wreath comes down your door can look a little bare. So brighten it up again with one of these gorgeous crochet heart wreaths instead!
Heart Basket Free Crochet Pattern
This heart crochet basket will make a great gift for anyone who loves to craft, or who needs some extra storage for their desk. A perfect idea for the kid's teachers maybe? Fill it with candy for an extra sweet treat!
Crochet Heart Keychain
If you want to make the perfect gift for your teen then how about one of these fabulous heart-shaped keychains?
Crochet Valentine's Day Wreath
Oh look here's another wreath, I love the hearts scattered across the bottom and the word LOVE really makes it stand out!
Valentine Sweet Heart
For something a little lighter have a go at this gorgeous heart-shaped flower hanging! These flower appliques are super simple to make so you'll be able to whip this one up in a weekend.
Free Pattern: Conversation Heart Garland
Love this garland! Th heart motif totally made me think of those conversation hearts sweets when I saw the picture and that's the name of the pattern!
Crochet Heart Garland
Or try this simple project for a heart garland that will look fabulous strung up across your mantel.
Crocheted Paper Heart Garland (and tutorial)
Or for something a little different try this paper heart garland with a crochet trim around each of the hearts!
Fair Isle Heart Crochet Cushion
Here's a gorgeous cushion cover design, I love how they used hearts to mix up a traditional Fair Isle pattern!
Scissor Keeper Pin Cushion Crochet Pattern
Here's a lovely gift idea for a fellow crafter! This pin cushion scissor keeper looks fabulous with the heart and buttons on top don't you think?
Valentine's Day Hot Chocolate Free Pattern
Here's some more amigurumi food that you can crochet for your loved ones this Valentine's Day. Nothing beats a hot chocolate with marshmallows and a choc chip cookie!
Crochet Heart Pattern
These sweet easy crochet hearts are just what you need for Valentine's Day. They're super quick to whip up and you can use them for banners, cards, gift toppers, lunch box notes, or sprinkled all over the dining table! They're also perfect for a little one to keep in their pocket to be reminded of how much you love them!
Circle of Love Afghan Pattern
If your favorite part of Valentine's is snuggling up with your sweetheart then you need to this gorgeous heart ruffle afghan which is big enough for two to share!
Double Heart Crochet Pattern
Oh my goodness I had to share this pattern with you because the hugging two halves of a heart just made me giggle when I saw them! Such a unique gift idea for your sweetheart!
Flower Heart Spring Wallhanging Crochet Pattern
This heart-shaped wall hanging is precious, and I love the pastel colors as they're perfect for Spring, which means you can hang this up for Valentine's Day and keep it up through Easter!