Find out how you can make self care a priority in 2020 with these Bullet Journal mental health layouts
Bullet Journal Mental Health Layouts {Make self-care your goal for 2020!}
Today in our ever growing collection of Bullet Journal trackers we're going to take a closer look at how you can use your BUJO to look after your emotional health.
One of the top recommendations for practicing self care on a regular basis is to start a journal.
This is so helpful, easy to do, and won't cost you a lot of money. It is convenient and can be brought with you everywhere, so even in the middle of a busy day, you can grab the journal and write in it for a few minutes.
And of course if you already have a BUJO it makes sense to use that journal, so today we're sharing some Bullet Journal mental health layouts that will help you prioritise self care in 2020.
Why you should include self care in your Bullet Journal
Journalling lets you express yourself in a healthy way
When you are dealing with a lot of stress, it can make it hard to focus on anything. But you might not want to express yourself in a frustrated or angry way, especially with your friends and loved ones.
In order to practice self care with journaling and feel free to let all of those inner emotions out you should have a journal that is kept private and confidential. That way whenever you need to unload your thoughts or feelings, you can do it with the journal instead of bottling them up inside.
It can help you find the root of the issues
Do you know why you have so much emotional stress? Are you sure you know the reason behind your frequent panic attacks?
If you don't, a journal can be very helpful.
As you write in the daily entries, try to include information about your mood and how you're feelings.
When you feel a high amount of stress, frustration, anxiety, or depression, make a note of it. Then you can look back and see if things like caffeine or diet, work, relationships, or other aspects of your life are becoming triggers for you.
Journalling can be a good distraction
In some cases, your stress causes you to constantly think about what is stressing you out, which can be very overwhelming.
If you just want something to take your mind off it, journaling is a great option.
While you are writing in your journal, you aren't thinking about anything else but what you are journaling about.
It is a really good distraction from the different issues you are dealing with that lead to your stress.
Hopefully you're now convinced that adding some mental health layouts to your Bullet Journal are going to help you feel less stressed and anxious, so let's take a look at some of the different layouts you can test out.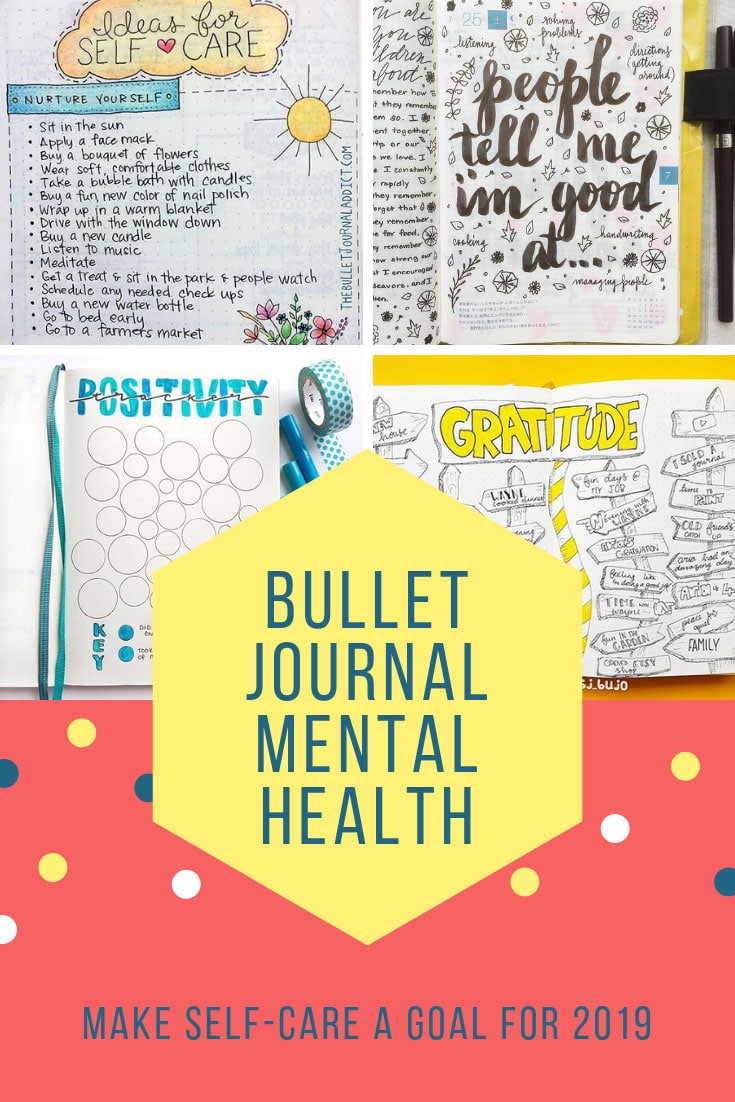 Write out your healthy morning habits
Include a collection of affirmations
Keep a procrastination log
Keep a strengths log
Log your dreams
Log the things you have to be grateful for
Write down your hygge habits
Doodle inspirational quotes
Use an intention wheel
Keep a lent log
Plan your Me Time
Keep a positivity tracker
Plan some Random Acts of Kindness
Track the things that make you happy
Think about how you can look after you in 30 minutes or less
Write down ideas for self care
Track your self care goals
Take a self improvement challenge
Track your triggers
Write down ways you can reduce your anxiety
Try a positive word a day spread
Track your mood
Track your year in pixels
Track your memories and milestones