These festive Christmas Mood Tracker ideas are just what you need to track your emotions through the Holiday season.
This post may contain affiliate links, which means I may receive a commission if you click on a link and purchase something. As an Etsy and Amazon Associate I earn commissions from qualifying purchases.
Christmas Mood Tracker
Christmas is coming and I don't know about you but it gets pretty stressful around here, so this year I'm hoping my BUJO is going to help me keep everything under control, and stay calm! I think the best way to keep track of emotions is with a Bullet Journal mood tracker so today I'm looking at some Christmas designs and I thought I'd share the best ones with you.
Noel Christmas wreath mood tracker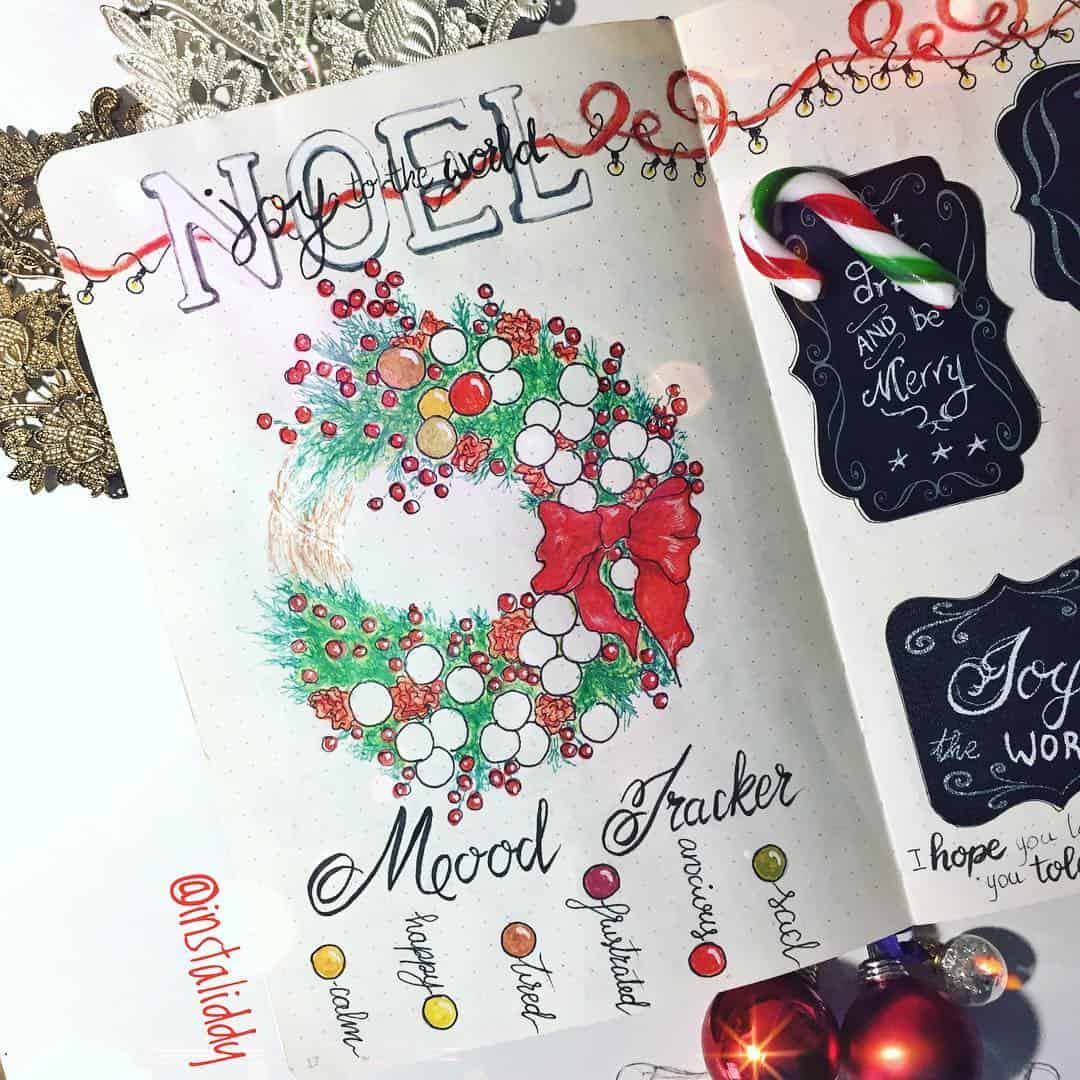 How about a festive Christmas wreath design to get us started? This one has 31 baubles that you can colour in as the days go by to track your emotions.
Doodle Christmas tree mood tracker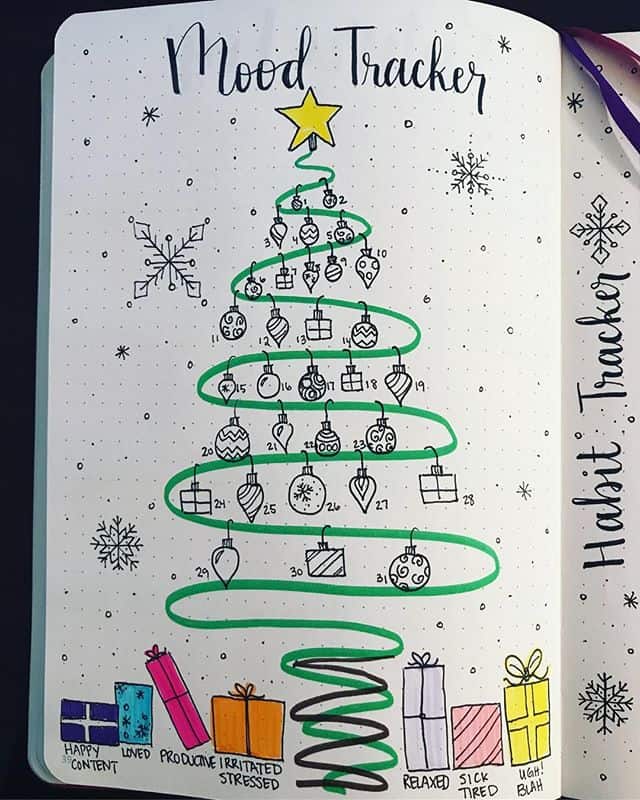 The December Bullet Journal themes collection I shared yesterday had a tree this style for the cover page. I love all the little doodle ornaments and the way the mood key is actually gifts under the tree!
Coffee cup Christmas mood tracker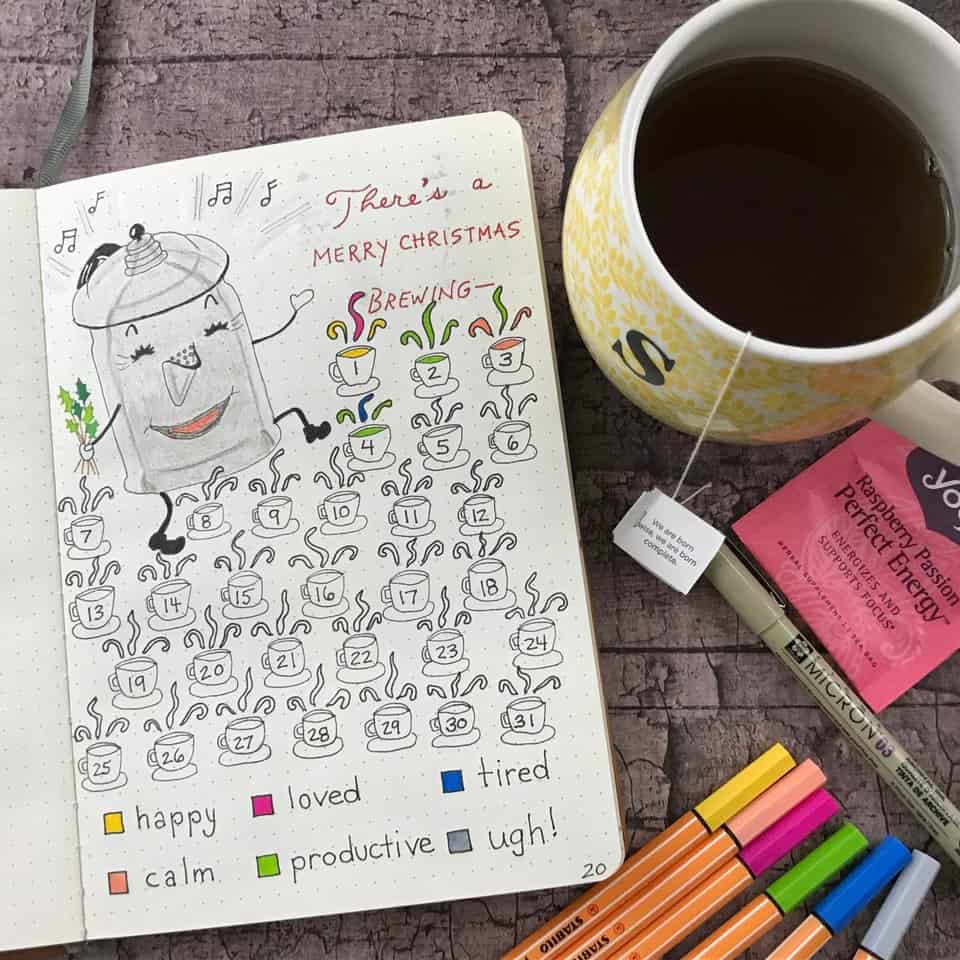 If you're favourite part of the Holiday season is your daily gingerbread latte maybe you'd like to try a twist on this coffee cup tracker?
Christmas gifts mood tracker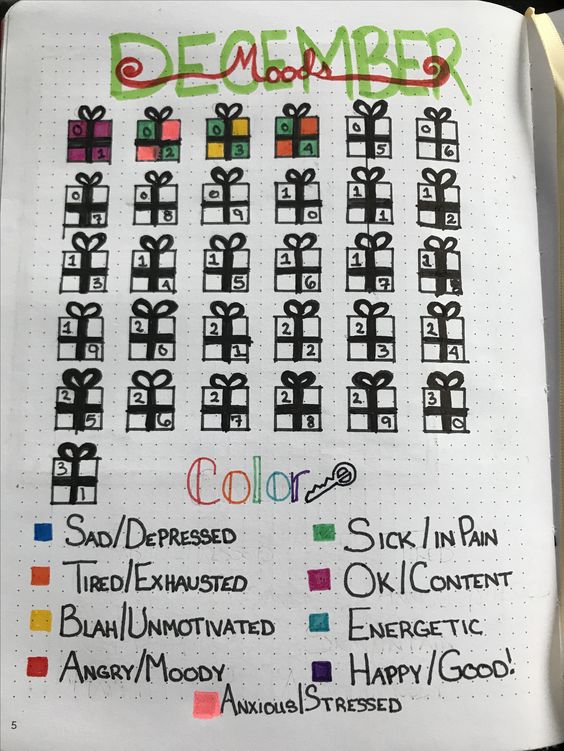 This spread full of wrapped up gifts with a bow on the top is a creative way to track your mood.
Woollen socks mood tracker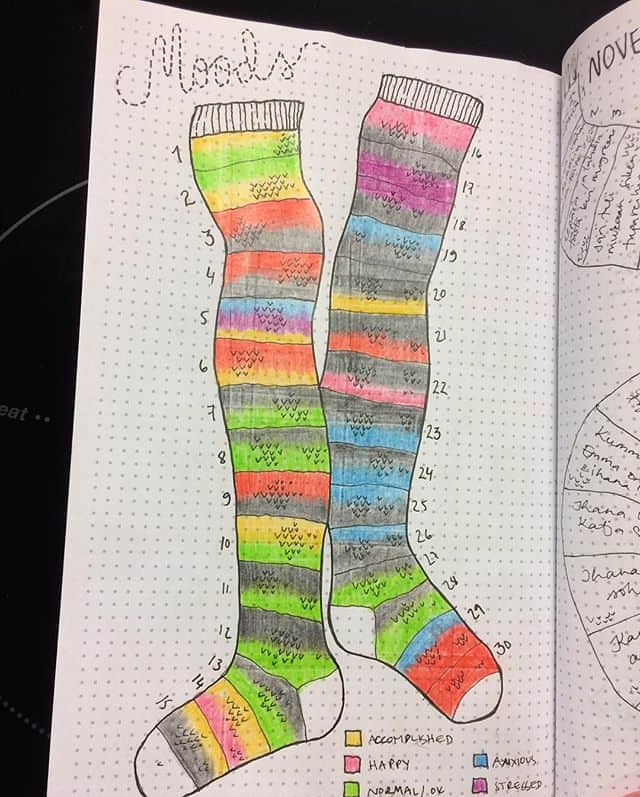 Or how about coloring in the stripes on a pair of woolly knee high socks? If this isn't festive enough for you just make them Christmas stockings instead!
Silver bells mood tracker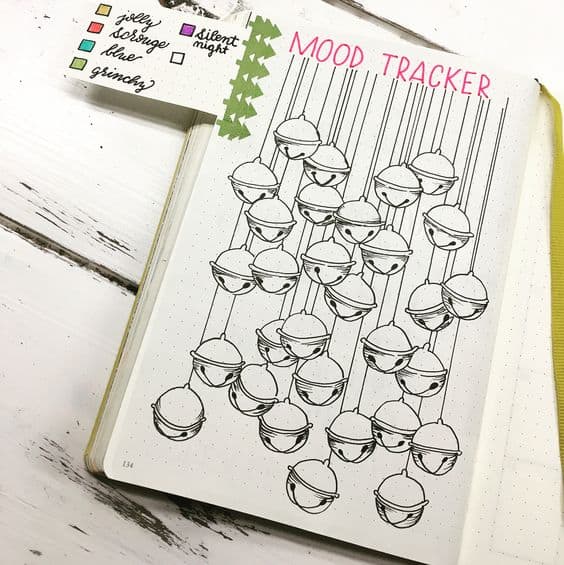 Hands up if Christmas isn't Christmas without snuggling up and enjoying the Polar Bear Express? That's just what I thought of when I saw this silver bells spread. I love that little gated piece at the top for the mood key too!
Christmas tree emotions tracker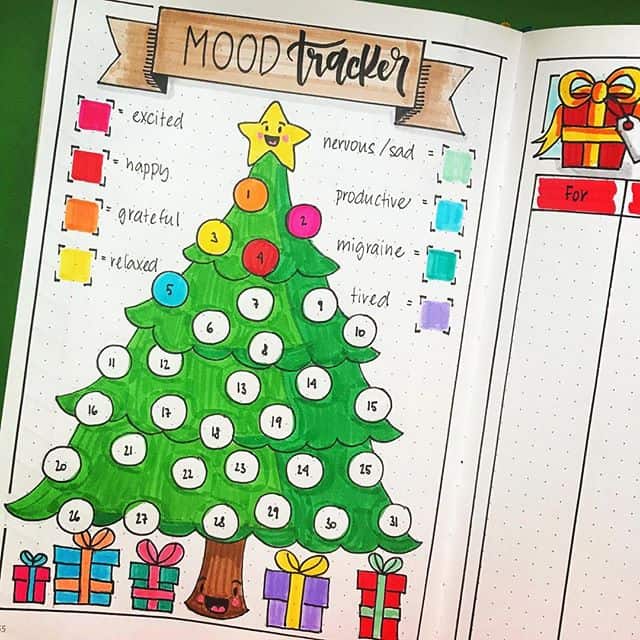 And here's another Christmas tree emotions tracker, which is totally colourful and creative!
Mountain scene mood tracker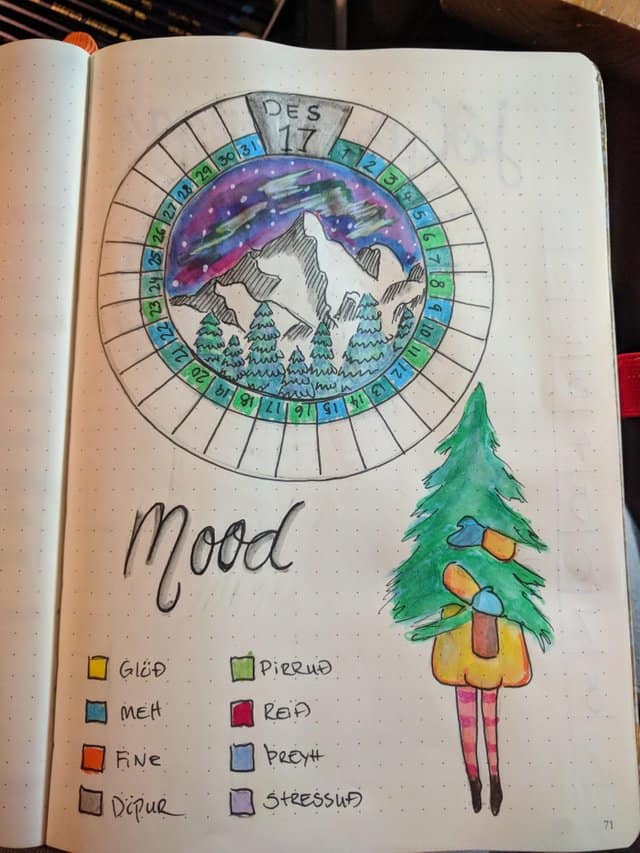 If you like circle mood trackers take a look at this design. I love the snowy mountain landscape through the portal window but you could put any view in there that you wanted!
Wrapped up gift mood tracker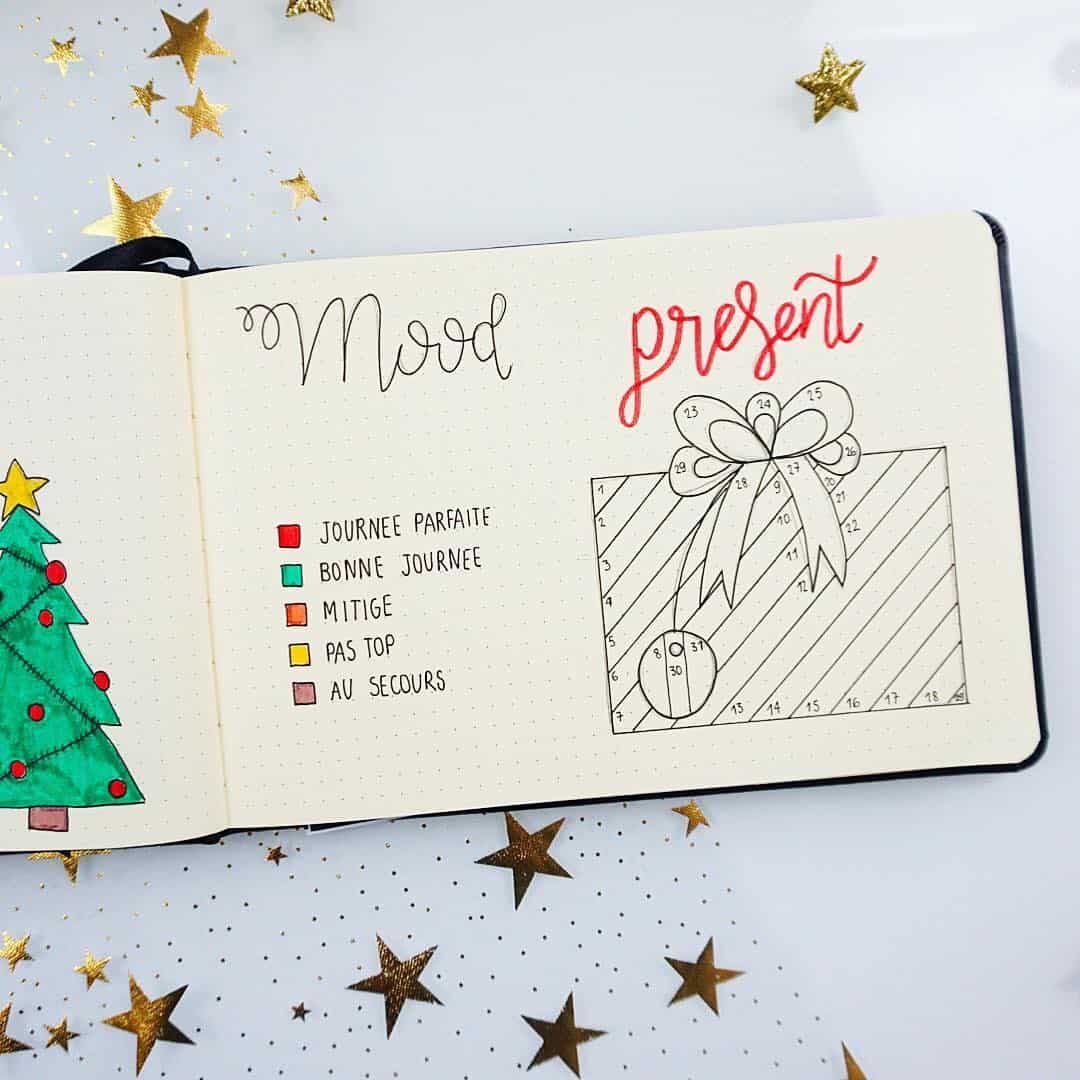 And for something super simple to draw out try a wrapped up present like this one. Every day as you note down your mood you'll be completed the gift wrap design!