These crochet dishcloth patterns will make your sink look stylish and are a great way to learn a new stitch on a small project!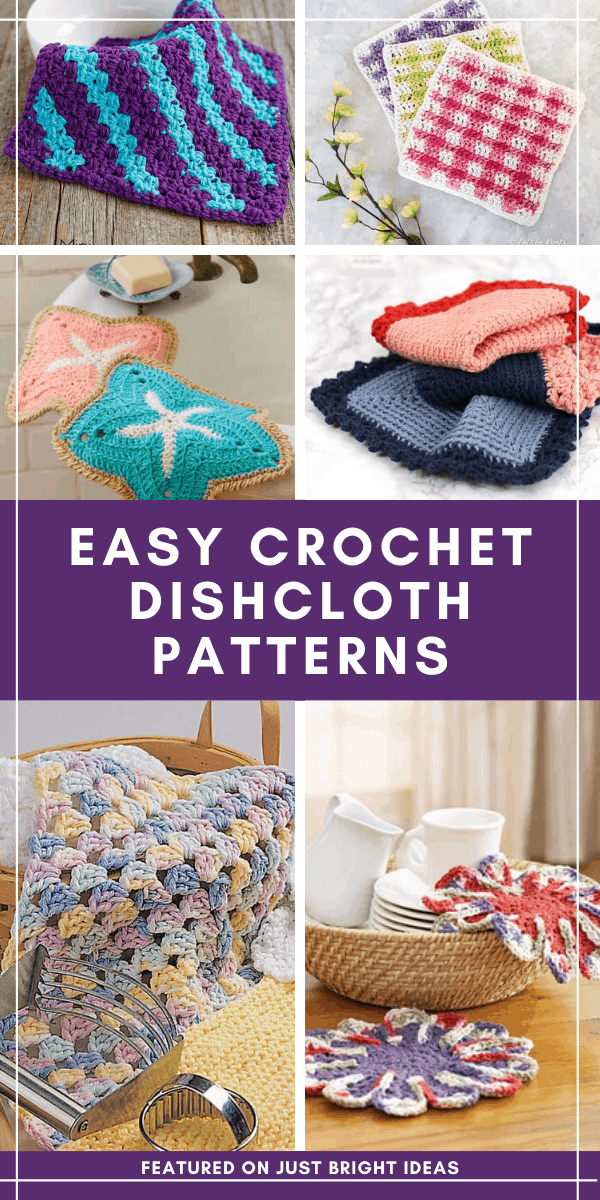 Crochet Dishcloth Patterns
I'm a big fan of crochet dishcloth patterns, because not only are they ultra-soft on your hands and super stylish on your kitchen sink they're a great way to learn a new pattern!
Embarking on a large project like an afghan can be daunting if it's a stitch you've not tried before, so working on a smaller scale like a cloth is perfect.
You have a chance to practice the stitch and have something practical to use in your kitchen (or give away as a gift) within the hour!
Today we're sharing all different kinds of crochet dishcloth patterns including granny squares, circles, waffle stitch and free patterns for you to try!
Before we get started you might be wondering what kind of yarn is best for dishcloths?
The simple answer is cotton, because it's strong, sturdy and most importantly absorbent! Lily Sugar n' Cream is a very popular choice and comes in a fabulous range of colors.
You can use a blended yarn to make your dishcloths, such as cotton and acrylic or even cotton and soy. Just make sure there is more cotton in the yarn, preferably to an 80/20 ratio.
And whatever you do, don't try to make a dish cloth using wool, because it will felt when it gets wet and all of your hard work will be ruined!
1 | Fancy Edge Dishcloth Crochet Pattern
2 | Pieced Crochet Dishcloth
3 | Woven Crochet Dishcloth
4 | Mini C2C Stripe Crochet Dishcloth
5 | Spring Gingham Dishcloths
6 | Primrose Dishcloth Pattern
7 | Easy Crochet Dishcloth
8 | Diagonal Crochet Dishcloth Pattern
9 | Free Lily Sugar 'n Cream Crochet Dishcloth
10 | Rainbow Crochet Washcloth
11 | Crochet Striped Dishcloths
12 | Three Color Simple Stitch Crochet Dishcloth Pattern
13 | Seeing Squares Crochet Dishcloth Pattern
Granny Square Dishcloth Patterns
Next up some fabulous granny square dishcloths!
When I first started learning how to crochet I decided I was going to make a pillow cover… and of course by the time I'd mastered my first granny square, and then turned it into three granny squares about three weeks had gone by and the thought of making enough for a pillow cover was so overwhelming I just gave up!
How I wish I'd have started out with a granny square dishcloth pattern. They're the perfect project for a beginner right? Because you only need to crochet one granny square and your project is complete! You have something that you can put to use in your kitchen and a sense of accomplishment to try something else.
And of course once you have picked out one of these granny squares and mastered crocheting it you can then use the same pattern to make something larger, like a scarf, a pillow case or even an afghan!
1 | Bernat Granny Square Dishcloth
2 | Colorful Solid Granny Square Dishcloth
3 | How to Crochet a Granny Square Dishcloth
4 | Granny Square Dishcloth Pattern
5 | Mitered Granny Square Dishcloth Pattern Instructions
6 | Rainbow Mitered Granny Square Dishcloth
7 | Party Cake Dishcloths
Circle Dishcloth Crochet Patterns
So far all the patterns I've shared have been square, so now I've got some circle dishcloths to show you.
You know just to mix things up a bit, and because they're the perfect way to practice making something round!
If you're looking for handmade gift ideas for your child's teacher or for a housewarming these dishcloths are perfect, just pair them with your favorite soap.
1 | Free Crochet Pattern…Kitchen Lovelies
2 | Circle Dishcloths
3 | Round n Ridgy Dishcloth
4 | "Vintage Rose" Granny Round Crocheted Dishcloth
5 | Easy Round Crochet Dishcloth Pattern
6 | Simple "Granny Round" Crocheted Dishcloth
7 | Easy Round Crochet Dishcloth Pattern with Bernat Handicrafter
8 | April Showers Dish Cloths – Free Crochet Pattern
Crochet Waffle Stitch Dishcloth
Until I started this collection I never knew there were so many different ways to crochet a dishcloth! I guess it's because a small scale project like this is a such a great way to learn a new stitch.
So now let's take a look at some crochet waffle stitch dishcloth patterns. The texture created by the waffle stitch gives these dish rags extra scrubbing power, and they feel nice and thick too, but still dry out nicely.
Don't forget to only use cotton yarn though as wool and water don't play nicely together!
1 | How to Crochet the Waffle Stitch Video Tutorial
2 | Waffle Kitchen Dishcloth
3 | Waffle Stitch Dishcloth Pattern with Hanging Loop
4 | Fine China Waffle Stitch Dishcloth
5 | Beginner Waffle Crochet Dishcloth
6 | Squared Waffle Crochet Pattern
Free Crochet Dishcloth Patterns
And now let's finish up this collection with some free crochet dishcloth patterns in fun shapes and designs. These are wonderful weekend projects and you can use them in your own kitchen or pair them with your favorite dish soap to make a thoughtful gift for a teacher or a housewarming.
1 | Flower Power Dishcloth
2 | Lily Sugar'n Cream Chrysanthemum Dishcloth
3 | Little Star Dish Cloth
4 | Starfish Dishcloths
5 | My Heart Dishcloth
6 | A Practically Hyperbolic Dishcloth
7 | Tunisian Crochet Shaker Dishcloths
8 | Scrap Ripple Cloth
9 | Snowflake Dishcloth
10 | Diamond Dishcloth
11 | Lily Sugar'n Cream Corner-to-Corner Dishcloth
12 | Crazy Cloth Dishcloth
13 | Basketweave Scrubby Cloth