These dark bullet journal themes will blow you away – so be brave and give a white on black spread a try yourself next month!
Dark Bullet Journal Themes
This post may contain affiliate links, which means I may receive a commission if you click on a link and purchase something. As an Etsy and Zazzle Affiliate I earn commissions from qualifying purchases.
Ever since I shared a white on black layout as part of the monthly spread collection I keep seeing these AMAZING dark bullet journal ideas.
So I decided it was time to round them up into an eye candy post to inspire you to add a striking layout to your set up next month!
Oh and if you're wondering how to actually create these white on black spreads in your journal there are a few different things you can do.
First up, if you use a Midori travelers notebook to journal in you can buy some black paper inserts like these which come in lined, dots or grid options.
Or if you want to add a dark spread to a journal with white paper in you simply paint the page black with acrylic paint (I say "simply", you will need to do a patch test first to make sure your paper is thick enough to withstand being painted!)
You will then need a white pen to write or draw with.
1 | Solar System Dark Cover Page
Follow:
@the.journal.life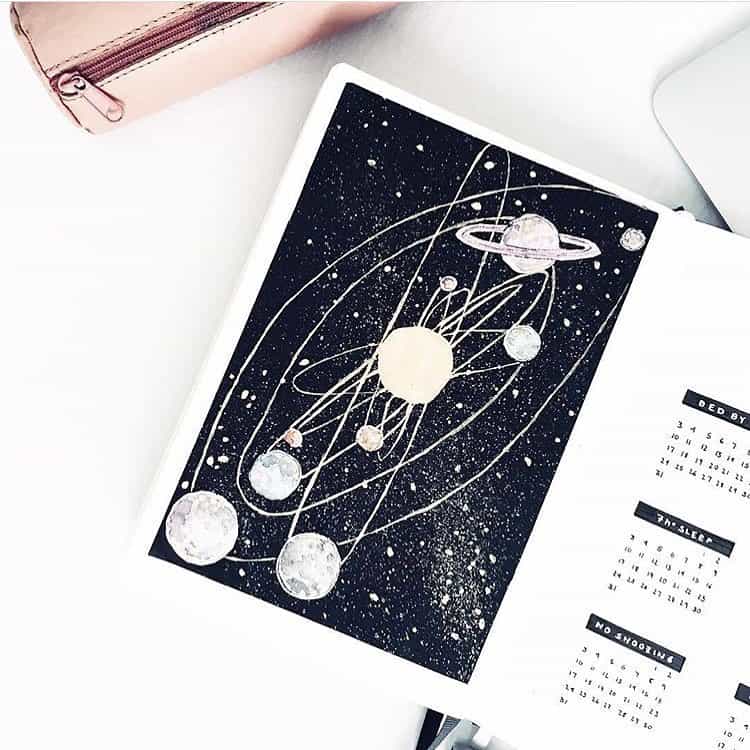 Let's kick off today's dark bullet journal themes with this amazing solar system illustration that would make a great cover page.
You could do something similar by pasting in a black sheet of paper that's cut to size, or if you want to paint the background black use washi tape to create the border and get a nice crisp edge (you can peel it off once the paint is dry)
2 | Hygge Goals October Cover Page
Follow:
@mereljournals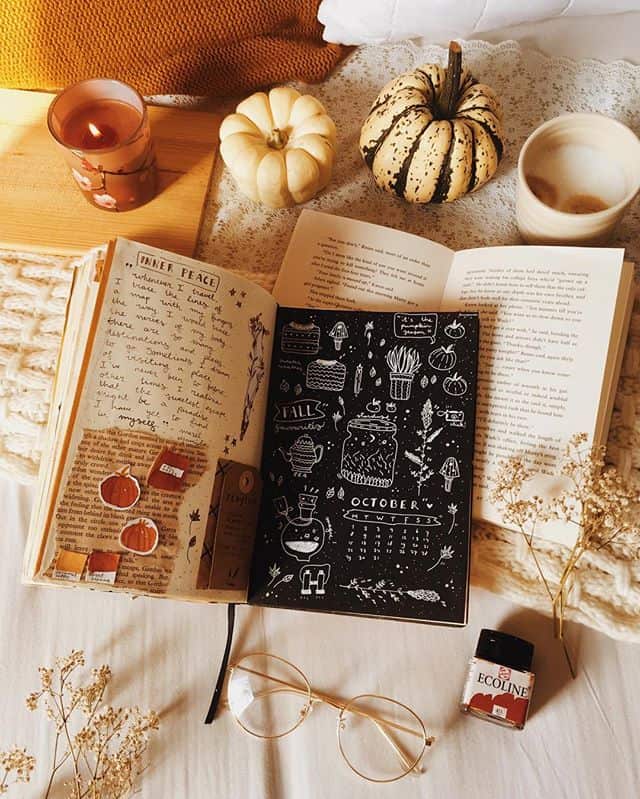 Here's another example of a cover page with a black background. This one was for October with some fabulous hygge doodles for the month's goals. But you could apply this idea to any month of the year!
If you like mixed media spreads you totally need to spend some time stalking mereljournals' instagram because her spreads are amazing!
3 | Black Book Journal Entry
Follow:
@hawwaetc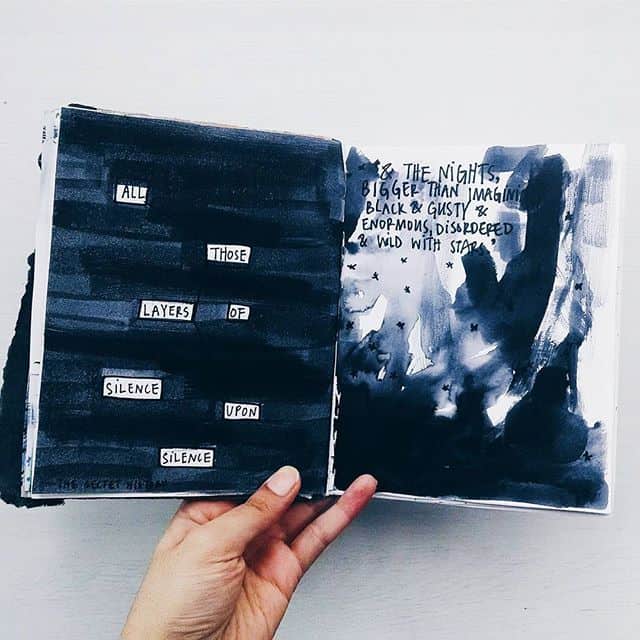 Do you use your BUJO as a book journal? Here's a very powerful spread that hawwaetc created after reading Donna Tartt's A Secret History.
4 | Scratch Using A Sharp Object
Follow:
@Myiuu's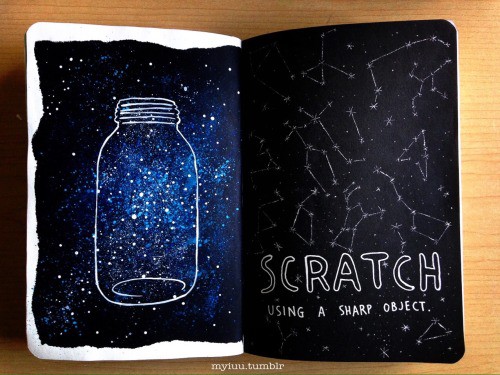 Did you ever make those pictures when you were a kid where you scratched a black page with a sharp wooden tool and the colors that were underneath were revealed? Such a great idea for a bullet journal layout right?
Here's a video tutorial to show you how to do it!
5 | White on Black Typography
Follow:
@letteringcreative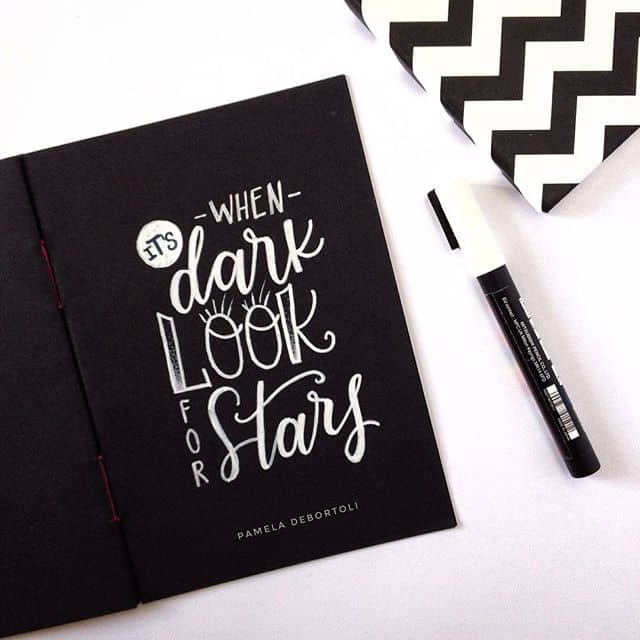 If you've been practicing your
hand lettering
a white on black layout is the perfect way to show off a quote in your journal.
6 | Alice in Wonderland Weekly Spread
Follow:
@rachelmayplans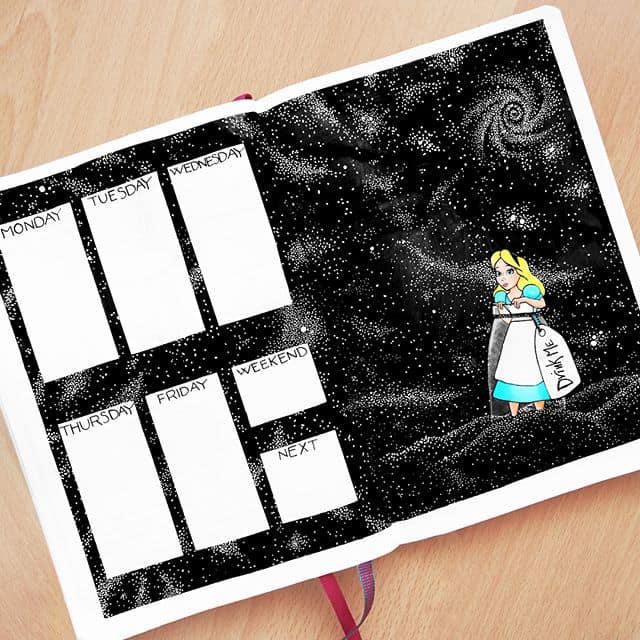 How's this for a
weekly spread
idea? Alice down the rabbit hole! I Love all of those white starbursts and swirls!
7 | Floral Cover Page
Follow:
@twitcherwrites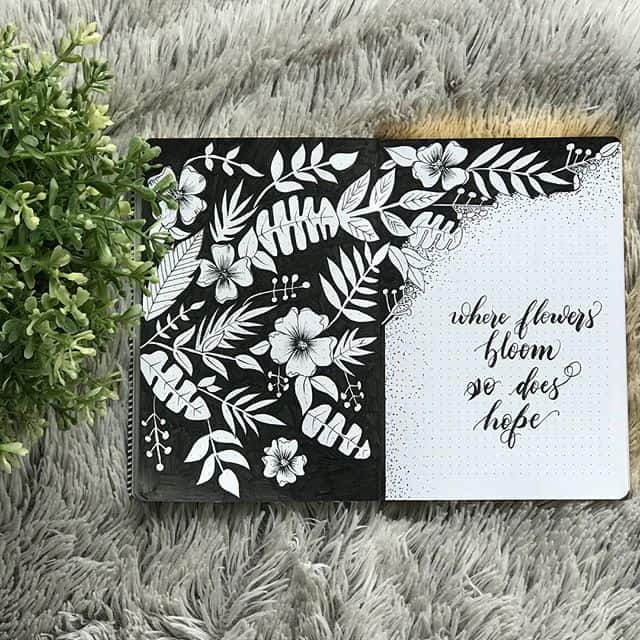 When we think floral we're usually thinking shades of green right? But how striking do these flowers look drawn in white on the black page? I really like the sort of torn edge effect separating the black from the white area where the quote has been written.
8 | Mission to Mars Monthly Spread
Follow:
@metro_oulot_bujo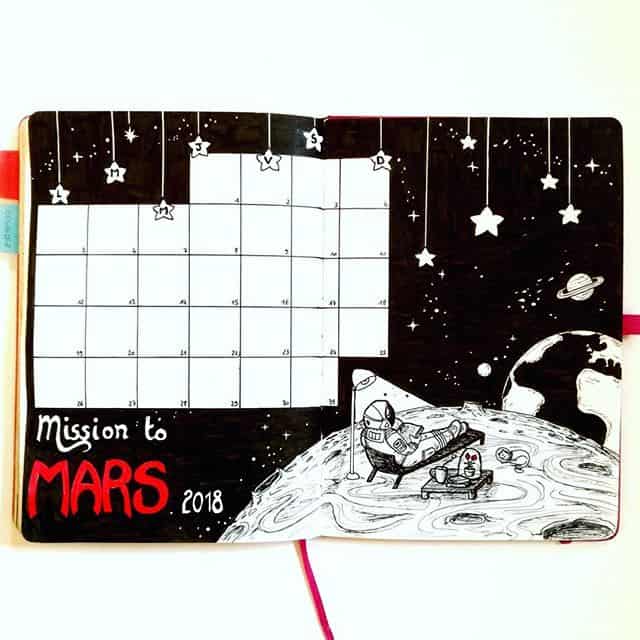 Here's another space themed spread making the most of the black page. I just love that astronaut chilling out on his lounger gazing at the earth!
9 | Dark Habit Tracker
Follow:
@shilen.qc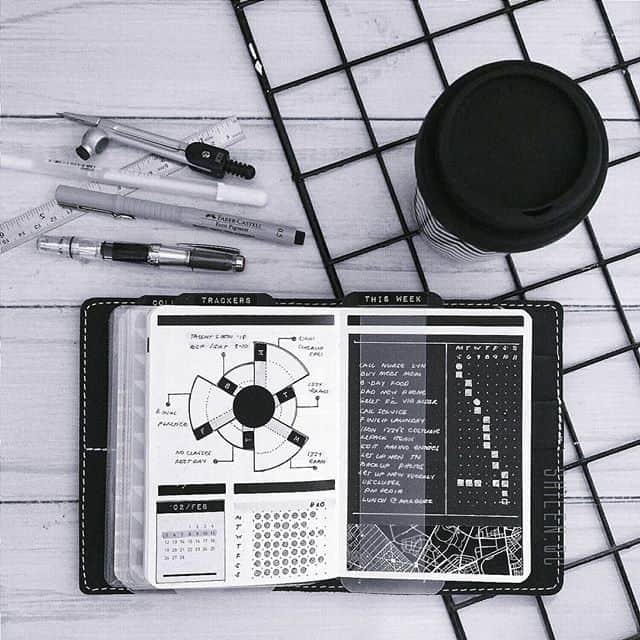 And here's how you apply the dark theme to a habit tracker. I really like the balance of the white on black on the right agains the heavy black on white on the left.
10 | White on Black Cover Flap
Follow:
@thebujophase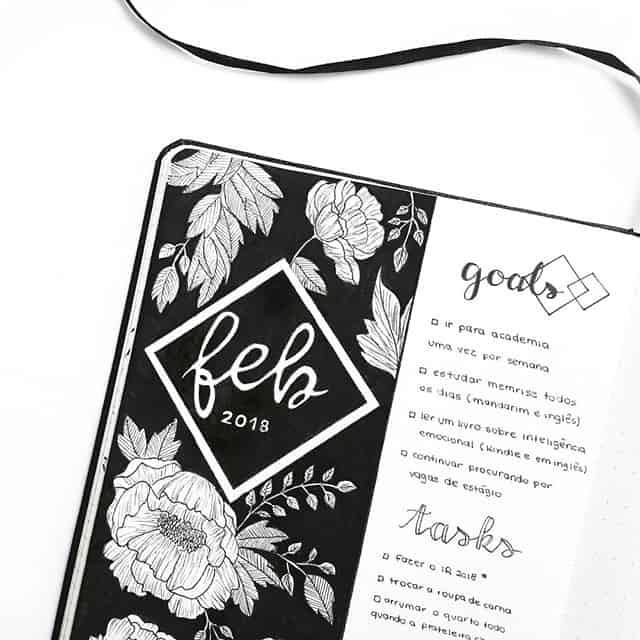 Have you tried a cover flap in your journal yet? This is a really good way to do a dark spread without getting messy with black paint because you just use your white pen on a black sheet of paper and then tape it in to create the flap.
11 | Black and White Weekly Spread
Follow:
@the.petite.planner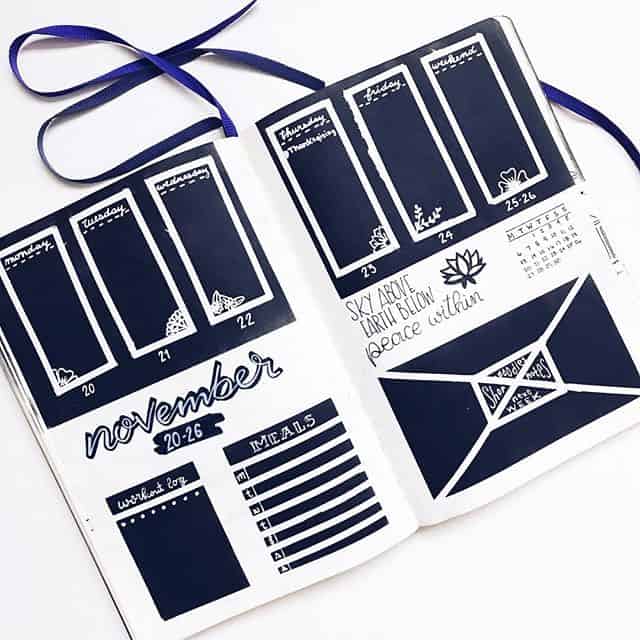 If you're not ready to go all out black on your page try a weekly spread like this one which has a nice balance of black and white. This time the black boxes were made using black ink from a pad, with a beauty blender to sponge it onto the page, after it was taped off with washi tape of course!
More Bullet Journal Themes Here