Blizzard Beach Tips
This post may contain affiliate links, which means I may receive a commission if you click on a link and purchase something. As an Etsy and Amazon Associate I earn commissions from qualifying purchases.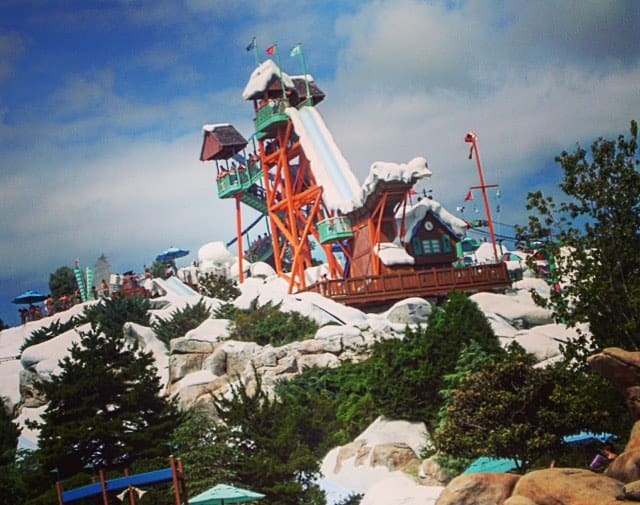 Thanks to >> @mitchbardwell
It is said that several winters ago there was an arctic blast that blew through the area and very quickly froze everything in its path.
Some fast-thinking investors decided to build Florida's only ski resort – but discovered that their plan wasn't quite so clever when the warm weather returned and the snow covered hills turned into gushing rivers.
Of course those fast-thinking investors then decided to turn their ski resort into a water park!
1. A great place to set up camp is the Lonesome section behind the mountain. It is a bit of a walk from the entrance so many guests don't think to walk there. You can set up camp on the sand or the grassy areas.
2. A word of warning to larger guests – while the ski lift might look more inviting than the steps you need to be able to hop off quickly at the top and you might find this more difficult.
3. Summit Plummit is a vertical speed slide with a 120 foot drop – you'll reach speeds of up to 60mph so it's certainly not for the faint hearted!
4. Not quite brave enough for Summit Plummit – try the Slush Gusher first. It's only half the length and it's not quite a straight drop.
5. Don't miss the Downhill Double Dipper. You'll race your competition side by side down a 230 foot long slide – and when you reach the bottom be sure to look at the race clock to see who won!
6. Couples beware – while you can ride the 'family' raft ride at Typhoon Lagoon with just two passengers you need at least three to ride Teamboat Springs. Not a good thing to discover when you've just hiked to the top of the mountain!
7. The slides at Blizzard Beach are long and fast – which means you board them from the top of the high mountain. Some of the slides are accessible from the chair lift, but the slides around the back can only be reached by 150 odd steps. Start getting some practice in by using the stairs instead of the elevator whenever you can!
8. The Runoff Rapids feature three slides – two of which can be ridden by two passengers using a double tube. The third can only be ridden solo and is enclosed so it's pitch dark all the way!
9. When you've had your fill of steps and slides you can relax in Cross Country Creek – just grab a tube and float your troubles away – but watch out for the ice cold water falls!
10. Want to beat your fellow racers on the toboggan slides? Lift up the handles on your mat as you slide down and you'll pick up more speed.
11. Blizzard Beach has some great kid friendly areas. Visiting with tiny tots? They'll love the tiny slides, squirting fountains and shallow waters in Tike's Peak.
12. Pre-teens in your party? Head over to the Ski Patrol Training Camp for overhead rope nets, mountain mogul slides and a T-Bar slide.
13. Want to make the most of your early arrival before the crowds arrive? Try this plan:
Arrive half an hour before opening
Grab your locker straight away
Find a spot to set up camp
Ride Summit Plummit
Take the ski lift back to the top and ride Slush Gusher
Take the ski lift again and head for Teamboat Springs
Grab a ring and take the lazy river around the park to the other slides
Ride the Downhill Double Dipper
Ride the Snow Stormer toboggan slides
Walk around to the back of the mountain and ride the three Runoff Rapids slides