Whether you're just getting started or looking for a thoughtful gift this list of Bullet Journal supplies is sure to help!
This post may contain affiliate links, which means I may receive a commission if you click on a link and purchase something. As an Etsy and Zazzle Affiliate I earn commissions from qualifying purchases.
Bullet Journal Supplies
Whether you're a beginner itching to get started with your Bullet Journal setup, or a BUJO veteran looking for some fun stuff to buy this list of our favourite Bullet Journal supplies will help you out. And of course they make fabulous gift ideas too!
Best Bullet Journal notebooks
The holy grail of bullet journalling is of course the Leuchtturm1917 dotted notebook.
It comes in a rainbow of different colours (which look fabulous all lined up on your bookshelf) and the paper is excellent quality so it's a pleasure to write on.
I also love that it has a table of contents/index included at the front and that all of the pages are pre-numbered (which saves so much time in the setup phase!)
It also has two handy bookmark ribbons sewn in so you can keep one in your weekly log and use the other to keep track of another spread.
The pocket at the back is handy for storing a small ruler or stencil.
But what if you're just getting started and you can't really justify the price of the Leuchtturm1917 right now? One of my friends swears by her Lemome dot grid journal. It looks stylish, and the paper is great quality. It only has one ribbon bookmark, but it does have a pen loop!
Bullet Journal pens that don't bleed
Unfortunately it's impossible to tell you about pens that won't bleed because it all depends on the paper in the notebook you are using. So the safest thing to do is set up a pen test page in your journal to make sure.
I love to write with a fineliner and my go to pen is the Pigma Micron. I love that they come in different colours as well as different nib sizes.
And for getting creative with hand lettering or colouring in illustrations and doodles it has to be a set of Tombow Dual Brush pens!
Oh and if you're like me and like drawing out layouts in pencil first treat yourself to a decent one, because there is nothing worse than a cheap pencil where the lead keeps breaking!
Bullet Journal pouches

Last Christmas I treated myself to a Bullet Journal pouch (same style as this one) while I was gift shopping over on Etsy.
I love it because it attaches to the front cover of my journal with an elasticated strap and there is enough room inside to store my pens and pencil, ruler, eraser and even my cell phone!
Stencils for your Bullet Journal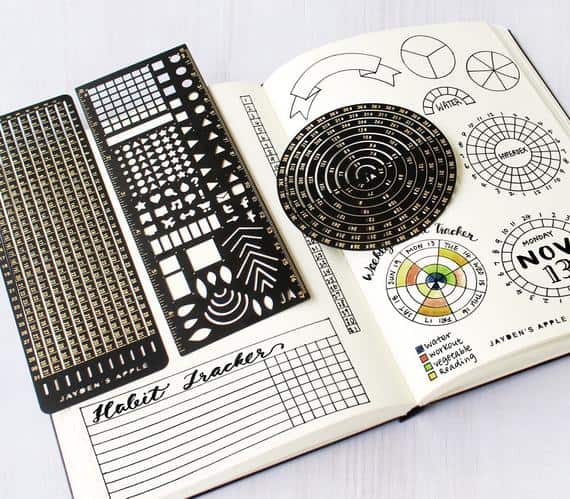 When you're drafting layouts a ruler will only get you so far. If you want to try something like a circular habit tracker for instance you're going to need to use a stencil.
The Jayden's Apple store on Etsy has a great range of stencils designed for use with your Bullet Journal, I especially love this essential's set.
Washi tape for bullet journals
I can't believe I'd never even heard of Washi tape until I stumbled upon the more creative side of bullet journalling! It's a paper based tape you can find in most craft stores, and the dollar stores often carry it too.
There are various styles including cartoon characters, glitter, solid colours, or designs. You can also buy seasonal designs for Halloween, Christmas or Valentine's Day!
You can use this tape to decorate the sides of your journal pages, to separate entries, or to mark off goals.
Stickers for bullet journalling
Stickers are a super simple but super fun way to decorate your Bullet Journal!
You're not limited to using kids' stickers either. There are an increasing number of stickers showing up in craft stores and online that allow you to express yourself through wording, inspirational quotes, or a fandom you may belong to.
You can even treat yourself to a monthly subscription to have cute stickers delivered to your door or even use a little machine (like this) to make your own!
Planner clips to mark your place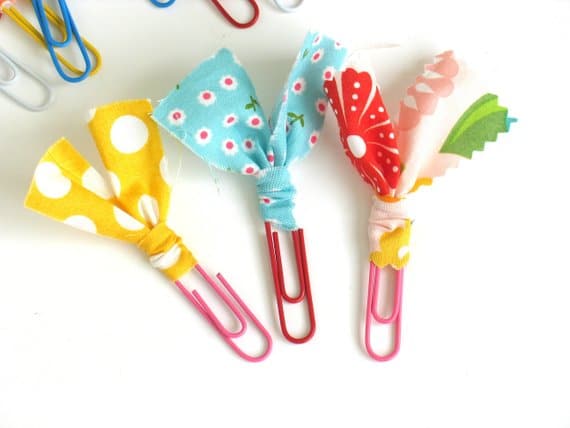 Whether your journal comes with one ribbon bookmark or two I always find there are more pages I want to mark to find easily, and cute planner clips like these are the perfect way to do it!
Markers and highlighters for your bullet journal
Markers and highlighters can help you colour everything from the date of your entry to goals and pages as a whole.
Keep in mind these are better for journals that are made of heavy pages rather than composition notebook style journals where the colours will bleed through.
Using scrapbooking accessories for bullet journalling
There are so many scrapbooking accessories you can use to dress up and make your journal pretty. You can play around with everything from stickers to embellishments and even full page inserts.
Take a look at the scrapbooking section at your local craft store (or on Amazon) and get creative.
You can even make your own journal just from the things you find in scrapbooking stores.
Once you start decorating your journal and trying out some monthly Bullet Journal themes you might want to set aside a monthly budget so you don't go mad buying supplies! Of course the other thing you can do is put them on your Christmas list!