This post may contain affiliate links, which means I may receive a commission if you click on a link and purchase something. As an Etsy and Zazzle Affiliate I earn commissions from qualifying purchases.
If you want pumpkin recipes you're in the right place because we've got enough easy pumpkin recipes to see you through the Fall!
Easy Pumpkin Recipes
Today I thought we'd start with some easy pumpkin recipes and I've found some yummy ideas for every meal of the day.
This collection has something for everyone, from Baked Pumpkin Pancakes for breakfast and a Spiced Pumpkin, Carrot & Sweet Potato Soup for lunch to a quick and easy Pumpkin, Spinach and Walnut Spaghetti for dinner and the most amazing No Bake Pumpkin Spice Cheesecake for dessert!
As always be sure to scroll all the way to the end so you don't miss any of the great ideas.
Related Posts:
Baked Pumpkin Pancakes

We love eating pancakes for breakfast, but I have to confess I hate making them… and I had no idea that you could bake pancakes in a casserole dish and they taste just the same! (via Eating on a Dime)
Pumpkin Breakfast Cookies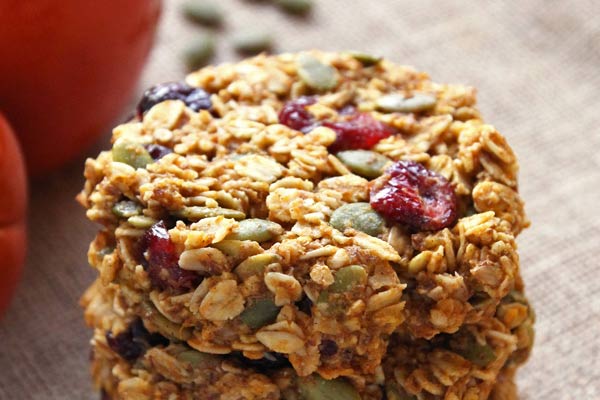 What kid would ever say no to cookies for breakfast! These ones are packed full of pumpkin goodness and are gluten free and have no refined sugar – but the kids won't know that they're healthy! (via Leelalicious)
Oatmeal To-Go Pumpkin Chocolate Chip Muffins

Pumpkin and oatmeal is the perfect Fall breakfast combo, but if you don't have time to sit and eat a bowl add this recipe to your meal prep breakfast list and eat them on the go! (via Averie Cooks)
Pumpkin French Toast Bake

You know how much I LOVE make ahead breakfast casseroles and this Pumpkin French Toast combo looks heavenly! (via Minimalist Baker)
Pumpkin Waffles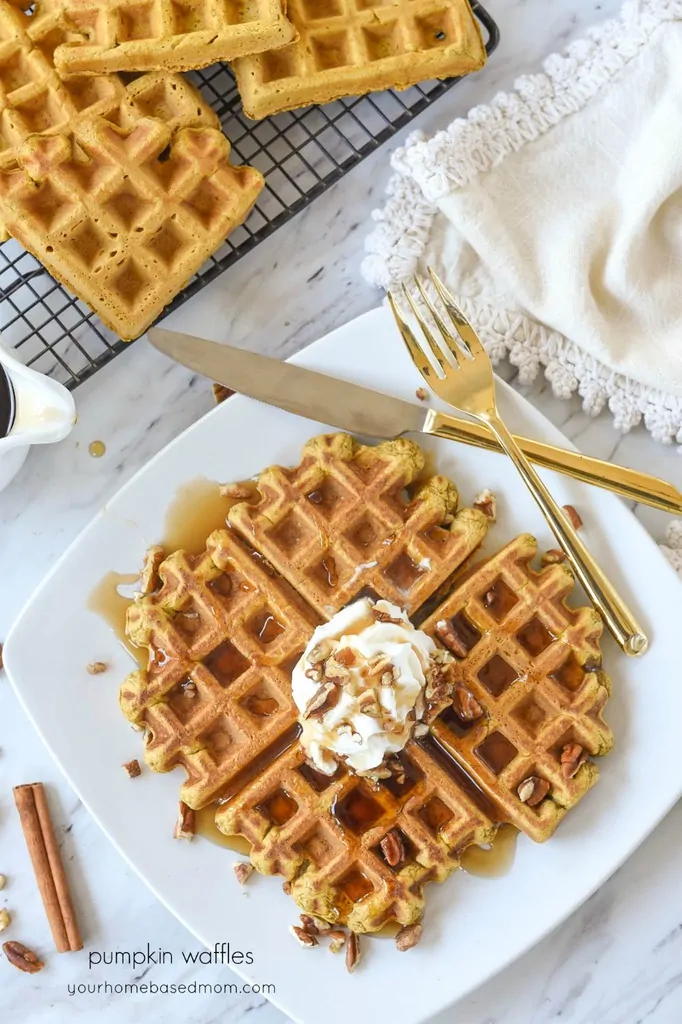 If waffles are your kids favourite breakfast this is the perfect recipe for you to try this Fall! (via Your Homebased Mom)
Pumpkin Greek Yogurt Breakfast Bowl (GF)

Breakfast bowls are so trendy right now, and with good reason because they're easy to eat, healthy and taste super yummy! Here's a pumpkin version for you to try! (via The Worktop)
Pumpkin Cinnamon Rolls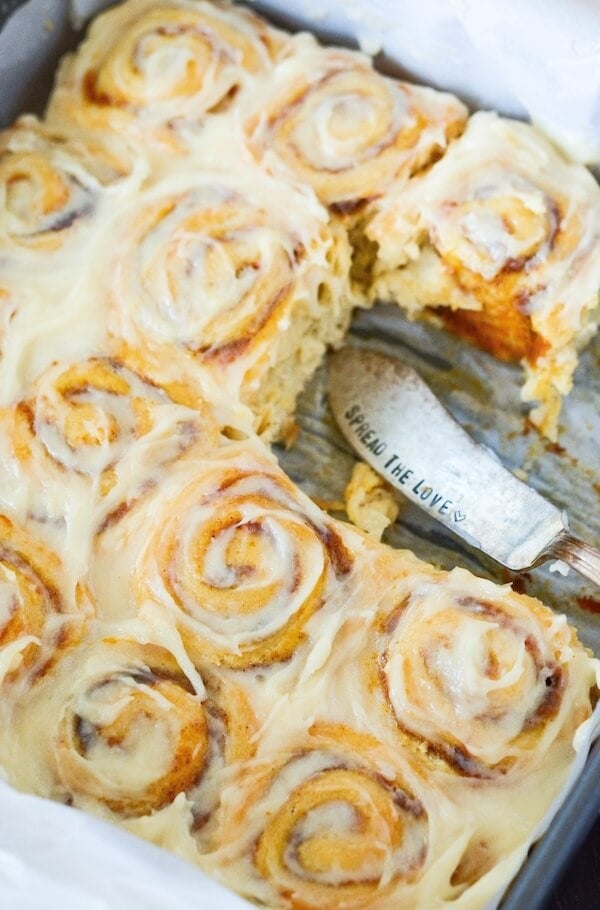 There is only one thing better than Pumpkin Cinnamon Rolls… and that's Pumpkin Cinnamon Rolls you can make in just 30 minutes! (via The Novice Chef)
Healthy Pumpkin Pie Smoothie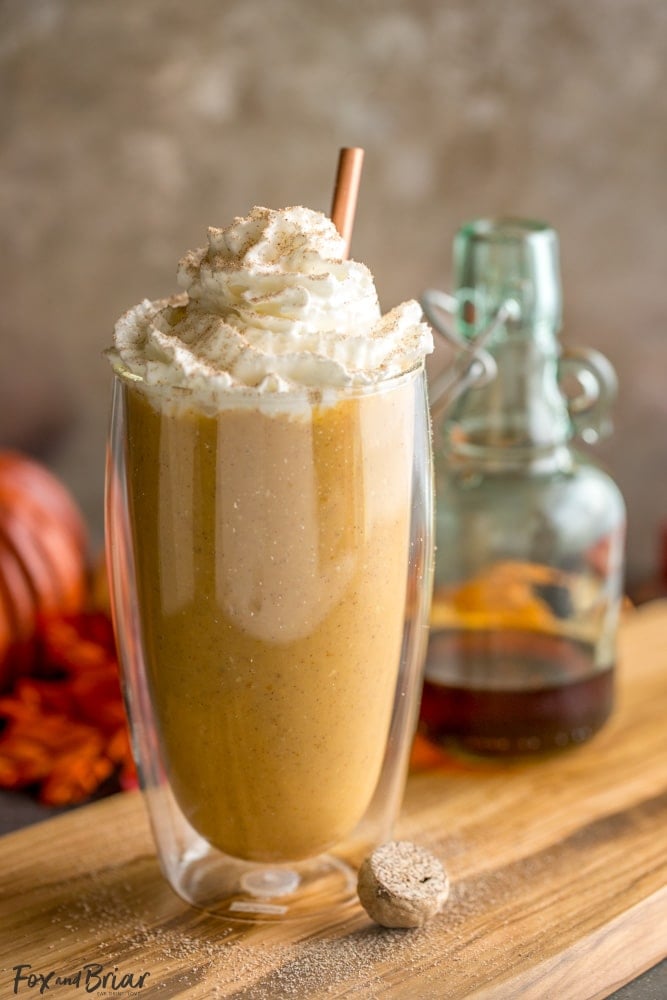 If you prefer to drink your breakfast check out this easy recipe for a healthy smoothie that tastes like Pumpkin Pie! (via Fox and Briar)
Pumpkin Coconut Curry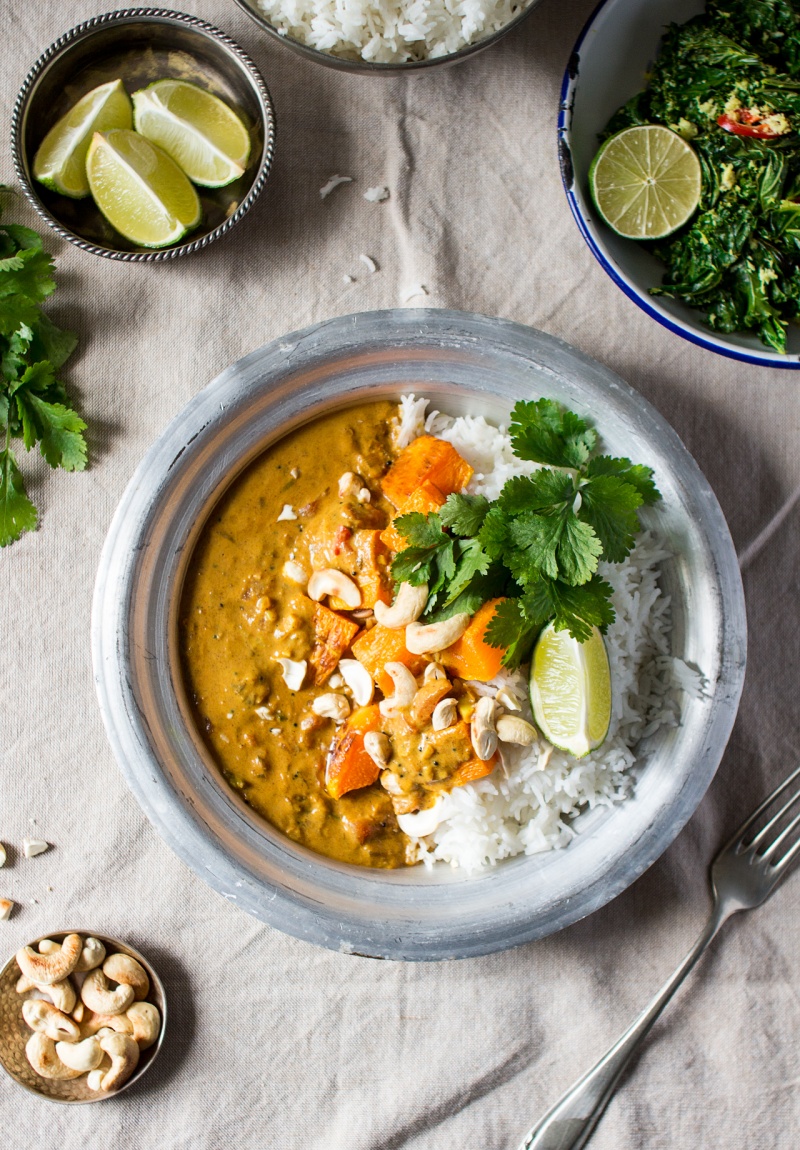 If you're looking for pumpkin dinner recipes try this pumpkin coconut curry that's naturally gluten free and can be made in less than 30 minutes! (via Lazy Cat Kitchen)
Spiced Pumpkin, Carrot & Sweet Potato Soup

There's nothing like a warming bowl of soup on a cold evening and the spiced pumpkin in this recipe is sure to give your inner heating system a kick start! (via Fuss Free Flavours)
Pumpkin, Spinach and Walnut Spaghetti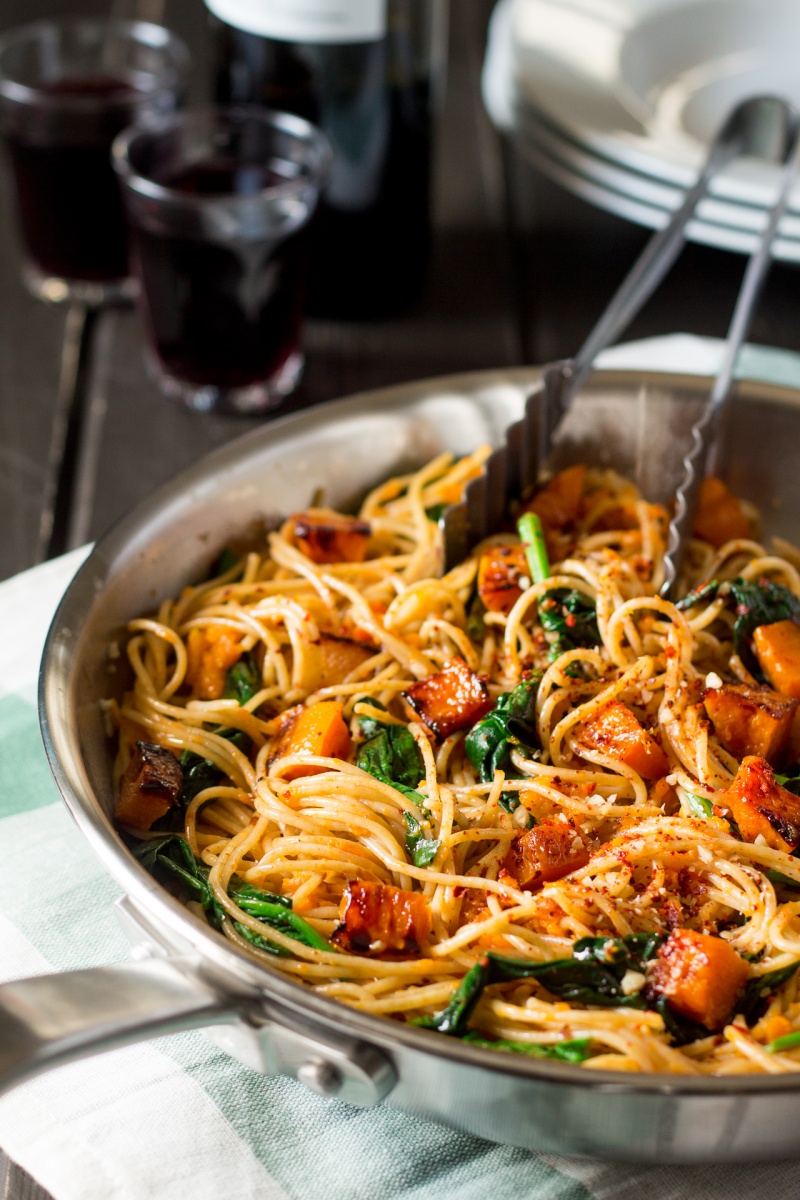 Sometimes simple recipes are the best and you can't beat this combination of spaghetti, pumpkin, spinach and walnuts. Oh and you can make it in less than 15 minutes too! (via Lazy Cat Kitchen)
Spiced Pumpkin Risotto

If you love risotto but haven't made it at home because you think it's too tricky then this is the easy pumpkin recipe for you! It's delicious on it's own but also makes a great Fall side dish. (via Delicious Little Bites)
Iced Pumpkin Coffee Cake

Of course the best way to eat pumpkin is in a dessert… shall we start with this deliciously moist coffee cake? (via Sally's Baking Addiction)
Grandma's Pumpkin Snack Cake

Or this Pumpkin snack cake that is topped with a yummy cream cheese frosting? Oh and don't forget the sprinkle of cinnamon! (via Kitchen Meets Girl)
Pumpkin Swirled Cheesecakes (Mini)

The fabulous swirl on these mini pumpkin cheesecakes is easier to do than I thought it would be, and I love individual cheesecakes because you don't have to share! (via OMG Chocolate Desserts)
Pumpkin Cheesecake Snickerdoodles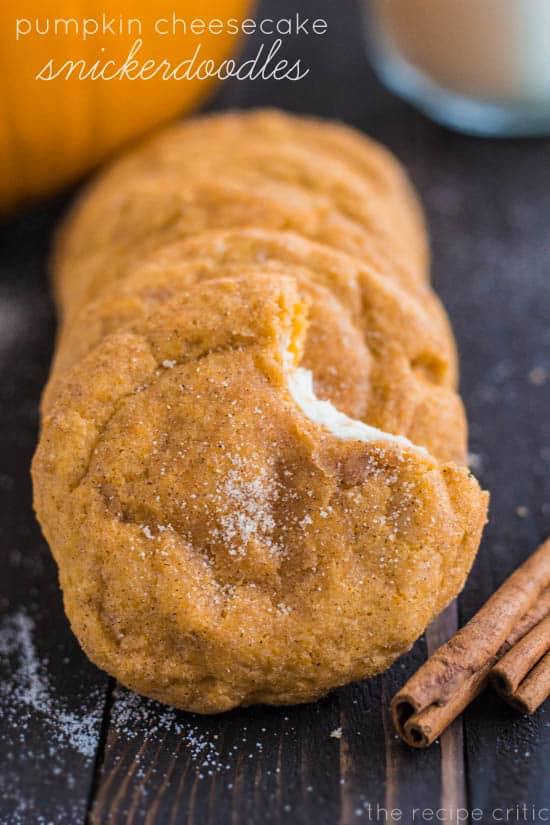 If your kids love snickerdoodles this is the pumpkin recipe for you to make together! (via The Recipe Critic)
Pumpkin Cheesecake Swirled Brownies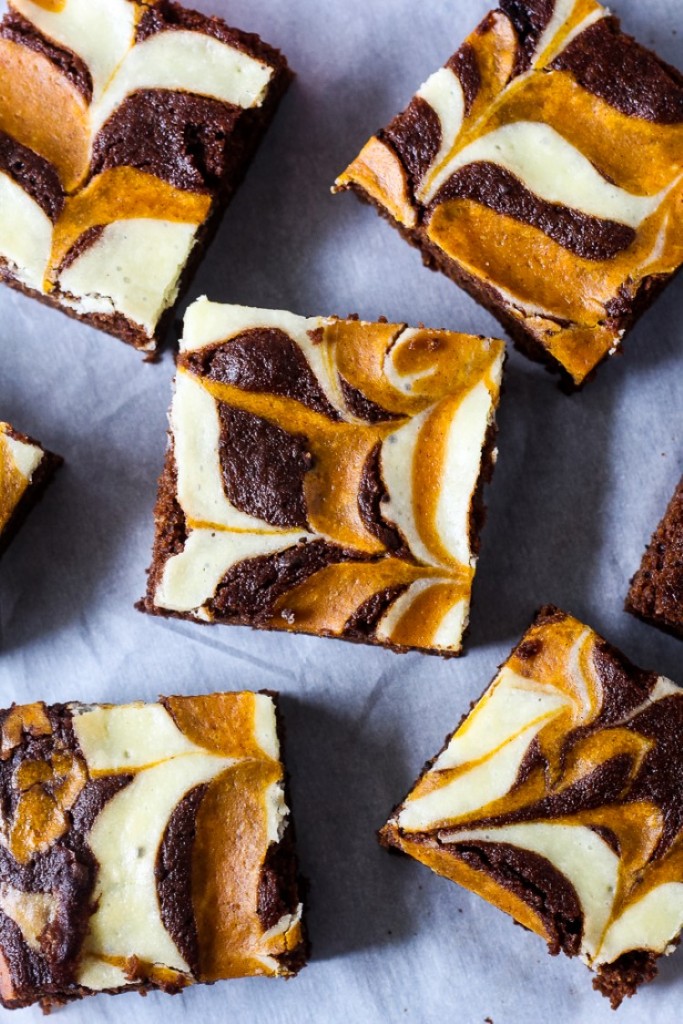 Can't decide whether you want to eat cheesecake or brownies? Try this recipe which combines both with a kick of pumpkin! (via Chocolate with Grace)
Cheesecake Pumpkin Pie Crumble Bars

Or combine your cheesecake with a pumpkin pie crumble and cut it into bars that are perfect for lunch boxes! (via Together as a Family)
Pumpkin Chocolate Chip Bars

And when you're all cheesecaked out combine the pumpkin with chocolate chips to make these yummy snack bars! (via Together as Family)
Pumpkin Roll With Cream Cheese Filling

Ooh you could impress your guests with this pumpkin roll that's oozing with cream cheese, you might need to do a practice run first though as rolling it up can be a little tricky! (via Six Dollar Family)
Pumpkin Gingerbread

You can't beat gingerbread in the Fall months, and the pumpkin adds that little bit of extra taste! (via Neil's Healthy Meals)
No Bake Pumpkin Spice Cheesecake

I thought I was done with the cheesecakes in this collection, but then I saw this one and knew I had to share it with you. How amazing would that look on your Thanksgiving dessert table! (via Jane's Patisserie)
Related Posts:
---