These easy leftover turkey casserole recipes are perfect for turning those Thanksgiving or Christmas leftovers into a delicious family meal to eat or to freeze for later!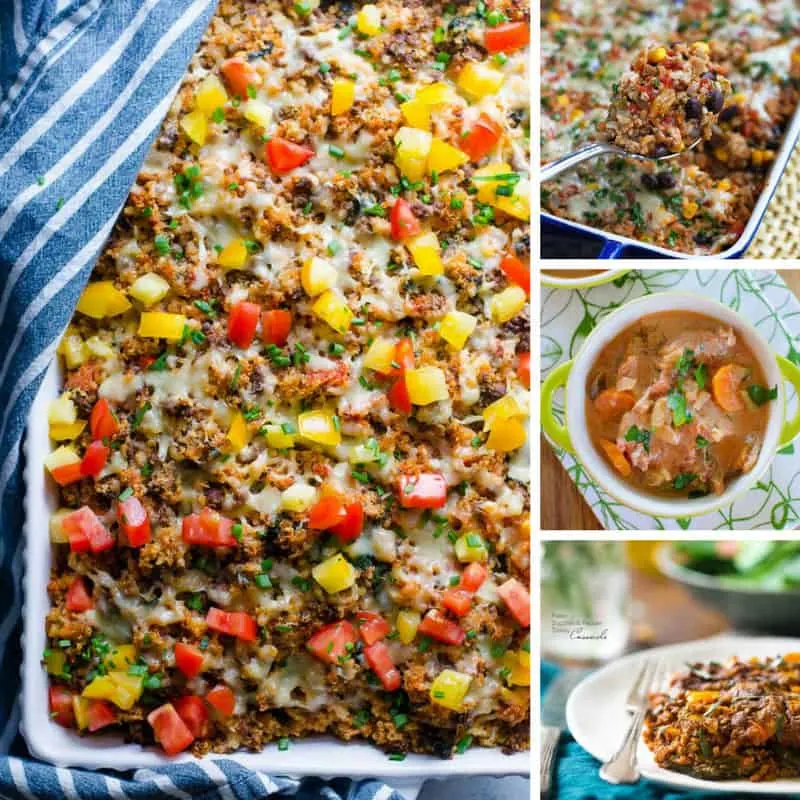 This post may contain affiliate links, which means I may receive a commission if you click on a link and purchase something. As an Etsy and Amazon Associate I earn from qualifying purchases.
Easy Leftover Turkey Casserole Recipes

These easy leftover turkey casserole recipes are just what you need when your fridge is overflowing with leftover turkey from Thanksgiving or Christmas.
These are not sloppy seconds though, some of these recipes are so delicious you will want to add them to your regular meal planning rotation!
I've found everything from casseroles with quinoa or spaghetti to Slimming World and Weight Watchers friendly recipes that the whole family will love!
Don't forget to scroll all the way to the end so you don't miss any of the fabulous ideas, and be sure to pin your favourites as you go so you can find them again later!
Related Posts:
Ground Turkey Quinoa Casserole with Spinach

If you ate so much on Thanksgiving or Christmas Day that you can't bear the thought of another dinner try this casserole instead. The spinach and quinoa will complement that leftover turkey really well. Oh and since quinoa is full of protein and essential amino acids you might want to add this turkey casserole to your regular meal planning list. (via Food Real)
Slow Cooker Creamy Tomato and Turkey Casserole

Have you decided to start a diet the day after Thanksgiving or Christmas? This recipe is for you! It uses just 1.5 syns on the Slimming World plan and is a great way to use up those turkey thighs. Oh and did I mention that it cooks in the slow cooker so it's nice and easy to make? (via Slimming Eats)
Turkey and Mashed Potatoes Casserole

What do you do when you're surrounded by leftover turkey and mashed potatoes the day after Thanksgiving? Easy turn them into a comforting Turkey and Mashed Potato Casserole! (via Olivia's Cuisine)
Turkey Noodle Casserole

You know how much we LOVE 30 minute dinner recipes right? When you're looking for easy recipes, quick and simple always wins, which is why we love this Turkey Noodle Casserole. (via Wine and Glue)
Turkey Pasta Casserole

If you have five pounds of uneaten turkey leftover from Thanksgiving or Christmas but you really can't bear to eat it this is the casserole for you! Just go ahead and make it up and then freezer it for when you're not feeling quite so turkey-fied! (via Everyday Dishes)
Paleo Casserole with Turkey, Peppers, Zucchini and Tomato

This leftover turkey casserole recipes is Paleo friendly and combines those leftovers with layers of fresh veggies and herbs to make a delicious meal even the kids will enjoy! (via Food Faith Fitness)
French Onion Turkey Casserole

I was slightly surprised by the ingredients for this turkey casserole; turkey, bread and french onion soup. But it sounds delicious and would make a great side dish. (via Campbells)
Southwestern Turkey Rice Casserole

Here's another great leftover turkey casserole if you've decided to get back to the diet after the Holidays. It's only 7 Weight Watchers SmartPoints and tastes amazing! Psst I bet the kids would love it even more if you added some tortilla chips to the top for added crunch! (via Cookin' Canuck)
30 Minute Lighter Stovetop Turkey Tetrazzini

This turkey casserole has wholewheat spaghetti and a creamy mushroom sauce; the perfect way to use up that leftover turkey after Thanksgiving or Christmas. Oh and the best bit is you can make it in one pot in less than 30 minutes! (via Savory Nothings)
Related Posts:

Pin these ideas!
Hit the button to save these ideas for later.
Don't forget to
follow us on Pinterest
for more great stuff!
&
---