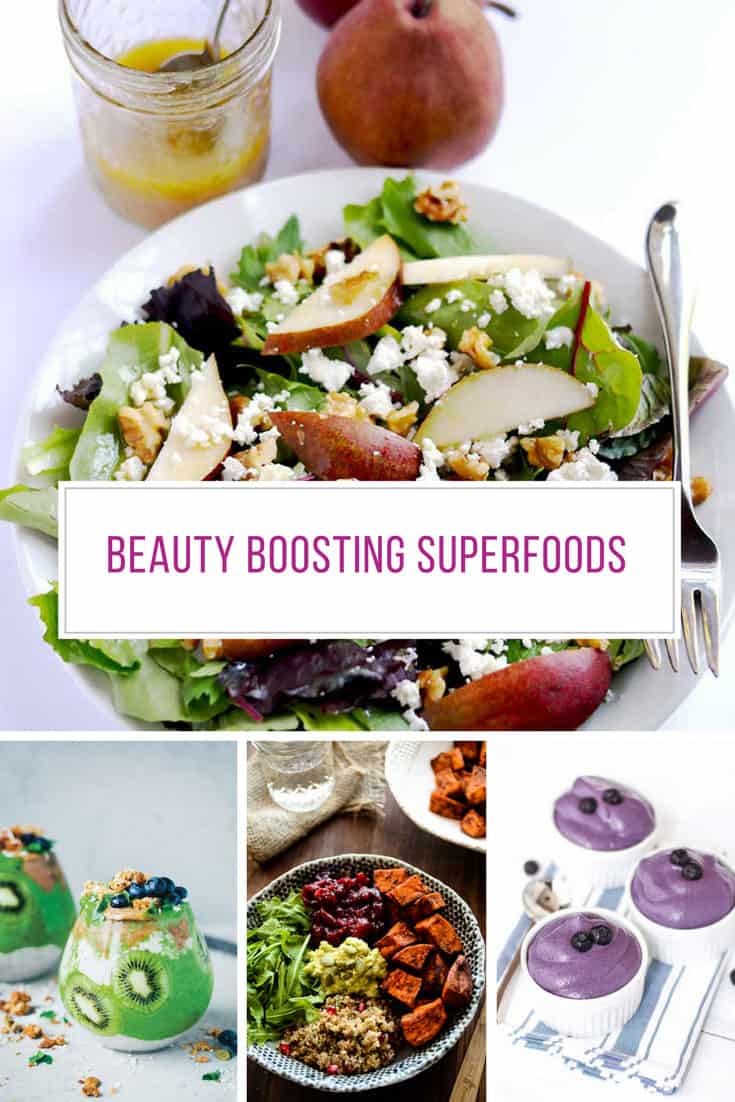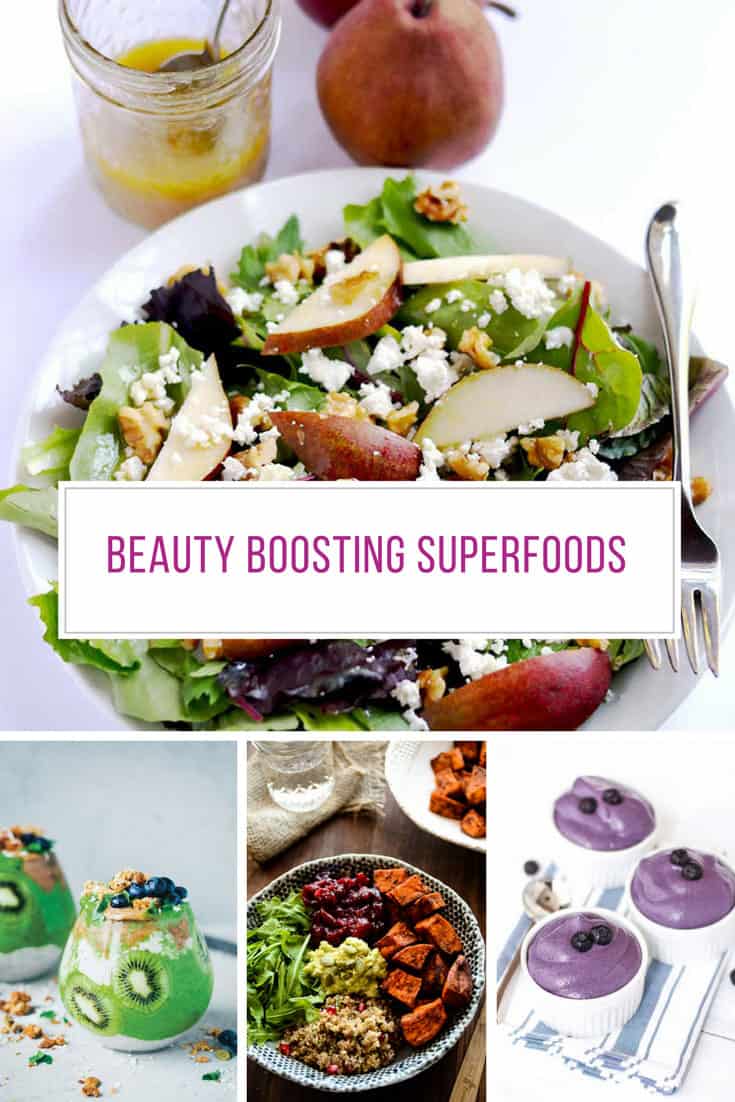 Pin these ideas! Hit the button to save these ideas for later. Don't forget to follow us on Pinterest for more great stuff!
&
---
4. Dates
Believe it or not, dates are actually a fruit and alongside figs, that are highly underappreciated and not enjoyed nearly as much as they deserve.
A good type of date to go for is the medjool date, which is low in fat, high in fibre, and super sweet.
Dates help to cleanse your body from toxins, which could be affecting the health of your skin and hair. They have a lot of other nutrients to make them a superfood, from copper that help you to absorb more iron for better collagen production, to providing an
alternative to sugar in baked dishes.
You will notice that many low-carb baked dishes or ones for people who are cutting back on sugar will use dates instead. You can enjoy them this way, eat a handful of them, or add them to just about any meal right on the side.
Healthy Nutella (Hazelnut Chocolate Spread)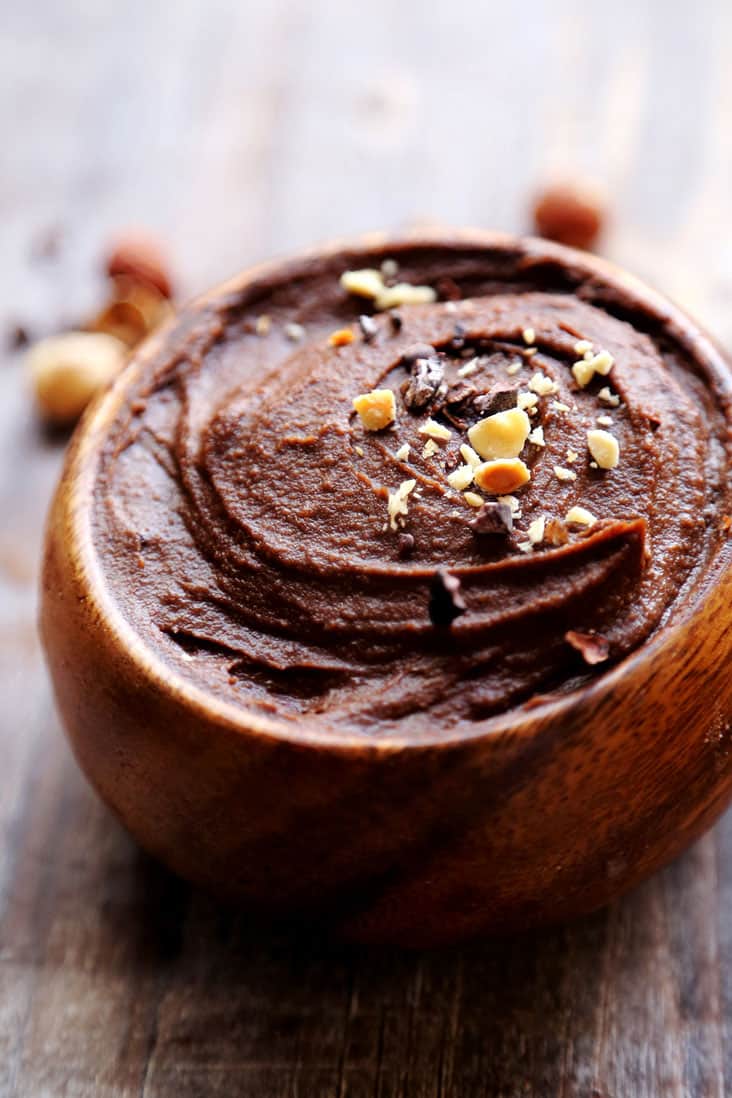 Found it here >> Divine Healthy Food
If you can't resist Nutella chocolate spread give this recipe a try, it's a healthy alternative that tastes just like your favourite spread, and dates are the secret ingredient!
3. Kiwi
Another fruit on the list of superfoods for beauty is the kiwi. This is another tropical fruit, that will taste great with those pineapple slices mentioned before. On the outside, kiwi look like small, brown and fuzzy fruits. On the inside, they are vibrant green and juicy.
Kiwi is a superfood thanks to the high amount of antioxidants, which protect your body from illness and disease. These same antioxidants also improve your natural beauty by boosting the health of your skin, hair, and nails. They are also good for improving the health of your teeth and bones, and reducing fine lines and wrinkles. Kiwi are also a good source of vitamin C, providing even more support for your skin, hair, and teeth.
An easy way to eat kiwi is by cutting it in half, then scooping out the kiwi fruit with a spoon. You can also add kiwi to pancakes for a tropical flair, top frozen yogurt or regular yogurt to add some sweetness, or make a dessert like kiwi pie.
Kiwi, Kale & Chia Parfait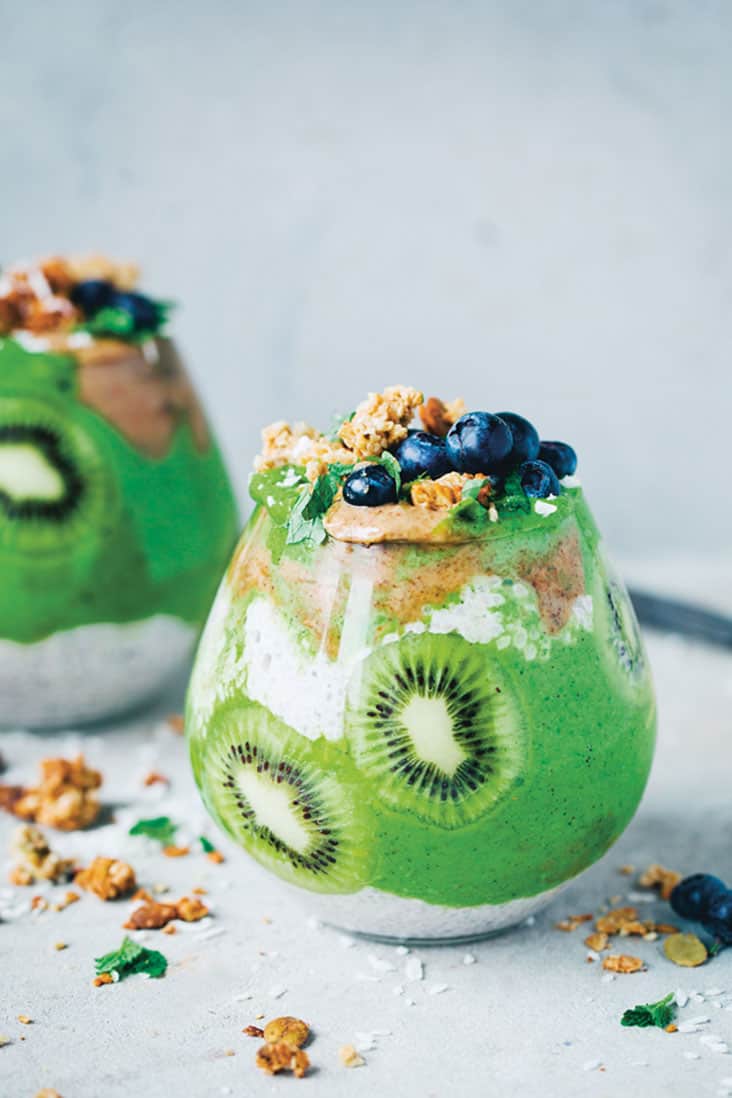 Found it here >> The Flexitarian
Have you ever seen a parfait quite as beautiful as this Kiwi, Kale and Chia concoction? The best thing about parfaits is that they taste delicious as a dessert, but even more delectable when you eat them for breakfast!
2. Dark Chocolate
A lot of the superfoods for beauty are fruits and vegetables but you'll be pleased to hear that dark chocolate is on the list too. So you can enjoy your decadent treat without feeling guilty about it.
Dark chocolate is an excellent source of antioxidants, which as you know help to hydrate your skin, make you look more youthful, and remove toxins from your body.
Dark chocolate doesn't cause acne, and can actually improve the appearance of your skin.
Just make sure it is dark chocolate and not milk chocolate. Look for at least 60% cacao in your chocolate and it will be of good quality.
Chocolate Coconut Flapjacks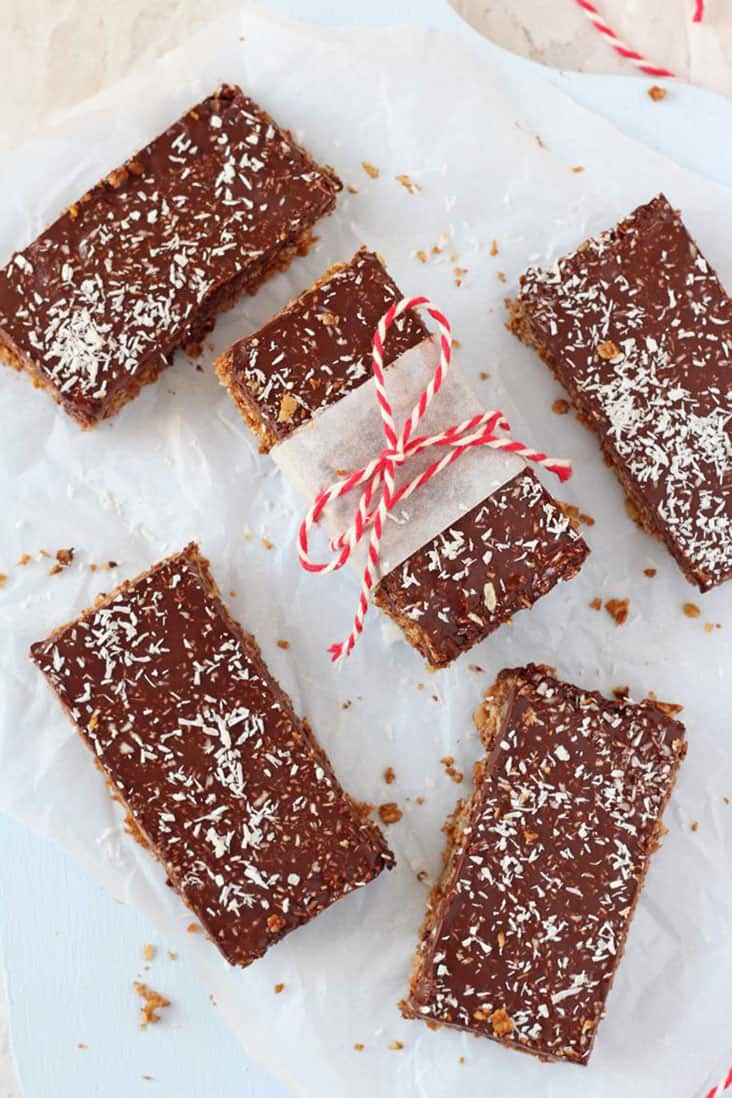 Found it here >> My Fussy Eater
Store-bought flapjacks can be far from healthy, but if you make them from home you're certain of healthy snack the whole family will love, and this one is topped with delicious beauty boosting dark chocolate.
1. Quinoa
The final superfood to consider adding to your diet for beauty purposes is a grain called quinoa. This is a healthy grain that is very nutritious and is one of the best foods for naturally healthy and shiny hair. The nutrients found in quinoa can actually strengthen your hair strands and help prevent split ends and breakage. When you have less breakage, it also helps with shine and to reduce frizziness.
Quinoa is a good source of protein, so it is perfect if you are trying to reduce carbs and want to replace regular rice with this grain. The protein is also going to provide more nutrients to your hair. There is vitamin E in quinoa as well, providing a natural oil that
helps keep your scalp and hair roots healthy, while also improving your skin at the same time. Other nutrients found in quinoa are vitamins B6, B12, niacin, and biotin.
There is a nutty flavor to quinoa, so it is good as a side dish replacing rice or pasta, or when added to your favourite salad. There are many healthy meals you can make by using quinoa.
Banana Quinoa Breakfast Bars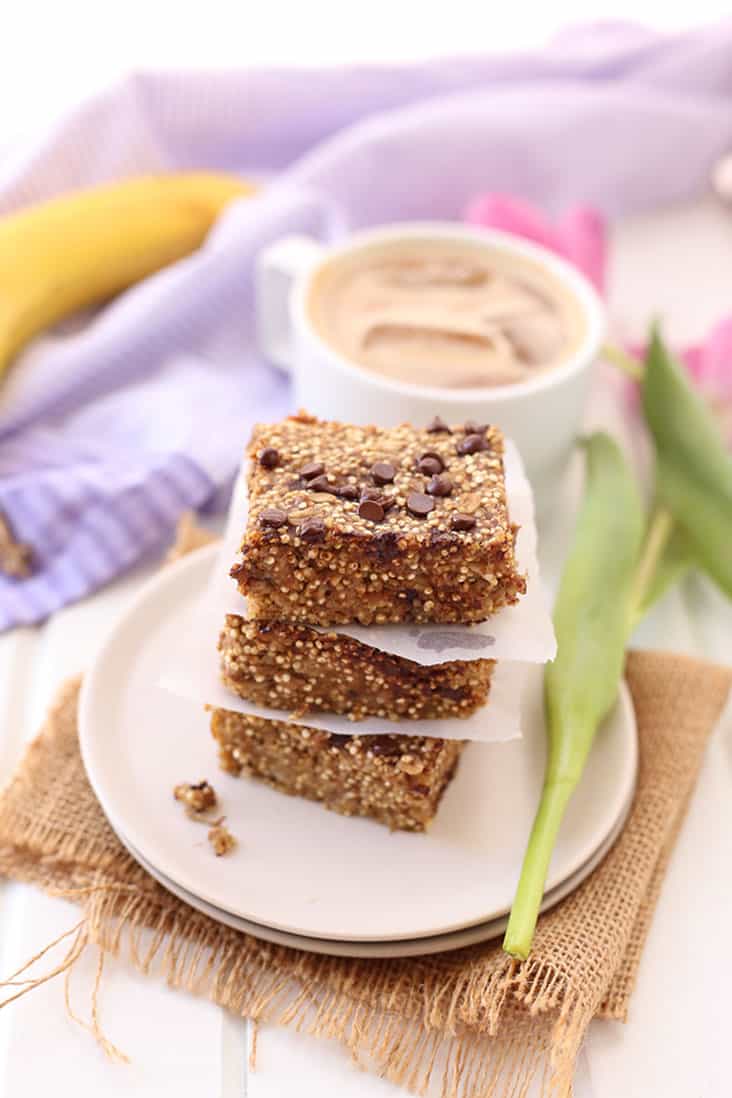 Found it here >> The Healthy Maven
Give your breakfast a beauty boost by baking a batch of these banana quinoa breakfast bars. They'll keep you energised until lunch time and they're the perfect addition to your meal-prep breakfast rotation!
How to Combine Those Superfoods for Super Beauty Boosting!
There are many different ways to use multiple superfoods in a single drink or dish, you just need to get a little creative. For example, you can try some of these combinations:
Add pineapple, kiwi, and dates to your frozen yogurt.
Have quinoa with sweet potatoes and walnuts for dinner.
Enjoy a dessert of kiwi with dark chocolate.
Make a pitcher of fruit-infused water using lemon, kiwi, and pineapple.