If you need a theme for next month you'll love this blue bullet journal inspiration! So much BUJO eye candy to inspire you!
This post may contain affiliate links, which means I may receive a commission if you click on a link and purchase something. As an Etsy and Amazon Associate I earn commissions from qualifying purchases.
Blue Bullet Journal Inspiration
I'm back with another set of eye candy for our bullet journal inspiration series! As I was thinking about what color or theme to use for January I asked my daughter what she thought and she said that blue was a good color for winter so blue is what we've got to share with you today!
1 | Blue Weekly Spread
Follow:
@plansthatblossom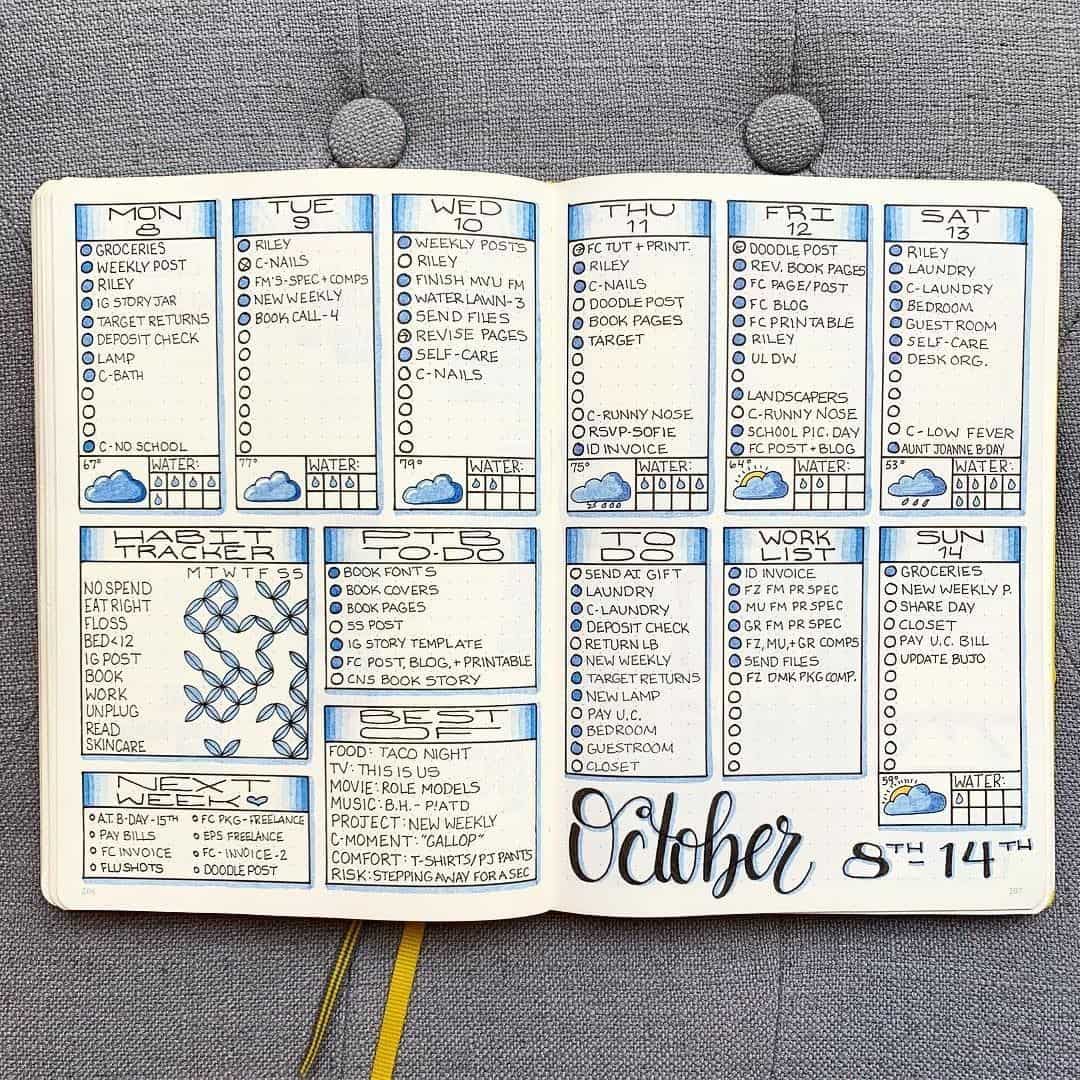 As well as being the perfect fit for a blue theme this is an absolutely brilliant
weekly spread
.
Look how much information she has on that two-page set up!
Daily tasks, water tracker, weather tracker, habit tracker, next week's plans, to do lists, work lists and a best of notes section!
Wow!
2 | Blue Weekly with Mixed Media
Follow:
@bujoberry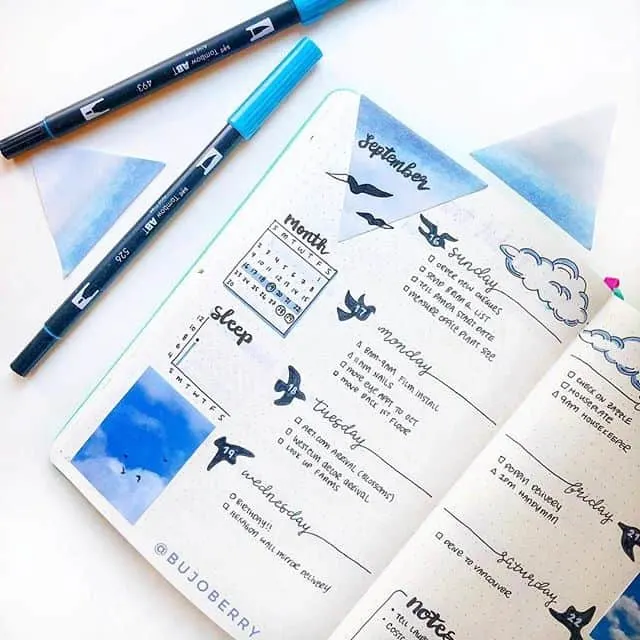 Here's a beautiful bird inspired layout from the infamous @bujoberry. I love the little bird doodles behind each of the dates, and the sky pictures that have been pasted in. That's a really clever way to include a weekly
sleep tracker
too!
3 | Blue Month in Review
Follow:
@bujo.brookie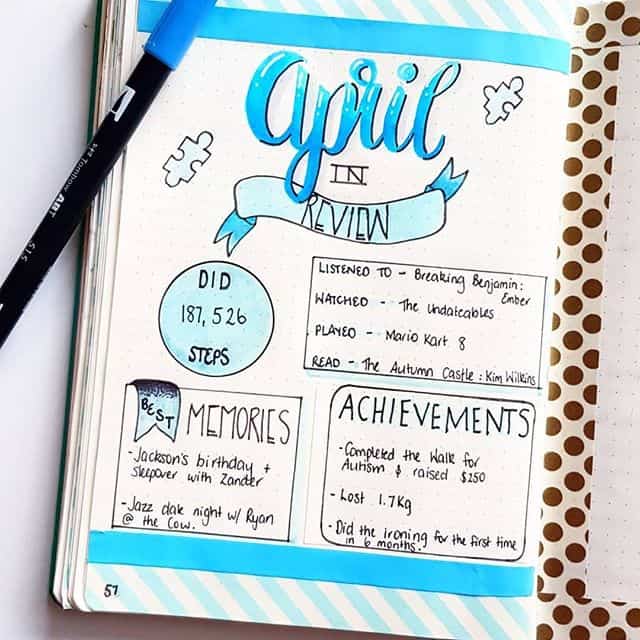 Do you include a month in review spread in your bullet journal? I think it's good to look back over the month gone by and record the highlights on one simple page. With a blue pen of course!
4 | Blue Floral
Follow:
@sleepy.bujo/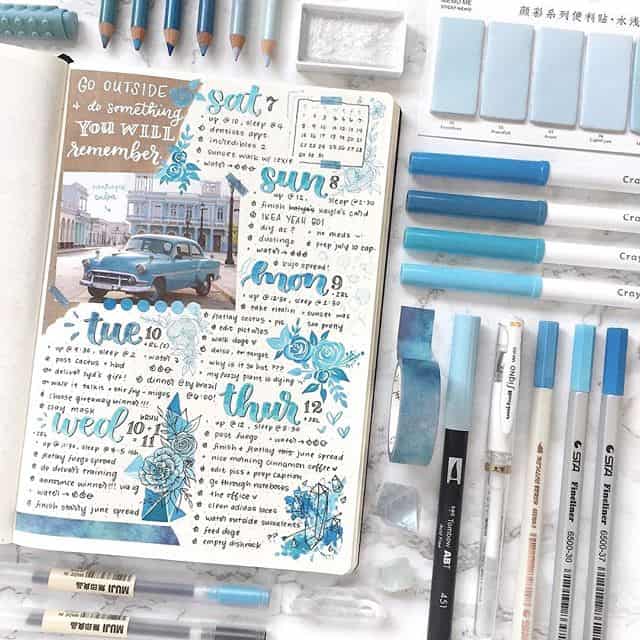 I am actually having blue pen envy just looking at this picture! And washi tape too! I love the floral doodles on this
dailies spread
as well as that little calendar square up in the corner!
5 | Blue Water and Steps Log
Follow:
@sharonajournals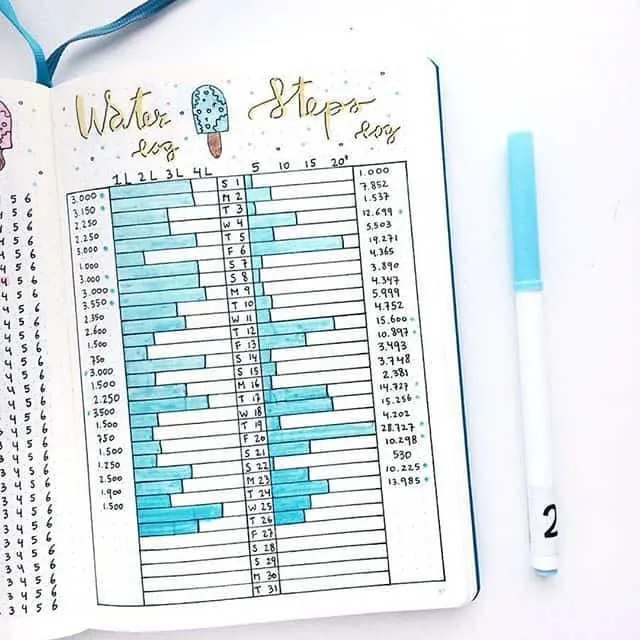 Here's a creative way of recording your steps alongside your water intake. I like the little bar charts!
6 | Blue Weekly Spread with Clouds
Follow:
@kirbycat.bujo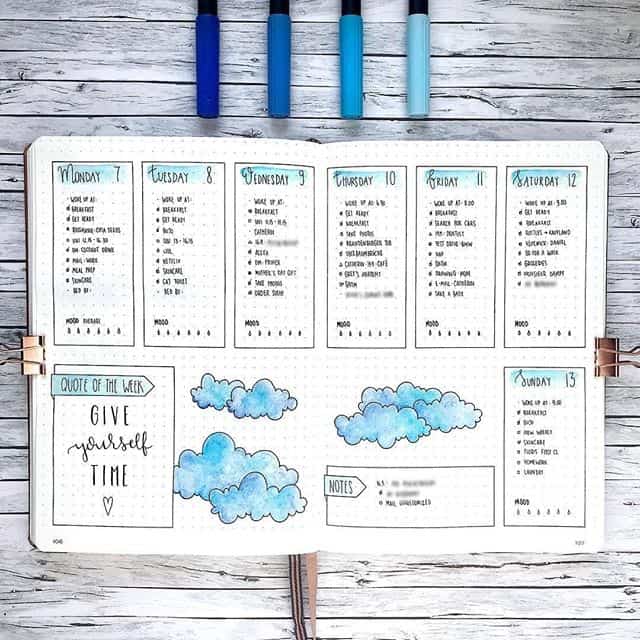 Here's another blue weekly spread to inspire you. This one doesn't cram in as much information as the other one, but I do love those doodled clouds and the fact that there's room for an inspirational quote!
7 | Blue Penguin Instagram Tracker
Follow:
@tonisjournal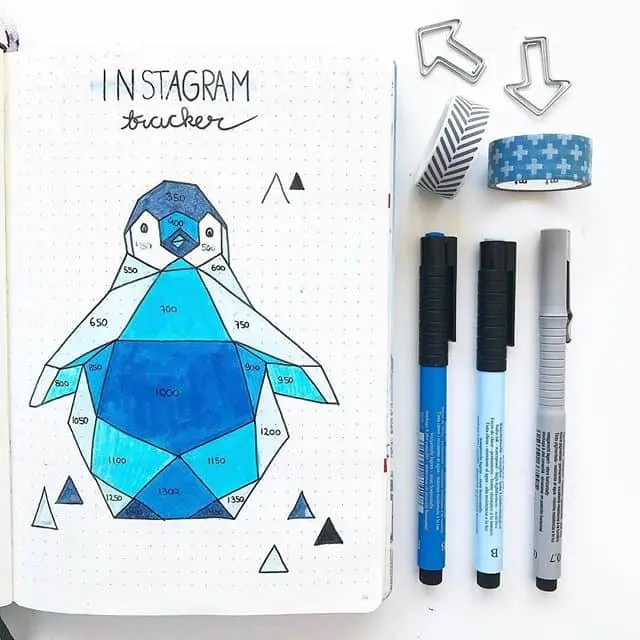 If you're looking for an
instagram tracker
then you totally have to try this penguin next month, because he's adorable! He'd make a really good mood tracker too I think.
8 | Blue Mason Jar Savings Tracker
Follow:
@nohnoh.studies/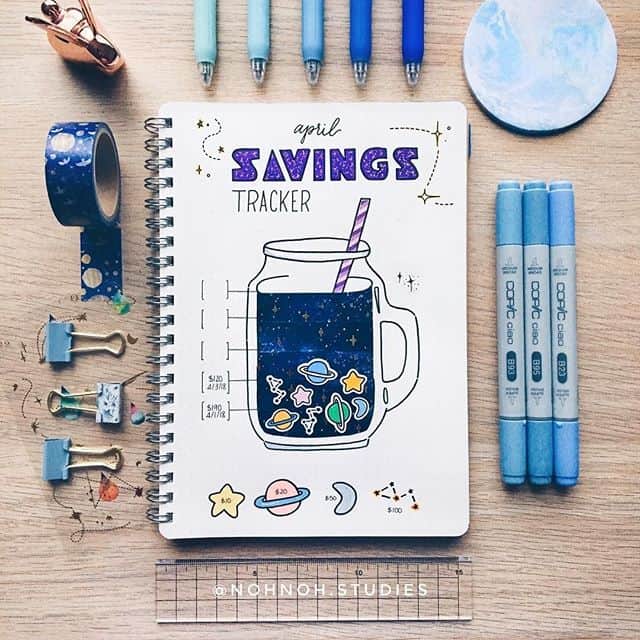 How cute is this savings tracker, with the little
space stickers
that you can add when you reach a certain level!
9 | Blue Water Tracker
Follow:
@keletters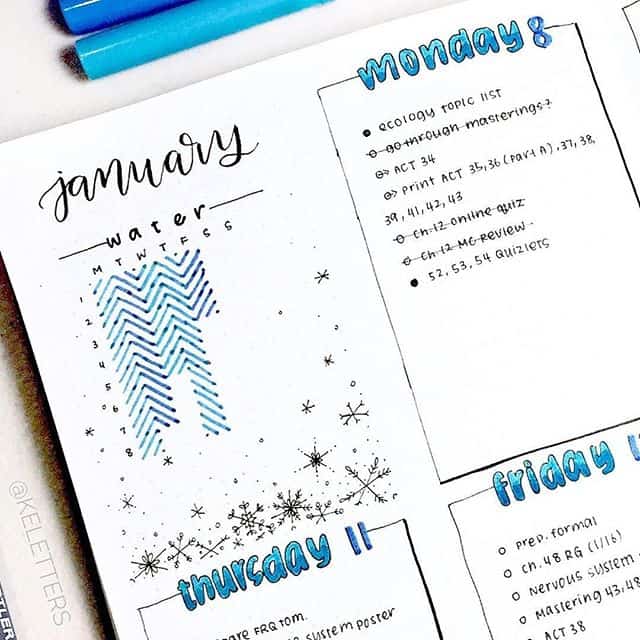 Here's a clever way to add your water tracker into your weekly spread, by tucking it up into a corner. I love those little doodled snowflakes and the cross cross pattern. Oh and the lettering for January!
Hand lettering
is one of the skills I really want to master in 2019!
10 | Blue Mood Tracker
Follow:
@theblueplanner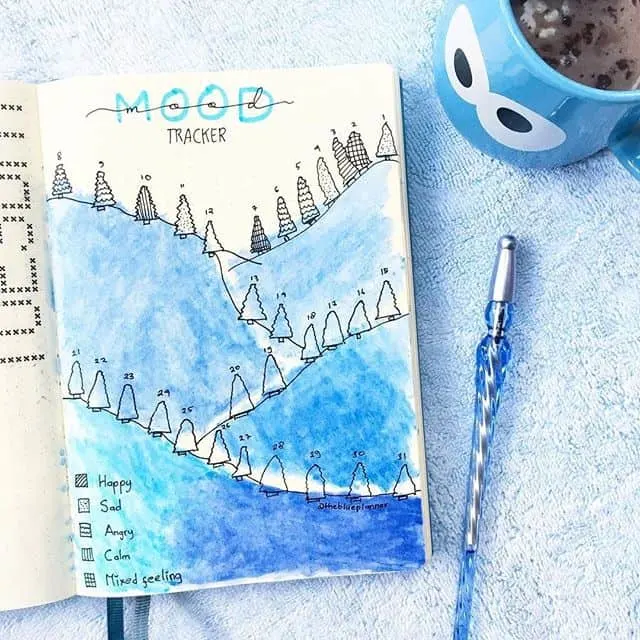 And let's finish up blue bullet journal inspiration week with this fabulous winter
mood tracker
! I can just imagine someone skiing down that hill!
More Bullet Journal Inspiration Here