Prepare to drool because these easy Southern comfort food recipes are decadent and delicious and will satisfy all your cold weather cravings!
This post may contain affiliate links, which means I may receive a commission if you click on a link and purchase something. As an Etsy and Amazon Associate I earn commissions from qualifying purchases.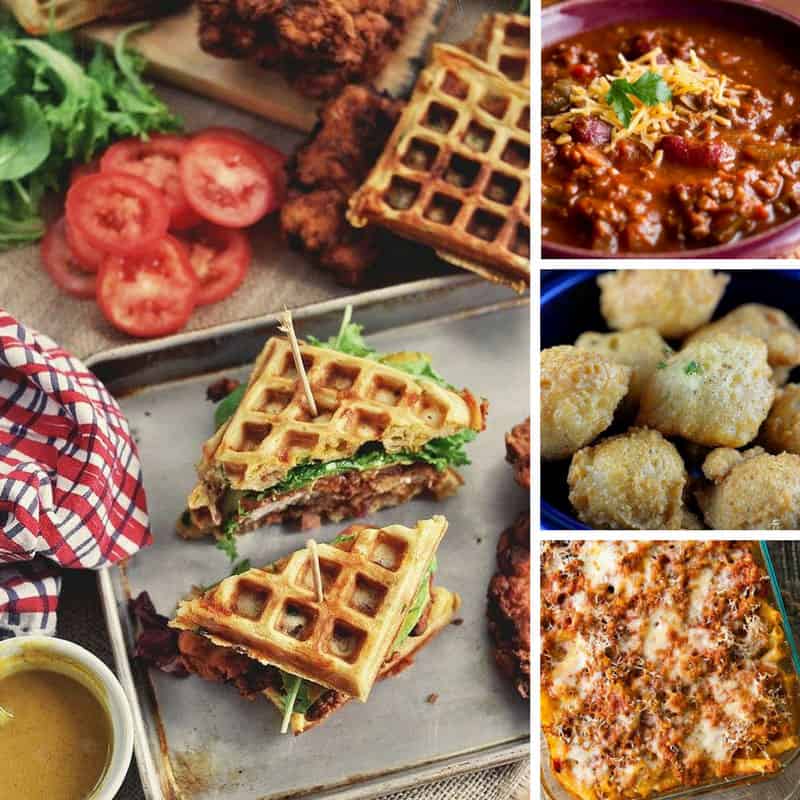 Easy Southern Soul Food Recipes

The nights are drawing in and the weather is getting cooler, and in our house that means we start cooking up some delicious comfort food recipes! I've been hanging out over at Pinterest drooling over all the decadent Southern soul food recipes and I've picked out 25 of the best to share with you!
I found everything from Baked Ziti with Sausage and Black Eyes Peas to Fried Green Tomatoes and Shrimp Sliders and a droolworthy Monte Cristo Sandwich!
Don't forget to scroll all the way to the end so you don't miss any of the delicious recipes, and be sure to hit the save button on your favourites so you can find them again later!
Related Posts:
Baked Ziti with Sausage

When I think of comfort food I think of pasta oozing with tomato and cheese, which is why this Baked ziti with sausage recipe caught my eye. In fact I made it for dinner on Saturday and it was delicious! (via Simply Recipes)
Southern Comfort Dogs

I'm a big fan of bacon on my burgers but I have never had it on a Hot Dog before, looks like that could change thanks to Sommer's Southern comfort bacon Hot Dog with slaw and beans recipe. (via A Spicy Perspective)
Black Eyed Peas

Robyn's black eyed peas had to be in clouded in the list because as she says they are "one of the most comforting, amazing dishes in southern history"! (via Add a Pinch)
Tex-Mex Ranch Potatoes

These tex-mex ranch potatoes look like the perfect way to warm up on a crisp Fall evening. (via The Country Cook)
Slow Cooker Beef Stew

And of course, you can't get through Fall without a hearty Slow cooker beef stew. (via Chef in Training)
Bacon Smokin' Macaroni and Cheese

If all this comfort food has you worrying about your weight you should check out this bacon smokin' macaroni and cheese which has all of the flavour with less of the calories. (via Southern Living)
Oven-Fried Southern Chicken With Sweet Honey Bourbon Sauce

Nothing says southern comfort like bourbon right, so put the kids to bed and then enjoy this oven-fried southern chicken with sweet honey bourbon sauce. (via Half Baked Harvest)
Southern Hush Puppies

If you're making chicken or fish and want something different on the side check out this recipe for hush puppies. (via Add a Pinch)
Chopped Beef Sandwich with Spicy BBQ Sauce

If you're a fan of brisket you won't want to miss this chopped beef sandwich with a spicy barbecue sauce. (via Homesick Texan)
Chicken Fried Steak Fingers with Creole Mustard Sauce

I was always baffled by chicken fried steak when I saw it on the dinner menu, but now I know what it is I'm definitely prepared to give these chicken fried steak fingers a try. (via Spicy Southern Kitchen )
Pimento Cheese Burger

How do you make a Southern cheese burger? By using pimento cheese of course! (via Spicy Southern Kitchen)
Fried Green Tomatoes and Shrimp Sliders

I love sliders, there's just something about them being practically bite sized that makes them so much more tasty. And these fried green tomatoes and shrimp sliders look delicious. (via The Candid Appetite)
Fried Chicken Waffles

If you've never mixed friend chicken with a waffle before then you need to check out these fried chicken and waffle sandwiches, they are going on my meal plan for next week! (via The Candid Appetite)
Crock Pot Chili and Sweet Cornbread

The great thing about chilli and cornbread is you can cook up a huge batch and freeze it. So on those crisp Fall days when you'd rather be out playing in the leaves with the kids than cooking dinner you have a quick and easy option. (via The Country Cook)
Want more? We have loads more ideas that you are going to love in our
==>
easy chili recipes
collection!
Butter Bean & Chorizo Stew with Tomatoes

If you're a fan of the 5:2 diet then this butter bean and chorizo stew with tomatoes is perfect for you. (via Lavender and Lovage)
(Secretly Healthy) Baked Mac n' Cheese

"And here's another secretly healthy baked Mac n' Cheese to help you cut back on those calories.
" (via Host the Toast)
Best Ever Meatloaf

"And then of course we have to include a delicious meatloaf, especially when it's dripping with a sweet glaze to keep it moist and tasty.
" (via Yummy Healthy Easy)
Chicken Pot Pie with Biscuits

I'm a big fan of buttermilk biscuits so when I saw this recipe for chicken pot pie with biscuits I knew it had to make the list. (via Add a Pinch)
Brunswick Stew

And then of course there is the iconic dish of the south: Brunswick stew (via Add a Pinch)
Kielbasa, Pepper, Onion and Potato Hash

Here's another healthy option that can be cooked in less than 15 minutes: kielbasa, pepper, onion and potato hash (via The Two Bite Club)
The Pioneer Woman Chicken Pot Pie Recipe

And because we couldn't have a Southern Comfort Food roundup without including a recipe from the Pioneer Woman hop over and check out her classic pot pie recipe. (via The Pioneer Woman)
Monte Cristo Sandwich

If you want to bring the southern comfort to brunch or lunch time you will not want to miss this awesome Monte Cristo sandwich. (via She Wears Many Hats)
Spicy Sausage Pasta

And because I love sausages and pasta so much I'm throwing in another spicy sausage pasta recipe. (via Kevin and Amanda)
One Pot Chili Mac and Cheese

Do you love 30 minute dinners, one pot recipes, mac n' cheese and chilli? Well then this one pot chilli mac and cheese was made for you because it combines all of those things into one delicious dish! (via Damn Delicious)
Chicken Enchiladas with Sour Cream White sauce

And finally let's finish up with a chicken enchiladas with sour cream white sauce recipe that even the pickiest child will love to eat. (via Raining Hot Coupons)
Related Posts:

Pin these ideas!
Hit the button to save these ideas for later.
Don't forget to
follow us on Pinterest
for more great stuff!
&
---