A new month is on it's way! It's time to start thinking about your April 2018 Bullet Journal setup. Are you ready to plan with me?
April 2018 Bullet Journal Setup
Can you believe that the first three months of 2018 are almost over? We're almost a quarter of the way through the year and it feels like we're only just getting started!
Of course the good thing about the impending arrival of a new month is planning for it so if you're already thinking about your April 2018 bullet journal setup you're going to love today's post!
I've been hanging out on Instagram and You Tube looking for inspiration and I'm sharing my favourite themes and ideas with you. So are you ready to plan with me?
April 2018 Bullet Journal Cover Pages
If you like to start the new month with a cover page then here are some of my favourite instagrams to inspire you!
bujo.snowberry – April Showers
via bujo.snowberry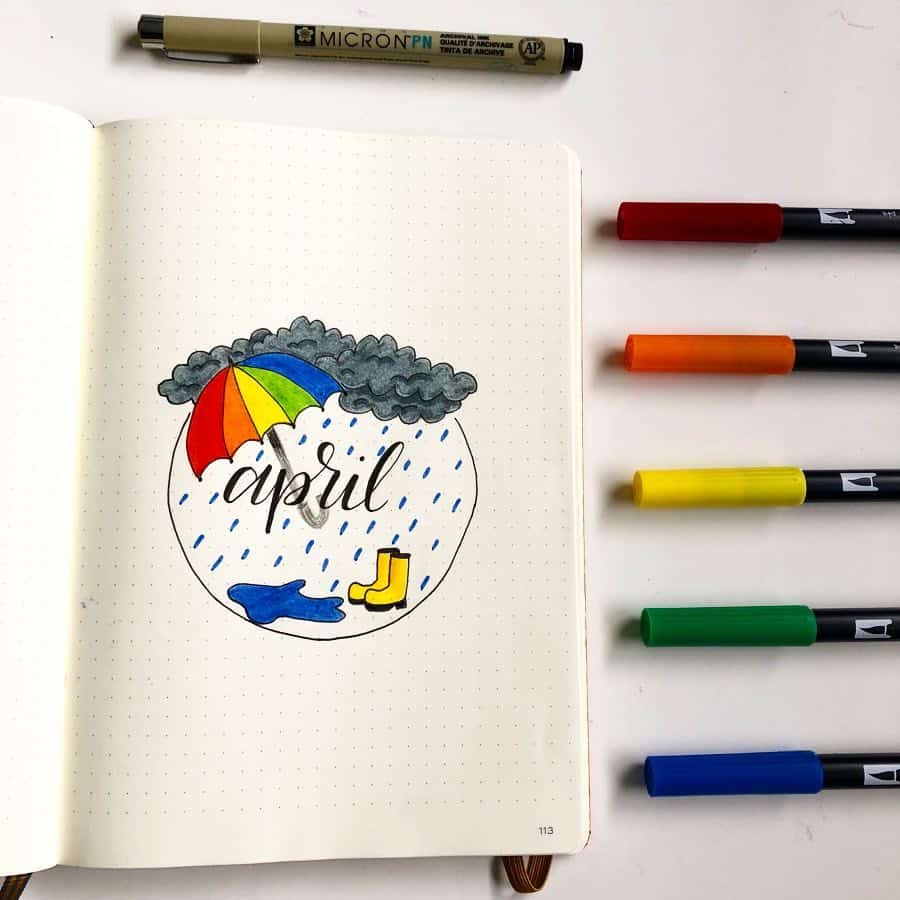 After the rain and the snow we've had recently I truly hope that we don't have a month filled with April showers… but I do love the rainbow coloured umbrella!
my.happy.bujo – Hello Spring
via my.happy.bujo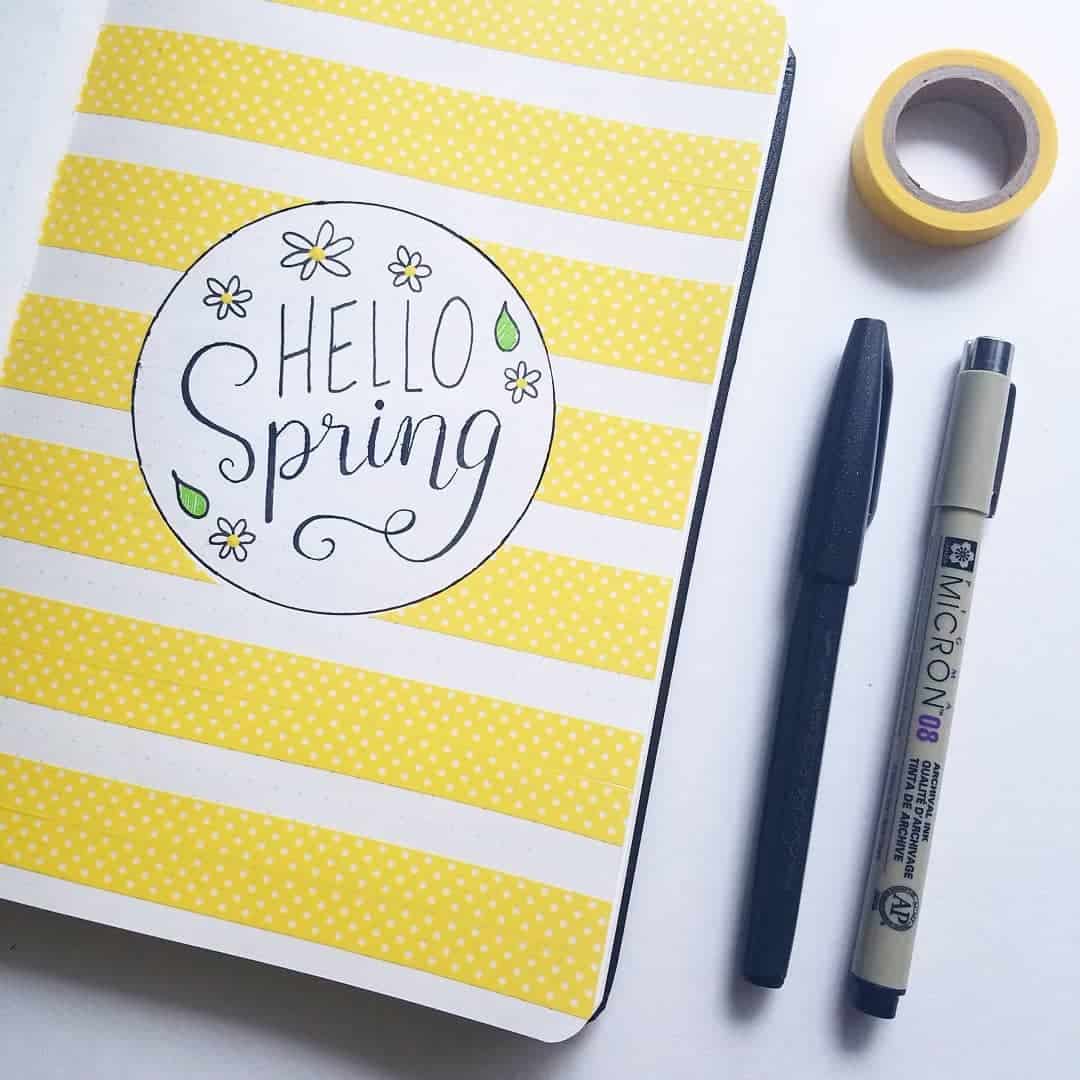 I LOVE the bright yellow on this cover page to add a pop of colour. And such a clever way to use Washi Tape too!
cpugsstudy – Sunflowers
via cpugsstudy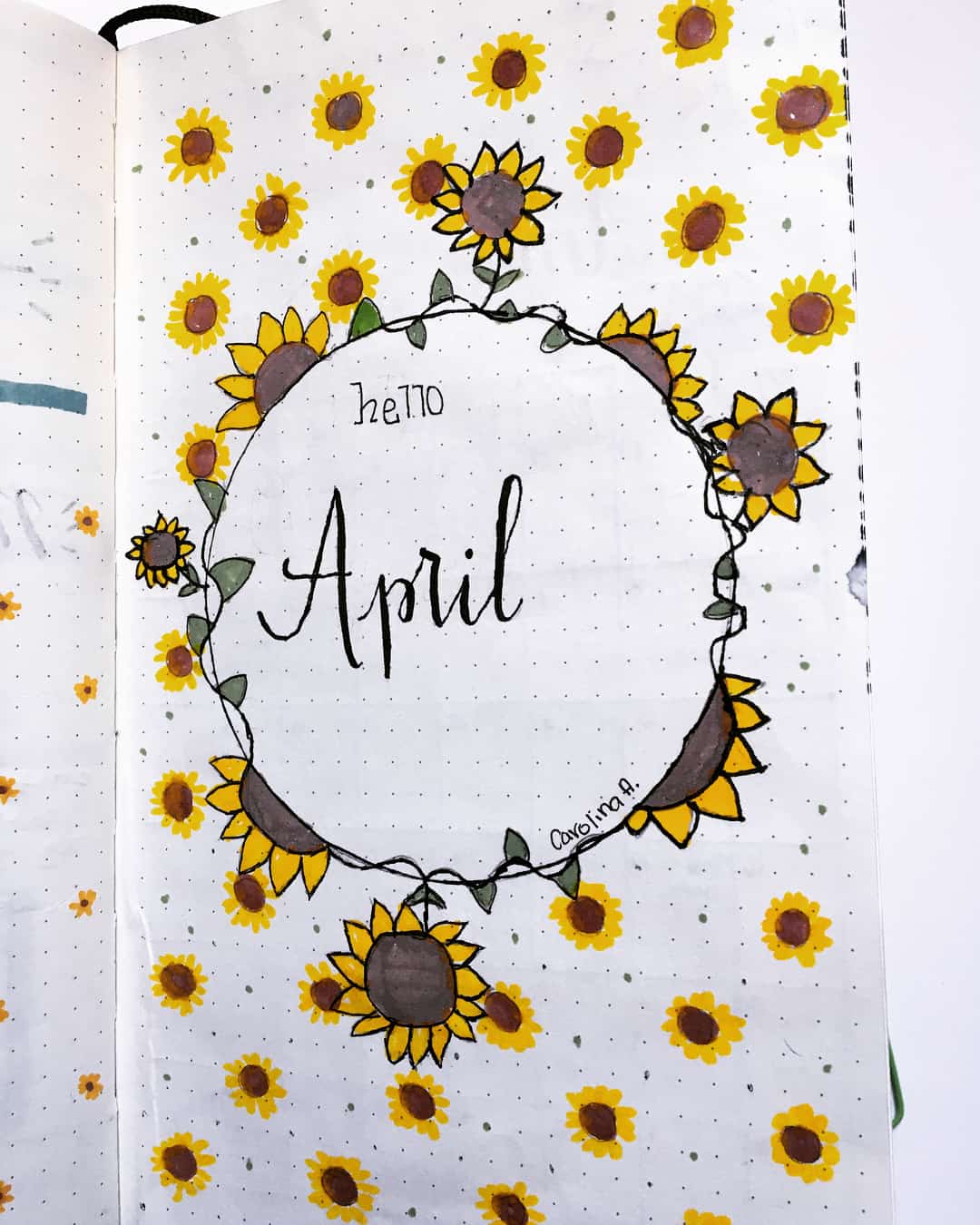 Or how about some gorgeous sunflowers inspired by Carolina's cover page?
angela_porter_illustrator – Dreamcatcher
I'm not sure that design actually is a dreamcatcher but that's what it made me think of when I first saw it. And it doesn't really matter because it's gorgeous whatever it is!
April 2018 Bullet Journal Setup – Plan with Me
Now it's time to decide what spreads and layouts you want to include in your April Bullet Journal setup.
Have a flick through your March pages and see what worked for you and make a note of what didn't.
Then watch some of these videos and take a look at the blog posts I've linked up to inspire you to set up your April pages!
Alexandra Plans – Birthday Theme
Alexandra has a lot of family birthday in April so she's using a celebration theme for the month with lots of balloons and cupcakes.
I love how she has a April BuJo Ideas page where she lists out which spreads and trackers she wants to include for the upcoming month as well as possible colours and doodles she wants to use.
The layer cake mood tracker is a really cute idea too!
Planning with Kay – Floral Theme
Kay has a floral theme to her April spreads with the most adorable bumblebees and she has turned her illustrations into stickers that you can buy from her Etsy store.
I like how she has a large format habit tracker that extends across two pages. Oh and I might have to steal her weekly to do list spread too!
Christine MyLinh – Cherry Blossom Theme
Christine's cherry blossom illustrations are gorgeous and just watching her draw them out (and listen to her story) is so relaxing! It's not just a plan with me video but a tutorial for drawing cherry blossoms!
Joliecious – Snail Theme
via Joliecious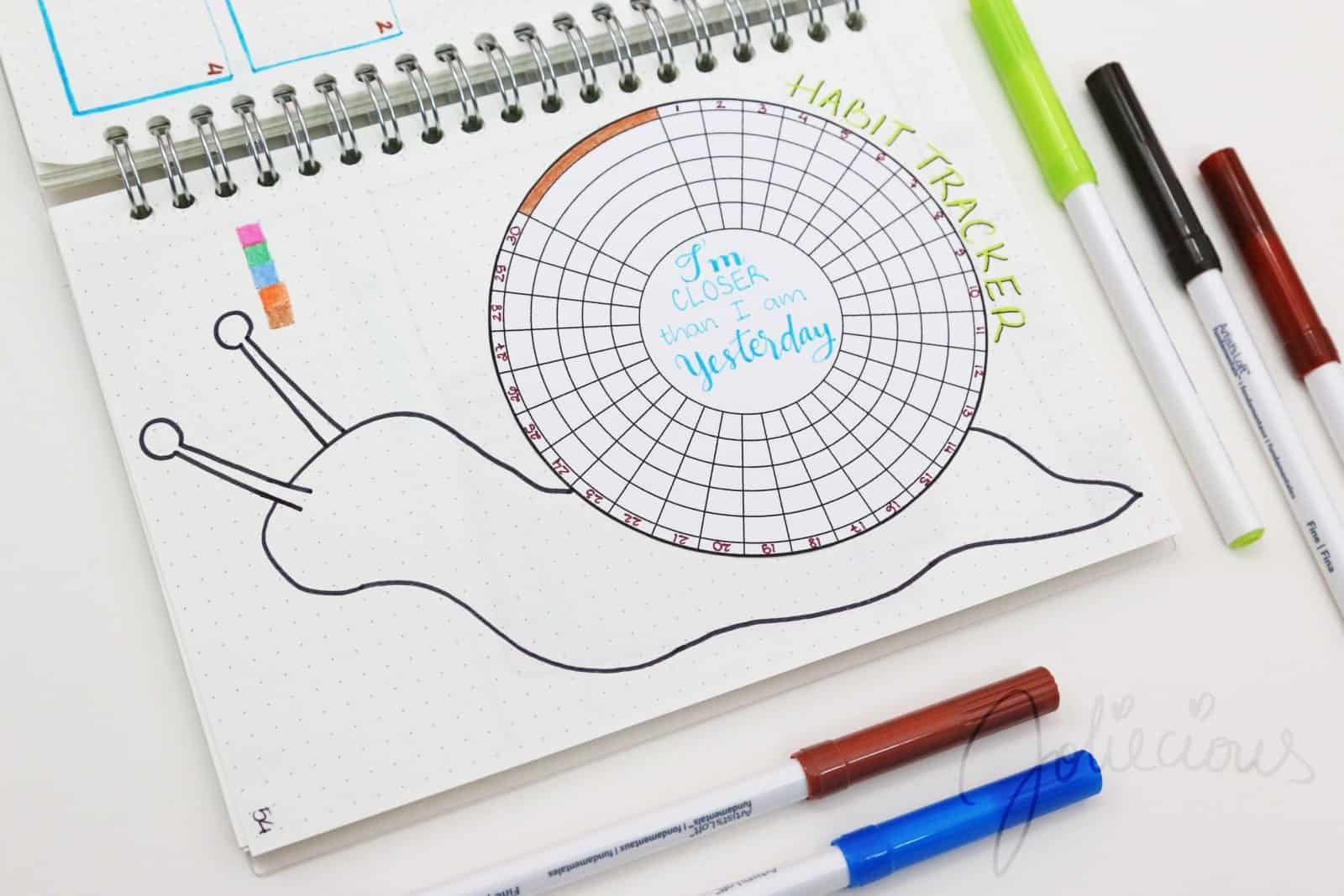 Jolie's theme for her April Bullet Journal set up is a snail, because it's a reminder to herself to slow down and take life one step at a time.
And isn't her snail the most adorable thing! He features quite a few time in her spreads but I really love the idea of using the snail shell as a habit tracker. And Jolie has been kind enough to turn him into a free printable so we can use him too! Just click here to check out her set up post and download the snail.
Caitlin's Corner – Spring Cleaning and Reading List
Oooh Caitlin's cover page idea is lovely and super easy to draw out too… that's my kinda cover page!
Her Spring Cleaning spread is really nicely done too but my favourite tracker that I think I'm going to implement is her reading list!
Plant Based Bride – Vegan Theme
The plant based bride's theme for the upcoming month is vegan, and her illustrations are beautiful. The inspiration I took away from this plan with me video though is the way she splits her titles across two lines in her headers. I love that idea and will definitely be trying it out!